Hamilton gets confidence boost in career night
Reds center fielder goes 4-for-4, scores 4 runs in rout of Dodgers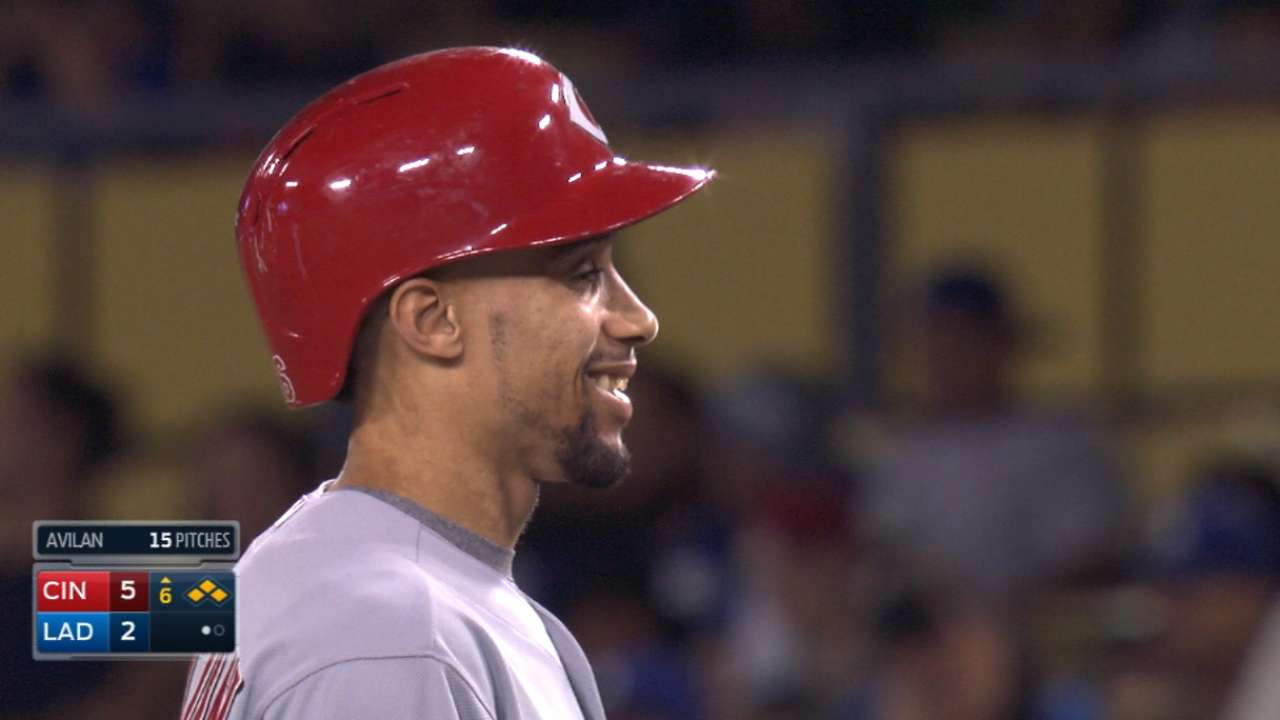 LOS ANGELES -- Billy Hamilton needed a night like Thursday, badly.
The Reds center fielder has struggled all season at the plate but demonstrated something repeatedly during a 10-3 win over the Dodgers: When Hamilton gets on base, the chances of the team scoring runs greatly increases.
Hamilton set a new career high in hits with a 4-for-4 game. And wouldn't you know it -- he also scored a career-high four runs.
"It's a confidence builder. It's something you really, really want to build off," Hamilton said. "My season hasn't been going as I want it to, offensively. A night like this puts my confidence way up there. It tells me I can hit with these guys. It was a great day for me."
In the second inning, Hamilton slapped a RBI single to left field that scored Tucker Barnhart. He advanced to third base when he induced pitcher Mat Latos' errant pickoff throw. Hamilton also singled in the fifth and sixth innings and capped the night with a one-out solo homer to left-center field in the eighth.
Hamilton came into the night batting .222 with just a .269 on-base percentage. But he does have 53 steals, reflecting the mayhem he can create when he does reach safely -- and the opportunity he provides those behind him.
The batter directly behind Hamilton, Brandon Phillips, had a three-RBI game and drove in Hamilton twice. No. 2 man Eugenio Suarez, who had a career-high four RBIs, plated Hamilton in with a double.
"Those guys can hit. It's easy to do my job when those guys do their job," Hamilton said. "I was really satisfied today with myself and getting on base and watching those guys hit, that's the main thing. It's fun watching those guys hit. I know if I get anywhere -- I don't have to be on second base, I can be on first base -- and they can drive me in. They can do it, I know that for a fact."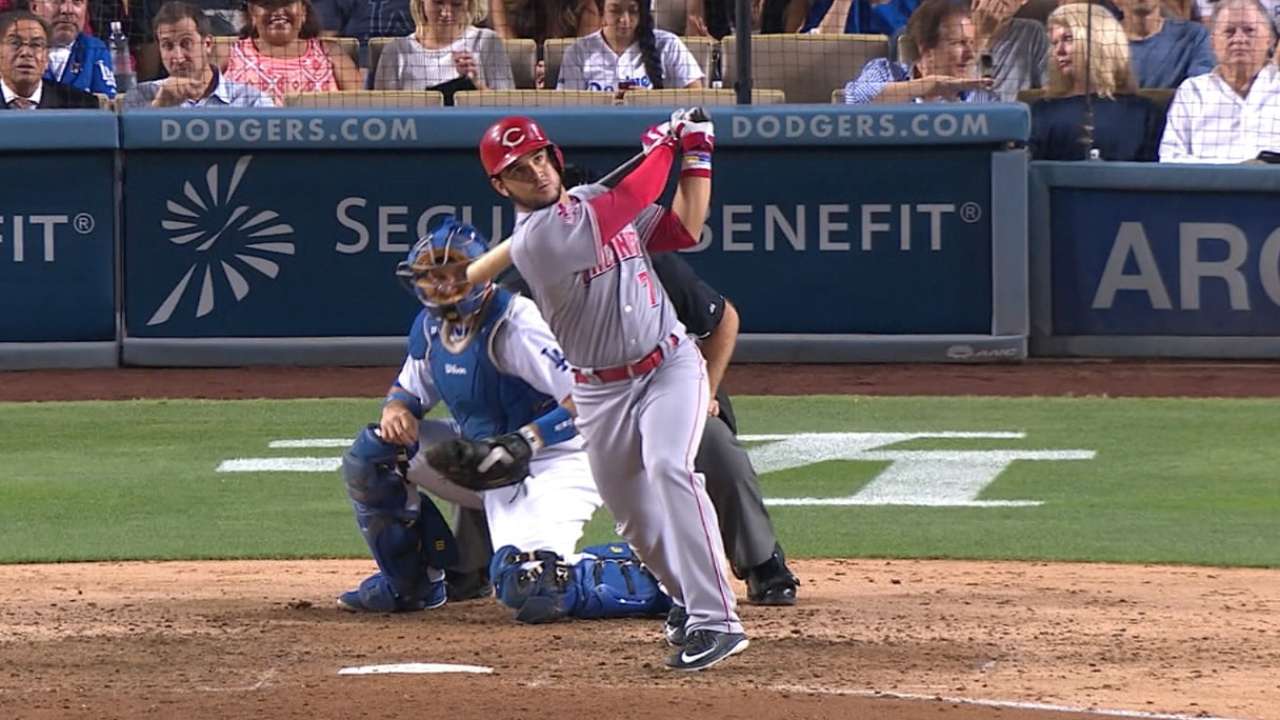 Reds manager Bryan Price has remained steadfast in keeping Hamilton in the lineup despite his lack of production all season. Price believes Hamilton's superior defense and speed is too valuable to do without.
But if Hamilton can find his way at the plate going forward, the Reds will have the weapon they've expected since his late 2013 callup.
"The bottom line is, when he goes, he really ignites our offense," Price said. "So days like this are memorable for him, but they do create great scoring opportunities.
"Even though he's hitting ninth, he's still setting the table. We're pulling for that to continue to be an evolution process and be a sign of things to come for us offensively, because it doesn't matter if he's hitting ninth or hitting first, if he's getting on base, chances are we're scoring some runs."
Mark Sheldon is a reporter for MLB.com. Read his blog, Mark My Word, follow him on Twitter @m_sheldon and Facebook and listen to his podcast. This story was not subject to the approval of Major League Baseball or its clubs.