Suarez squelches rally with dazzling double play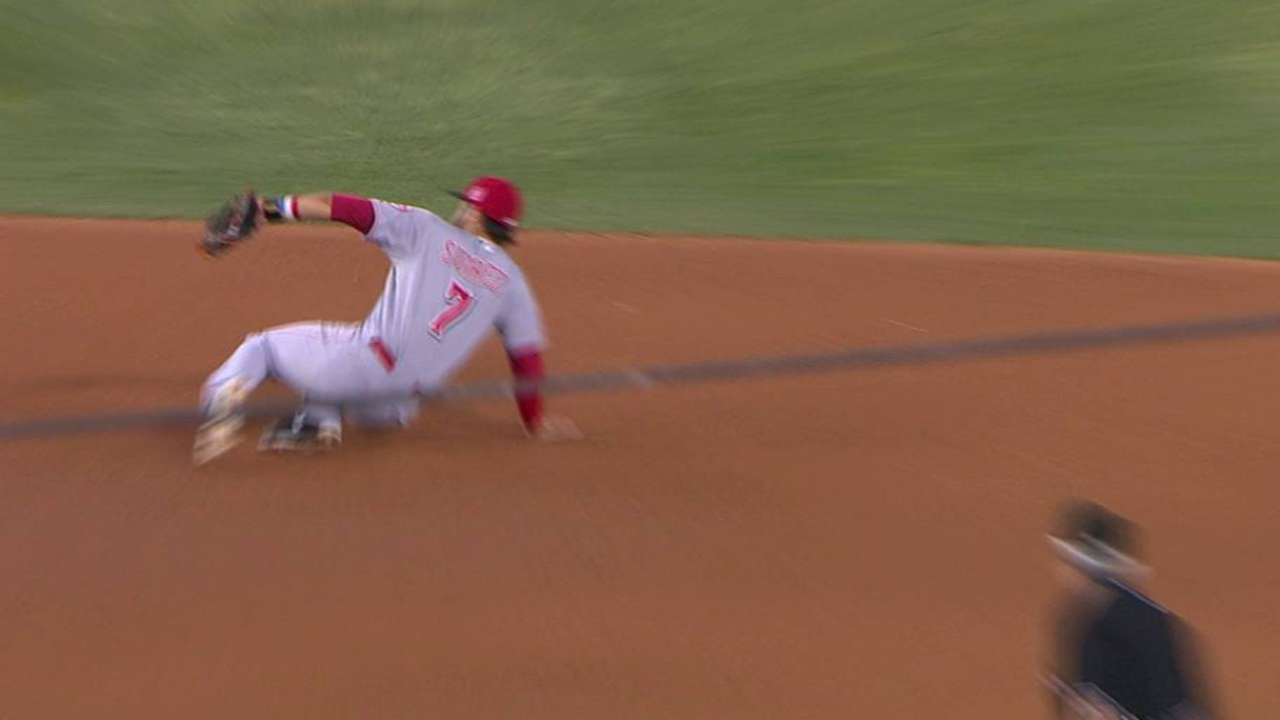 LOS ANGELES -- While it was Eugenio Suarez who provided the big breathing room with a home run and career-high four RBIs during a 10-3 Reds victory Thursday night over the Dodgers, it was the shortstop's glove that possibly saved the game for pitcher Keyvius Sampson.
Cincinnati had just taken a 2-0 lead in the top of the third when Dodgers threatened in the bottom half of the inning. Sampson issued a one-out walk to Kiké Hernandez before Adrian Gonzalez singled to put runners on the corners. Next up was Andre Ethier, who sharply hit a 1-0 fastball on the ground to the left of second base.
Just as the ball seemed poised to get through the infield, Suarez made a slick backhanded stop as he spun down on one knee. He ran and touched second base before firing the throw to first base just in time to get Ethier and end the inning.
"He hit it so hard. My reaction was to stay on the ball and I caught it," Suarez said. "After that, I made the double play. It's not an easy play but I made it. I'm happy."
Manager Bryan Price said he predicted that very play would be turned.
"It's funny because I was standing next to [bench coach Jay Bell] and I said, 'We're going to go six-unassisted-three right here,'" Price explained. "The thing is, it spun him around to the backhand and then he had to regain himself and get back to the bag and make the great throw. That ball was out of his hand just as he was touching second base. It was a great play -- and a much-needed one."
It prevented a run from scoring, while also snuffing out a rally. Suarez was greeted with a flurry of high-fives when he returned to the dugout.
"Oh man, beautiful play," Sampson said. "Suarez has been doing it all year long -- Triple-A and here too. It definitely got me out of the jam. I fell behind to Ethier and had to come back over the plate. He squared it up good, but right at Suarez and he made a great play."
In the fifth inning, Suarez hit a one-out RBI double off of Mat Latos that made it a 5-1 game. In the sixth, he added a three-run homer to left field against Pedro Baez to stretch the lead to 9-2.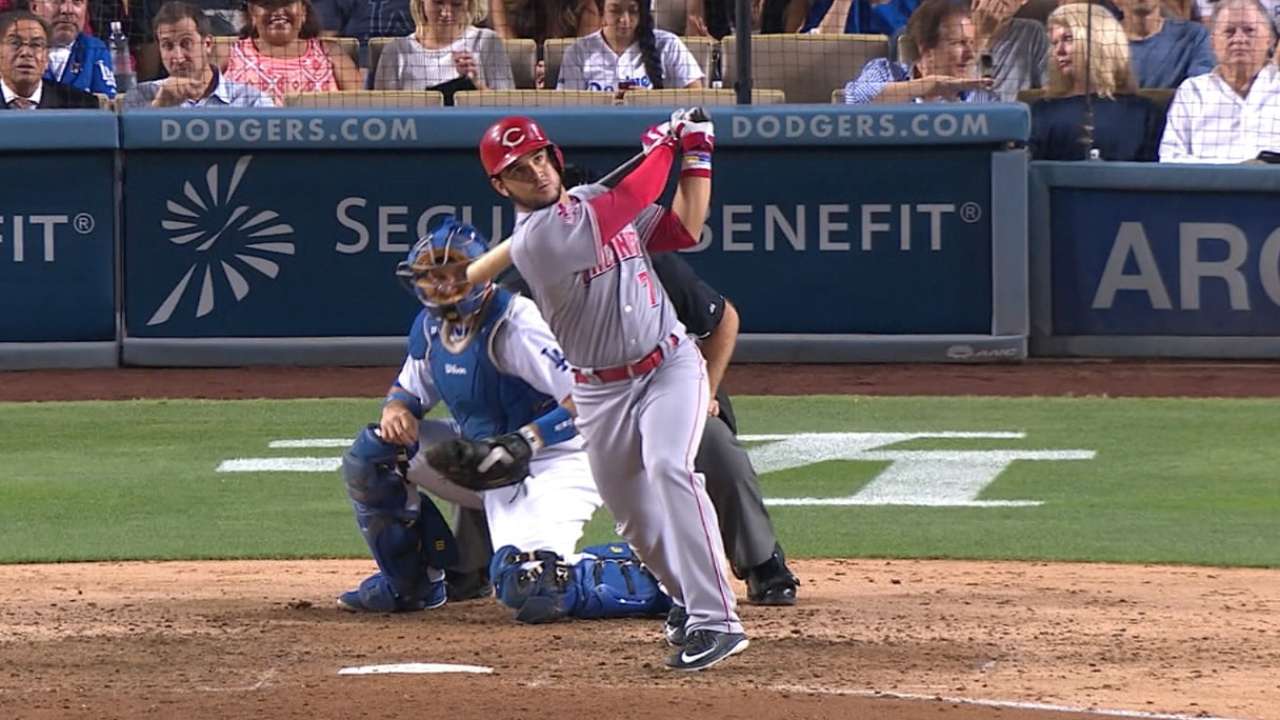 Since his June 11 callup to replace Zack Cozart, who is out for the season with a knee injury, Suarez has provided plenty of offense while batting .307 with seven homers and 29 RBIs.
Although Suarez has made some nice defensive plays before, he was prone to errors. In June, he made six errors in his first 15 games - all in the same week -- but the 24-year-old has made only five errors over his last 36 games.
"That was a really good play. I feel happy because I made one, finally," Suarez said. "I haven't had a lot of times, that I've made a play like that one."
Mark Sheldon is a reporter for MLB.com. Read his blog, Mark My Word, follow him on Twitter @m_sheldon and Facebook and listen to his podcast. This story was not subject to the approval of Major League Baseball or its clubs.