Dahl, Hoffman among 10 top prospect performers Thursday
Rockies No. 3 prospect homers for second straight night, No. 4 throws 5 strong frames for Rock Cats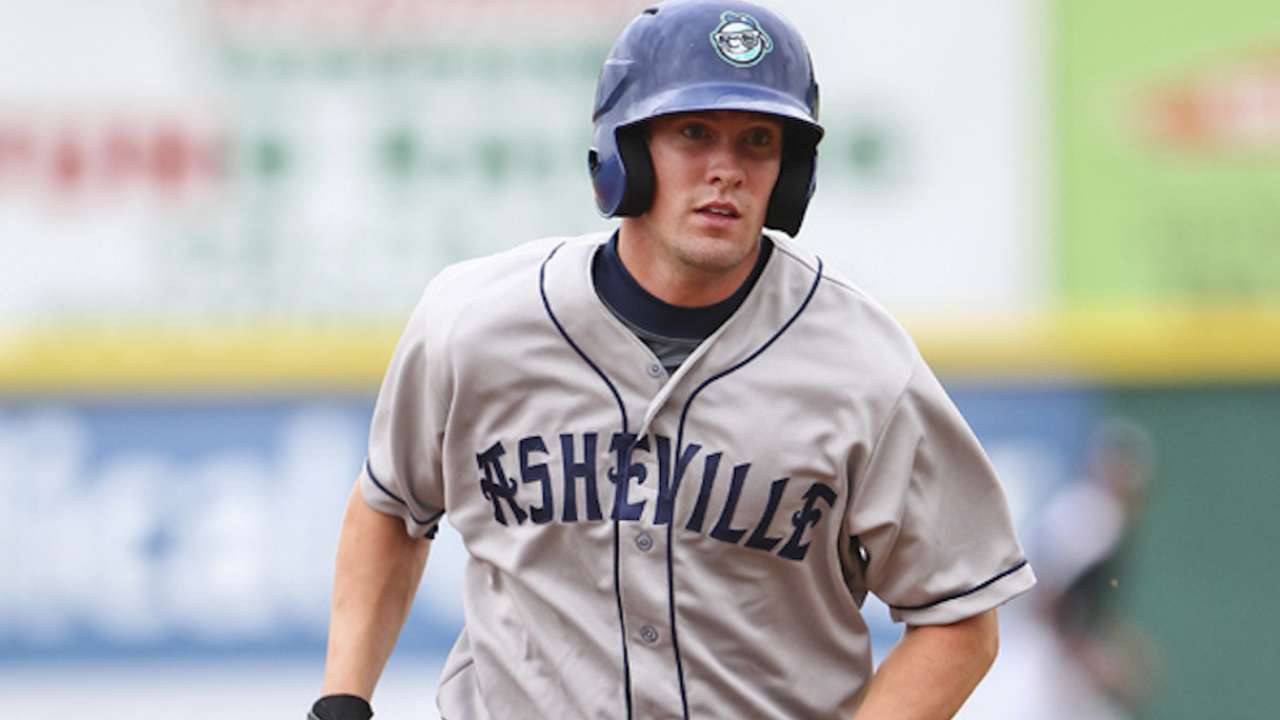 Rockies No. 3 prospect (No. 55 overall) David Dahl and No. 4 prospect (No. 57 overall) Jeff Hoffman helped Double-A New Britain take a back-and-forth game against Trenton, 6-5.
The Rock Cats fell behind, 1-0, in the second inning before taking a one-run lead in the third. Dahl helped New Britain extend that to 5-1 with a solo shot in the sixth, finishing 2-for-4 with an RBI on the day.
Hoffman provided a steady hand over the first five innings, allowing one run on three hits and striking out two hitters. But Trenton eventually came through with a four-run seventh to tie the game, setting the stage for a dramatic finish in the bottom of the ninth.
With two outs and a runner on second, Mike Tauchman lifted a single to left field, and Jan Vazquez came home for the walk-off win.
Dahl is hitting .275/.300/.418 with six homers and 23 RBIs in 63 games for New Britain, while Hoffman did not earn a decision and cut his ERA from 2.79 to 2.45 through three starts since the Blue Jays traded him to the Rockies in the Troy Tulowitzki deal.
The rest of the 10 best performances from top Minor Leaguers
• Angels No. 1 prospect (No. 24 overall) Sean Newcomb extended his Minor League strikeout lead -- he has 144 on the year -- while picking up his first win for Double-A Arkansas. The 6-foot-5 southpaw went five innings, striking out six while allowing one run on three hits. Newcomb is 1-0 with a 1.69 ERA through a trio of starts for the Travelers. He went 3-0 in his last four starts for Class A Advanced Inland Empire and has not lost since June 28.
• Blue Jays No. 9 prospect Conner Greene made his Double-A debut for New Hampshire, blanking Akron in six innings of work. The 20-year-old was promoted from Class A Advanced Dunedin earlier this week and proceeded to scatter three hits while striking out one batter for the FisherCats. "I was pretty nervous," he told MiLB.com. "I can't lie, but I was trying to take that nervousness and my excitement, the atmosphere and stuff, and use it to my advantage, get the adrenaline going."
• Cubs No. 7 prospect Ian Happ clubbed his first grand slam during Class A South Bend's 7-1 win over Beloit. The center fielder finished 1-for-5 with five RBIs in the most prolific night of his 45-game pro career. Happ hit eight doubles and four homers in 29 games for Class A Short Season Everett before getting a promotion to South Bend. He's hit .238 with two jacks and 10 RBIs in 16 games at Class A and has collected at least one hit in four of his past five contests. Chicago selected the former Cincinnati Bearcat No. 9 overall in June.
• Indians No. 7 prospect Bobby Bradley swatted his eighth homer of the past 15 games for Class A Lake County. The 19-year-old finished 1-for-4 with a two-run home run as the Captains fell to Cedar Rapids, 7-6. He's shown off his power recently, chalking up at least one RBI in 10 of his past 11 contests. He has 22 homers to go along with 74 RBIs and a .254/.339/.503 line on the year.
• Rangers No. 1 prospect (No. 8 overall) Joey Gallo went 2-for-6 with a solo homer in Triple-A Round Rock's doubleheader against Columbus. The blast was his 13th of the season for the Express and his 22nd overall in the Minors. Though his .207 average doesn't show it, Gallo has been a force in Round Rock since he joined the Triple-A team from the big league club. The 6-foot-5 third baseman has recorded 28 RBIs in 38 games, racking up a .517 slugging percentage.
• Rays No. 4 prospect (No. 79 overall) Garrett Whitley was perfect in the Gulf Coast League, going 3-for-3 with a double, homer and three RBIs as the GCL Rays took down the GCL Twins, 10-3. The 18-year-old center fielder set new career highs for hits and RBIs, bumping his average from .192 to .236. Tampa Bay selected Whitley No. 13 overall in the 2015 Draft from Niskayuna High in New York.
• Reds No. 1 prospect (No. 33 overall) Jesse Winker went yard for the third straight night on Thursday as Double-A Pensacola fell to Biloxi, 6-5. Winker finished 2-for-4 with a trio of RBIs that came on a third-inning shot, his 11th of the year, and he's gone 7-for-13 with six RBIs since Tuesday. The 21-year-old has been fairly consistent all season, batting .271/.371/.410 with 18 doubles and 43 RBIs in 103 contests for the Blue Wahoos. Drafted No. 49 overall in 2012, he's on pace to set new career highs for two-baggers (20 in 2014), walks (63 in 2013) and stolen bases (already blew by previous high with eight).
• Royals No. 11 prospect Cheslor Cuthbert set a new Triple-A career high with four RBIs as part of a 3-for-4 performance for Omaha. The corner infielder roped a triple and a seventh-inning go-ahead homer -- his second in two games -- against Memphis. He has five multi-hit efforts in his past eight contets. Cuthbert's .277 average is his highest since June 11 and the 22-year-old has 10 dingers and 43 RBIs for the Storm Chasers this year.
Alex M. Smith is a reporter for MLB.com. This story was not subject to the approval of Major League Baseball or its clubs.