Indians don't go down quietly during loss
Righty Bauer puts Tribe in early hole, but offense battles throughout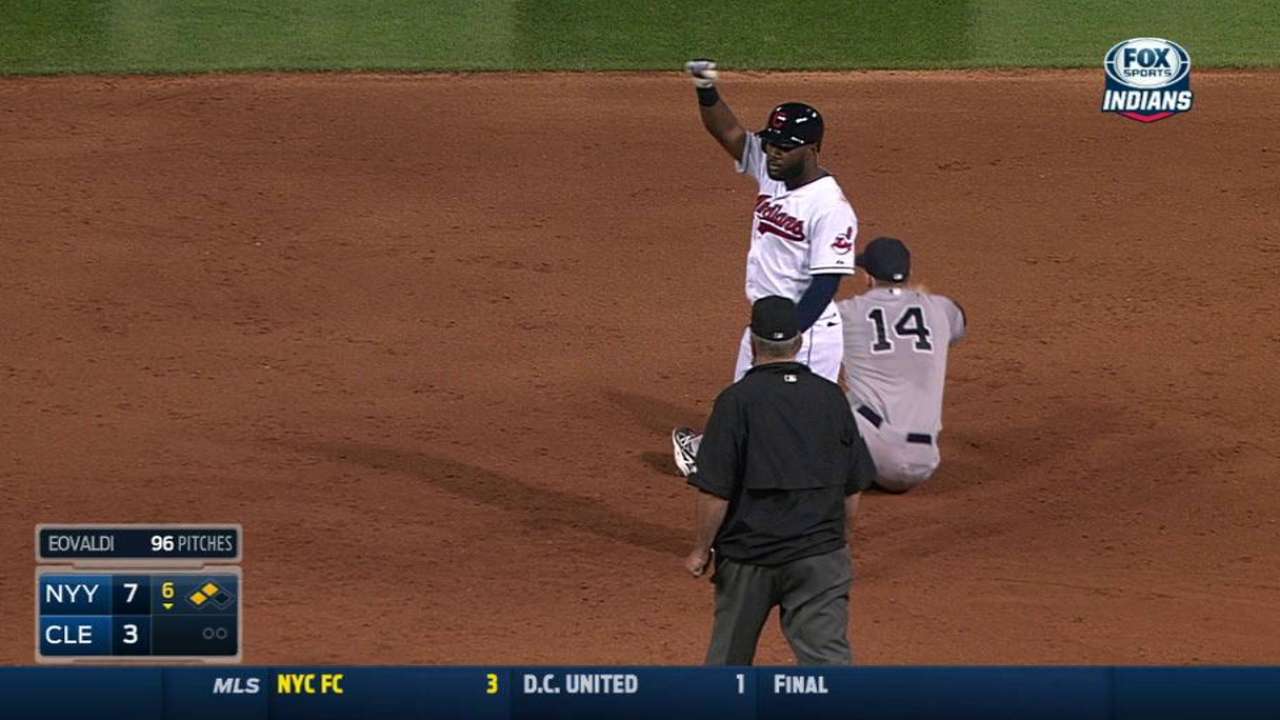 CLEVELAND -- A visibly frustrated Trevor Bauer didn't wish to speak about his most recent performance after the Indians' 8-6 loss to the Yankees on Thursday. The home runs he's allowed, past or present, "don't matter."
"Who cares how they scored? We lost," Bauer said.
Instead, Bauer wanted to give credit to his offense for repeatedly battling back in the loss at Progressive Field.
"I thought the team did a really good job today battling back, so write about that," Bauer said. "Write about the guys that went out and scored runs on a tough pitcher and were down really big early and battled and play well. Write about that. Don't ask me about giving up home runs and personal stuff when it doesn't matter. I gave up six."
The Indians' offense does deserve some credit. The Tribe racked up six runs on 12 hits despite being put in a tough spot, down four runs by the second inning. The team went 4-for-11 with runners in scoring position -- an area where the Tribe has struggled all season.
The third inning in particular showcased the Indians having success in some of the things they have been unable to do for much of this year -- simply having productive at-bats that move the runners over and get them in. Giovanny Urshela walked to lead off the frame and Jose Ramirez singled in the next at-bat. A sac bunt by Francisco Lindor advanced each runner 90 feet before Michael Brantley's sac fly brought Urshela home.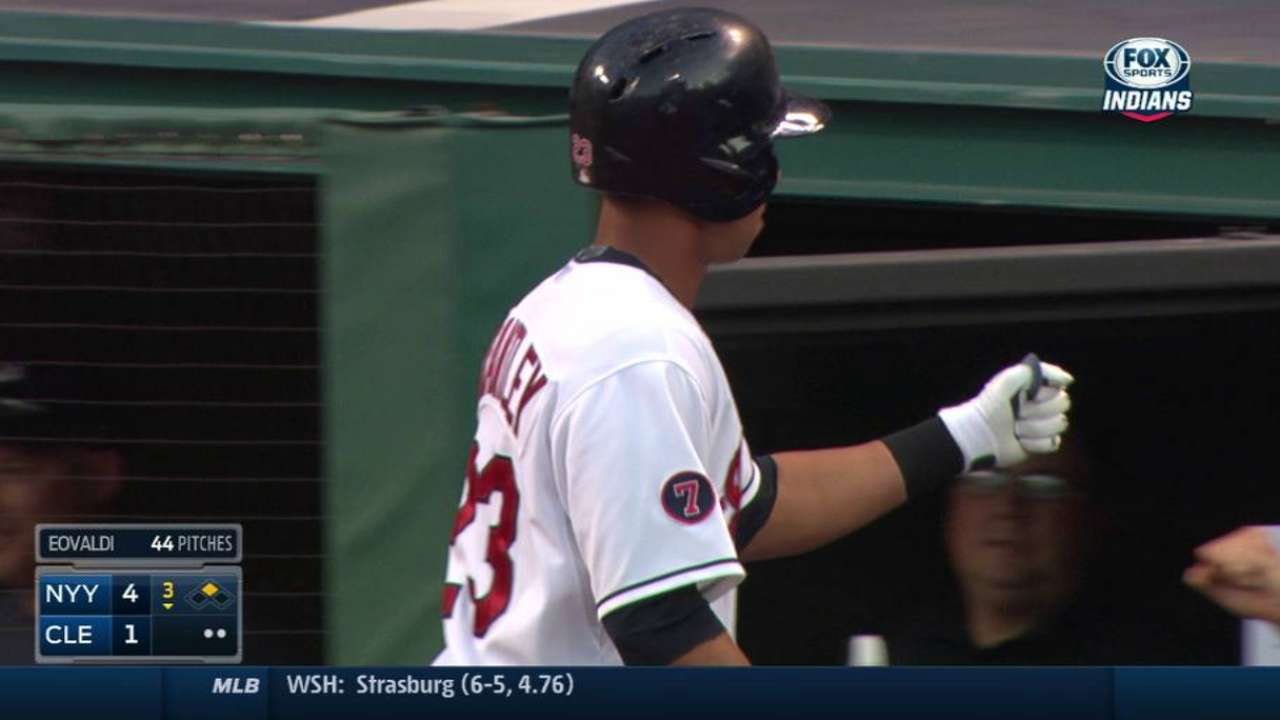 "The new guys have come in and contributed," Bauer said. "They've brought a lot of energy with them and excitement to the team and they've been playing well."
After Brantley's sacrifice fly, Carlos Santana's single scored Ramirez and brought the score to 4-2. After a tough start to the season with runners in scoring position, Santana's OPS with men on second or third is now up to .760, higher than the league average of .735.
Three more Yankee runs followed in the next three innings, but the Indians' lineup wasn't ready to give in, with new face Abraham Almonte and the recently recalled Lonnie Chisenhall chipping in RBI hits in the sixth.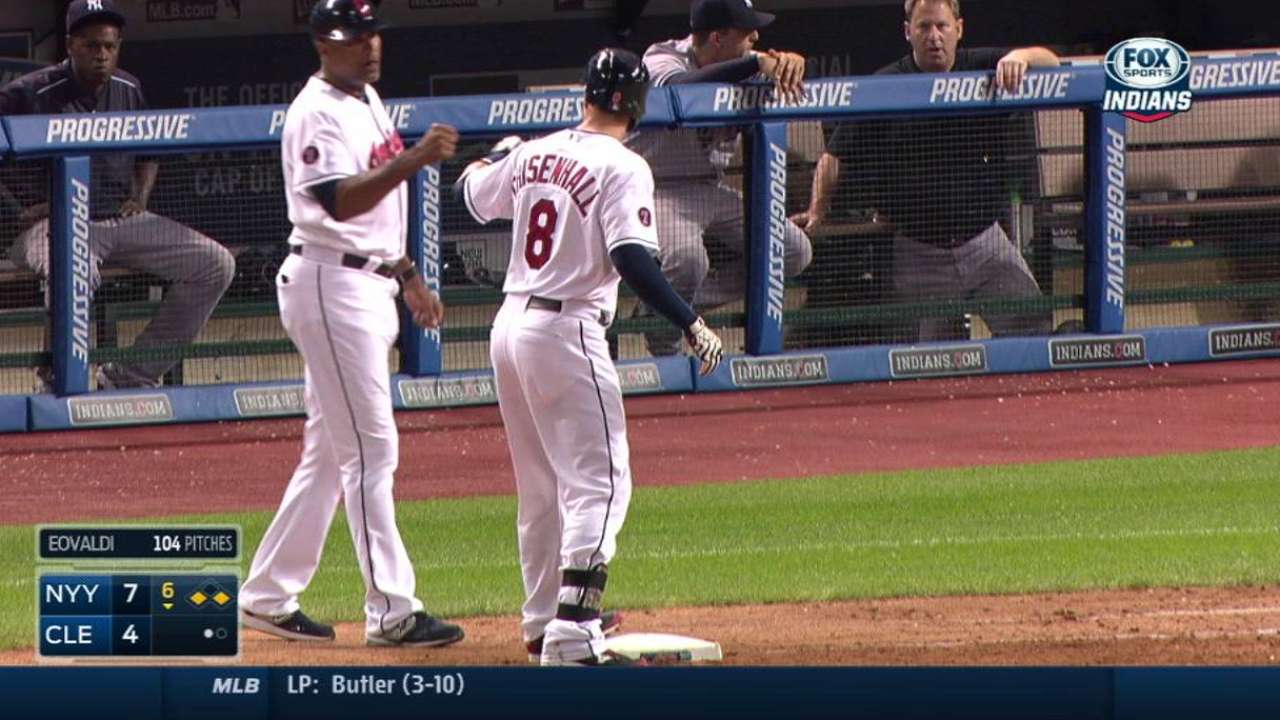 The team continued to get to the back end of New York's bullpen -- no easy task given the pitchers. Andrew Miller and Dellin Betances each have ERA's under 3.00 and have struck out more than a third of their batters faced. But the Indians scored a run with Betances on the mound in the seventh and got a run across against Miller for the second time in the series in the ninth.
"We just ran out of innings," Indians manager Terry Francona said. "You're down and see Betances and Andrew Miller coming and that's no picnic. But we kept hitting and guys gave themselves a chance. … Tough game to win."
August Fagerstrom is an associate reporter for MLB.com. This story was not subject to the approval of Major League Baseball or its clubs.