Win has Yanks confident heading into Toronto
Club snaps five-game skid ahead of crucial series vs. Blue Jays
CLEVELAND -- When catcher Brian McCann's first-inning homer landed in the right-field seats on Thursday night, the mood in the Yankees' dugout immediately improved. Manager Joe Girardi said that the quick three on the scoreboard somehow felt like more runs than their scuffling offense had produced in a week.
That was an exaggeration, but not a huge one. The Yanks had managed just nine runs in their previous seven games, losing six of those contests. They nearly equaled that output in an 8-6 victory over the Indians, producing a much happier flight for this weekend's division showdown with the Blue Jays.
"One hundred percent, down the stretch, this is what you put all the hours in for," McCann said. "This is fun, fun to do, and it's going to be a competitive race."
The Yanks snapped a five-game losing streak behind a career-high four runs scored by Stephen Drew and another decent outing from right-hander Nathan Eovaldi, who limited Cleveland to four runs in 5 1/3 frames and owes some of the credit for his team-leading 12 victories to good fortune.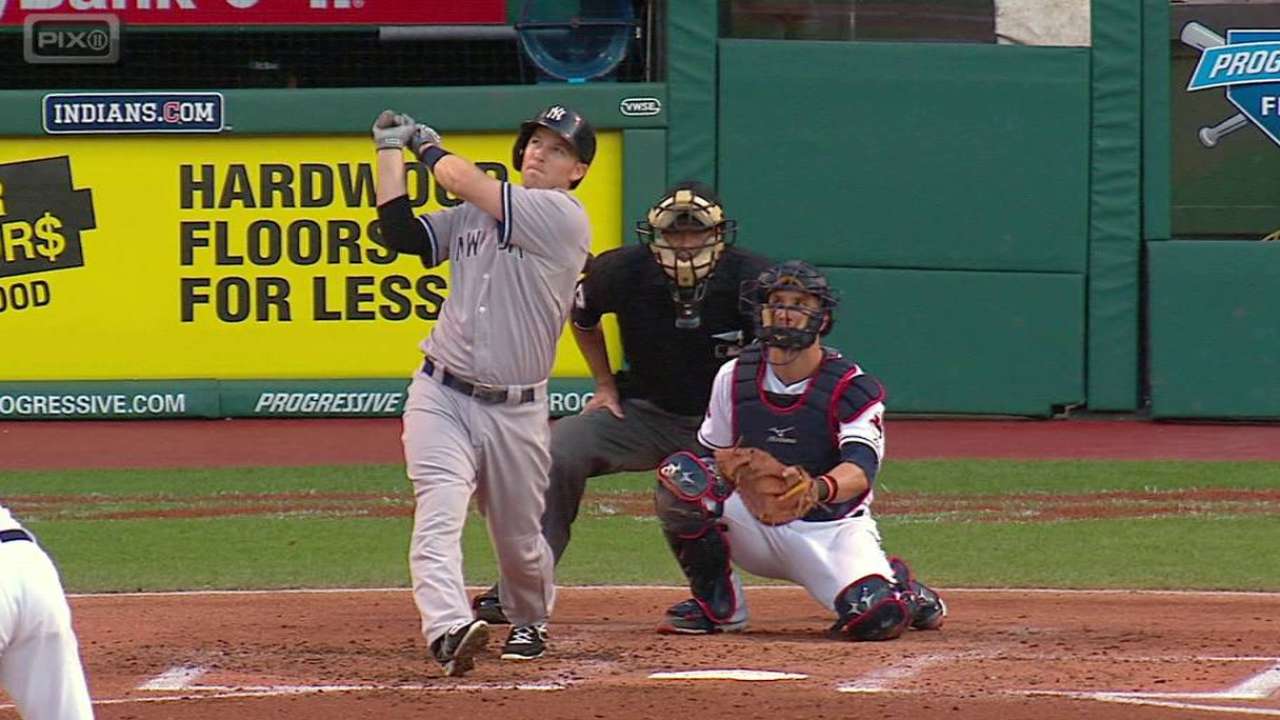 Coming into Thursday, the Yanks' Nos. 1 through 5 hitters had been 9-for-103 (.087) over the five-game slide. They produced for Eovaldi, as Jacoby Ellsbury led off the game with a single off Trevor Bauer to end a 19 at-bat hitless skid, Brett Gardner followed with a walk and McCann pummeled his 20th homer two outs later in a game the Yanks never trailed.
"It's just a matter of time," Drew said. "We've faced some tough pitching here, so you tip your hat sometimes. It's a long season. This team has been great all year and they're great to have at the top of the lineup. It's huge for us."
Clicking back into form should provide a confidence boost as the Yanks attempt to accomplish what no other club has been able to -- hand the Blue Jays a loss with Troy Tulowitzki in their lineup. Toronto won its 11th straight on Thursday, awaiting New York's overnight arrival. The rivals have 10 games remaining head to head.
"You know, no matter what happens or where we're at in the standings, we're all going to have an opportunity to kind of determine that destination," Alex Rodriguez said. "We have plenty of ample opportunities to play against each other. This weekend is an opportunity and we'll try to take advantage of it."
Girardi said that the eight-run outburst could provide momentum leading into another look at left-hander David Price.
"I think it's important," Girardi said. "You want guys to feel good about what they're doing, their at-bats that they're having. They have to feel a lot better today than they have lately."
Bryan Hoch is a reporter for MLB.com. Follow him on Twitter @bryanhoch, on Facebook and read his MLBlog, Bombers Beat. This story was not subject to the approval of Major League Baseball or its clubs.