MLB.com Columnist
Tracy Ringolsby
Walker making sure to enjoy every moment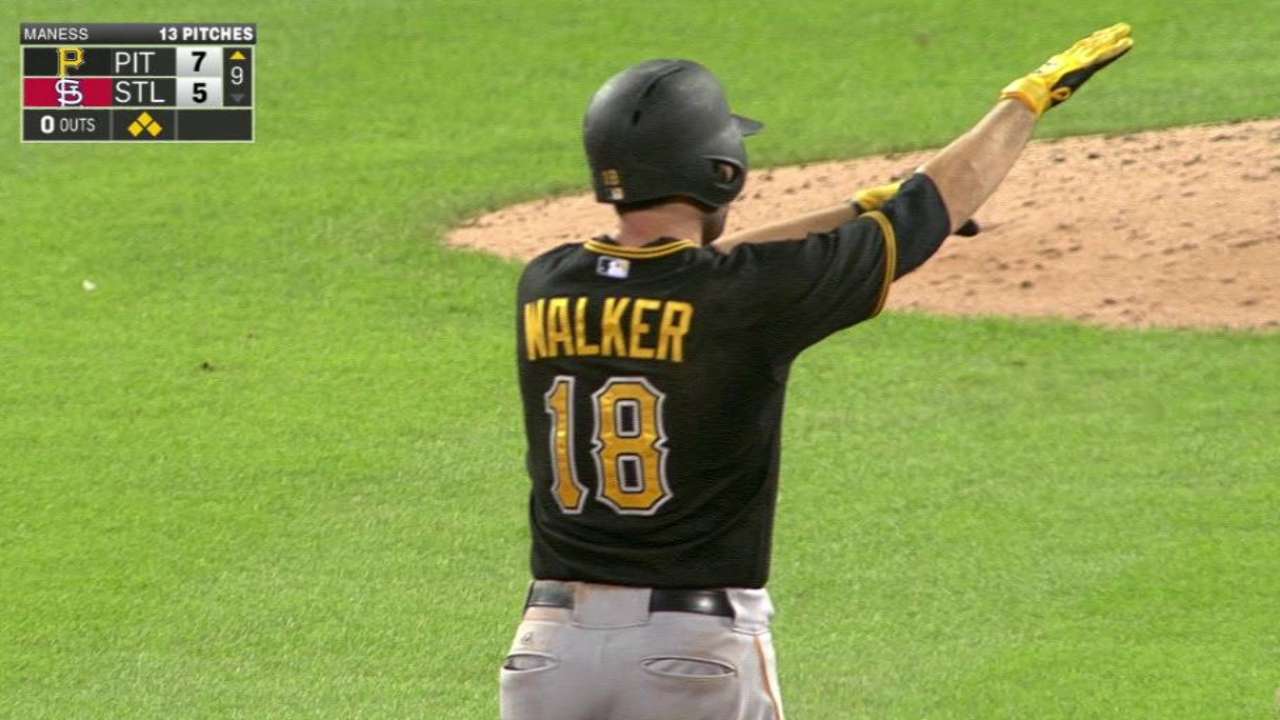 ST. LOUIS -- Pirates second baseman Neil Walker knows all about savoring the moment.
Others have heard or read about the plight of the Bucs, a team that won three consecutive division titles in the early 1990s, then stumbled through 20 consecutive losing seasons before finally get back to the postseason in 2013.
Walker lived through all of it, as a kid growing up in the 'Burgh, and as a player wearing the black and gold.
That is why for Walker, each step forward is a moment to savor. He knows how fleeting things can be in this game for a team, much less for a player. That is why Walker wants to enjoy today and not think about tomorrow.
Yes, the Pirates' 10-5 victory over the Cardinals at Busch Stadium on Thursday night was vital, because they "got a little momentum" where they had been winless in five previous games this season and where they have three more games to play the first weekend of September.
But Walker doesn't know what the future holds. His contract is up at season's end. Walker has another year of potential arbitration. He also knows that the Bucs are budget-conscious. It is no secret that Josh Harrison's second game on a rehab assignment on Thursday night was at second base, not third base, where Jung Ho Kang seems most comfortable.
It all adds up to speculation from outsiders.
Walker, however, has been around long enough and been through enough to know better than to think about what might happen. What he does think about -- and will always cherish -- is having been a part of the Pirates' resurgence.
And there is that looming dream that Walker could well be a part of bringing a World Series championship back to Pittsburgh, which hasn't had one of those October parades through the heart of town since 1979 -- six years before he was born.
Maybe this year.
Walker was, after all, a part of making the franchise relevant again.
"I definitely think that 2013 was a real eye-opener," Walker said. "I grew up with the Pirates of the early '90s -- [Barry] Bonds and [Bobby] Bonilla, going to Three Rivers and watching them all the time, living and dying in the playoffs against the Reds [in 1990] and the Braves [in '91 and '92].
"As a player, you lose sight of things like that, you are so focused on what is in front of you, what has to happen today, but growing up, watching it ..."
Walker stopped. He smiled.
Those memories of youth are special.
And to be part of creating those new memories for the latest group of kids in Pittsburgh is even better.
It is, after all, as Walker put it, "My home, my team. It's what I grew up caring about, wanting to be part of, and then I have that chance."
The expanded playoffs add to the opportunity of such teams as the Pirates. They have the third-best record in the big leagues, but the Cards have the best record, as well as a six-game lead on the second-place Bucs in the National League Central. An NL Wild Card spot, however, is still very much Pittsburgh's for the taking, which is why a victory like Thursday's is so critical.
It was Walker who got it all started, with a one-out triple in the top of the first inning that ignited a seven-run rally. And it was Walker who took part in the finishing touches, with a two-run double in the three-run ninth.
It kept the Pirates 1 1/2 games ahead of the Cubs in the battle for the two NL Wild Card spots and, more important, it left the No. 3 team in the Wild Card race, the Giants, five games behind the Bucs.
Walker, however, knows there are no guarantees.
As enjoyable as the past two seasons were, with the Pirates advancing to the postseason, the nightmares of 2011 and '12 linger. Looking to end that record-setting streak of losing seasons, the Bucs were actually in first place in the NL Central in late July both years. Then they finished in fourth both years. They lost 19 of their final 62 games in '11 and finished 18 games below .500. They lost 40 of the final 60 games in '12 and finished four games shy of breaking even.
"There is nothing more lonely than a September when you are in first place in late July and are looking up at everybody else in the division in September," Walker said. "It's what made 2013 so special. I had never been a part of meaningful baseball in August and September. After getting over the hump that year, we started to believe in ourselves, and we knew we could play with anyone in the league. Our confidence jumped through the roof."
There is one more step to be taken to make the revival of the Pirates complete.
A World Series appearance.
"That would probably be the best," Walker said. "I'll never forget how it felt when we got over the hump [and got to the postseason in 2013], but a World [Series] championship ..."
If this season is to be his last with the Pirates, it would be a special way to say goodbye.
Tracy Ringolsby is a national columnist for MLB.com. This story was not subject to the approval of Major League Baseball or its clubs.