Offense comes to life as Yanks snap skid
CLEVELAND -- Brian McCann and Stephen Drew homered as the Yankees enjoyed a respite from their recent offensive woes, snapping a five-game losing streak with an 8-6 victory over the Indians on Thursday night at Progressive Field.
The Yankees remained a half-game behind the Blue Jays for the American League East lead, knocking around Cleveland starter Trevor Bauer for six runs and seven hits over 3 1/3 innings. McCann slugged a three-run shot in the first and Drew hit a solo blast in the second off Bauer, who also gave up a pair of run-scoring doubles in the fourth.
"When you play 162 games, there's going to be times when you struggle and you don't hit," McCann said. "It happened to us this past week. We have a deep lineup that can hurt you. I've been saying that all year long. Tonight was good to get back on track."
Drew scored a career-high four runs as Yankees starter Nathan Eovaldi enjoyed strong run support on the way to his career-high 12th victory, permitting four runs and seven hits over 5 1/3 innings. Yan Gomes had three hits for the Indians, who saw their four-game winning streak snapped.
"It's a good win, no doubt about it," Yankees designated hitter Alex Rodriguez said. "We could have easily won two out of three, but we'll take that one and hopefully take the momentum to Canada."
MOMENTS THAT MATTERED
Mac attack: The Yankees had scored just nine runs in their last seven games, six of which were losses, so they were able to exhale when McCann's first-inning blast landed in the right-field seats. The Nos. 1 through 5 hitters in New York's order had been just 9-for-103 over their five-game skid. There was some history attached as a bonus: McCann became the fifth catcher since 1900 to hit at least 20 homers in nine or more seasons, joining Mike Piazza, Johnny Bench, Yogi Berra and Gary Carter. More >
"It seems like that's more runs than we've scored in a week, so it changes the mood, obviously," Yankees manager Joe Girardi said. "And it gets Evo a little lead to work with; it was a nice hit for us."
Bauer's bombs: The problem that's plagued Bauer in his recent string of rough starts bit him again in the early going on Thursday: the long ball. Bauer gave up a first-inning home run to McCann on the pitch immediately following a mound visit from pitching coach Mickey Callaway, and he was then taken deep by Drew in the second. McCann's homer drove in three and Drew's was a solo shot, as the Yankees quickly jumped out to a 4-0 lead.
"Don't ask me about giving up home runs and personal stuff when it doesn't matter," Bauer said. "I gave up six. Who cares how they scored? We lost."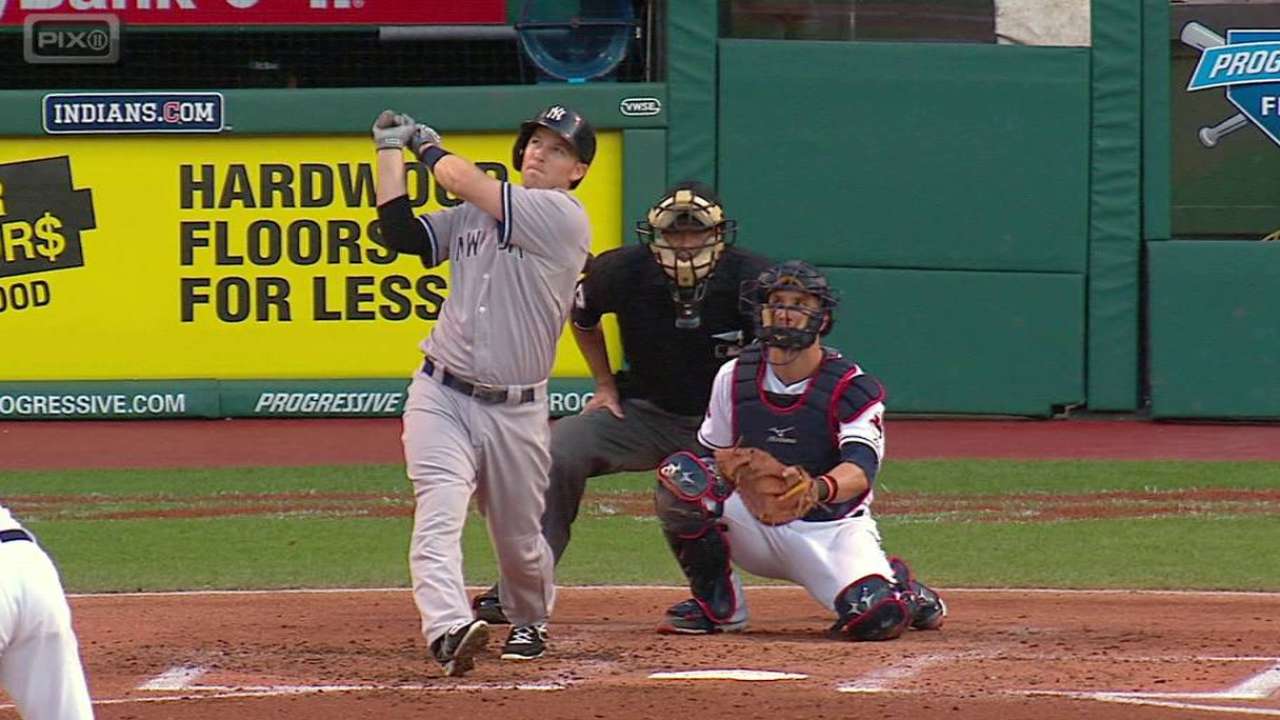 Calling for relief: After getting 5 1/3 innings from Eovaldi, the Yanks turned the game over to their vaunted bullpen, but it didn't come without stressful moments. Adam Warren induced a double-play grounder to escape the sixth before Justin Wilson gave up two hits in the seventh. Dellin Betances entered and got ahead of Gomes, 0-2, before walking him, then uncorked a run-scoring wild pitch before striking out Abraham Almonte swinging to strand the tying run at second base. Andrew Miller allowed a run in the ninth but held on for his 25th save.
"It's huge. That's a good team over there," Drew said. "They're scrappy, they have great arms with the starters and their 'pen. They were coming back and we were able to hold them off. One through nine tonight, we had a really good offensive night for everybody."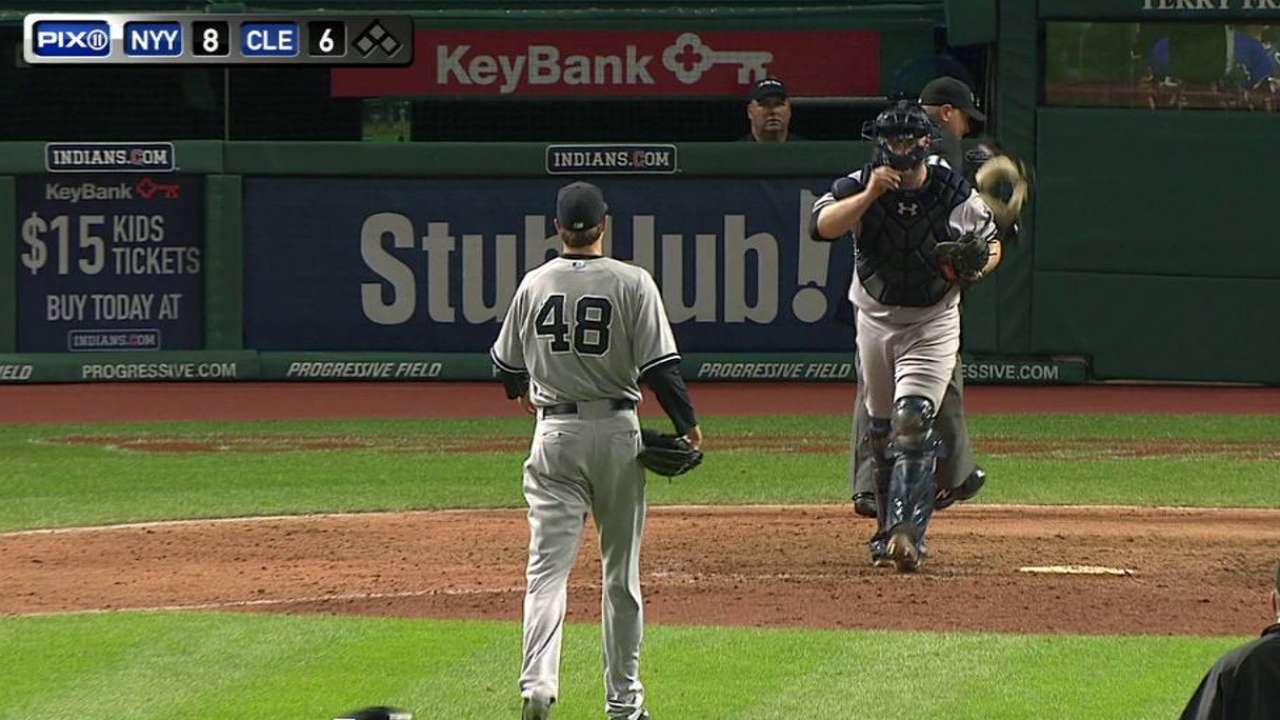 Close but no cigar: Bit by bit, the Indians did their part in making it a close game. A Michael Brantley sac fly and a Carlos Santana RBI single made the score 4-2 in the third. After the Yankees tacked on three more, Almonte and Lonnie Chisenhall chipped in RBI hits of their own in the sixth to bring the deficit to 7-4, and Betances' wild pitch scored Francisco Lindor to make it a two-run game at 7-5. More >
"We just ran out of innings," Indians manager Terry Francona said. "You're down and see Betances and Andrew Miller coming and that's no picnic. But we kept hitting and guys gave themselves a chance."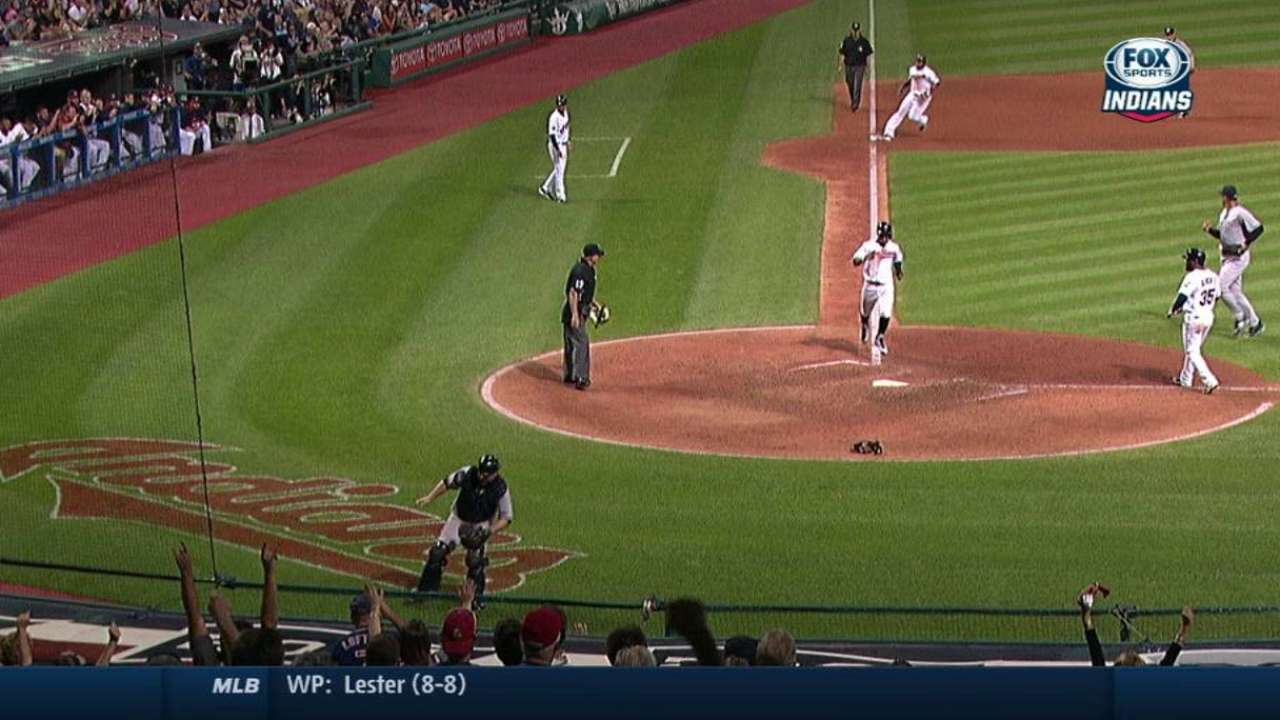 QUOTABLE
"For me right now it's more or less, 'What can I do to help this team win?' I'm not even worried about numbers anymore. We're still in the chase, so when it comes down to it, it's just playing well and playing good defense. Anything I can do to help this team win, that's what I try to do." -- Drew, who has hit 15 homers despite batting .195
"I guess that -- I don't know. You can ask me, keep asking me about it, but that's the answer. I don't know. I'll figure it out at some point, but right now, I don't know, so it doesn't make any sense to keep asking me about it. I thought the team did a really good job today battling back, so write about that. Write about the guys that went out and scored runs on a tough pitcher and were down really big early and battled and play well. Write about that. Don't ask me about giving up home runs and personal stuff when it doesn't matter. I gave up six. Who cares how they scored? We lost." -- Bauer, on his recent home run problems
SOUND SMART WITH YOUR FRIENDS
They call them the Bronx Bombers for a reason: Eight of the Yankees' last 14 runs have come via the home run. The Yankees are 53-31 when hitting at least one home run and 32-11 when hitting two or more home runs.
WHAT'S NEXT
Yankees: Ivan Nova (4-4, 3.52 ERA) will kick off a big weekend series in Toronto, drawing the start as the Yankees visit Rogers Centre for the first of three contests on Friday at 7:07 p.m. ET. Nova lost to the Blue Jays his last time out in New York, serving up a sixth-inning grand slam to Justin Smoak that helped decide a 6-0 Yankees loss. Nova is 4-3 with a 4.94 ERA in 11 career games (10 starts) vs. the Jays.
Indians: The Indians travel to Minnesota to begin an 11-game, four-city road trip on Friday at 8:10 p.m. ET and face the Twins for the second time in three series. Right-hander Corey Kluber (7-12, 3.46 ERA) will start the series opener, coming off one of his most dominant outings of the year that came against the same Twins team. In that start, Kluber went the distance and struck out 10, allowing one earned run and four baserunners.
Watch every out-of-market regular season game live on MLB.TV.
August Fagerstrom is an associate reporter for MLB.com. Bryan Hoch is a reporter for MLB.com. Follow him on Twitter @bryanhoch, on Facebook and read his MLBlog, Bombers Beat. This story was not subject to the approval of Major League Baseball or its clubs.