RBI continues tradition at AEBC tournament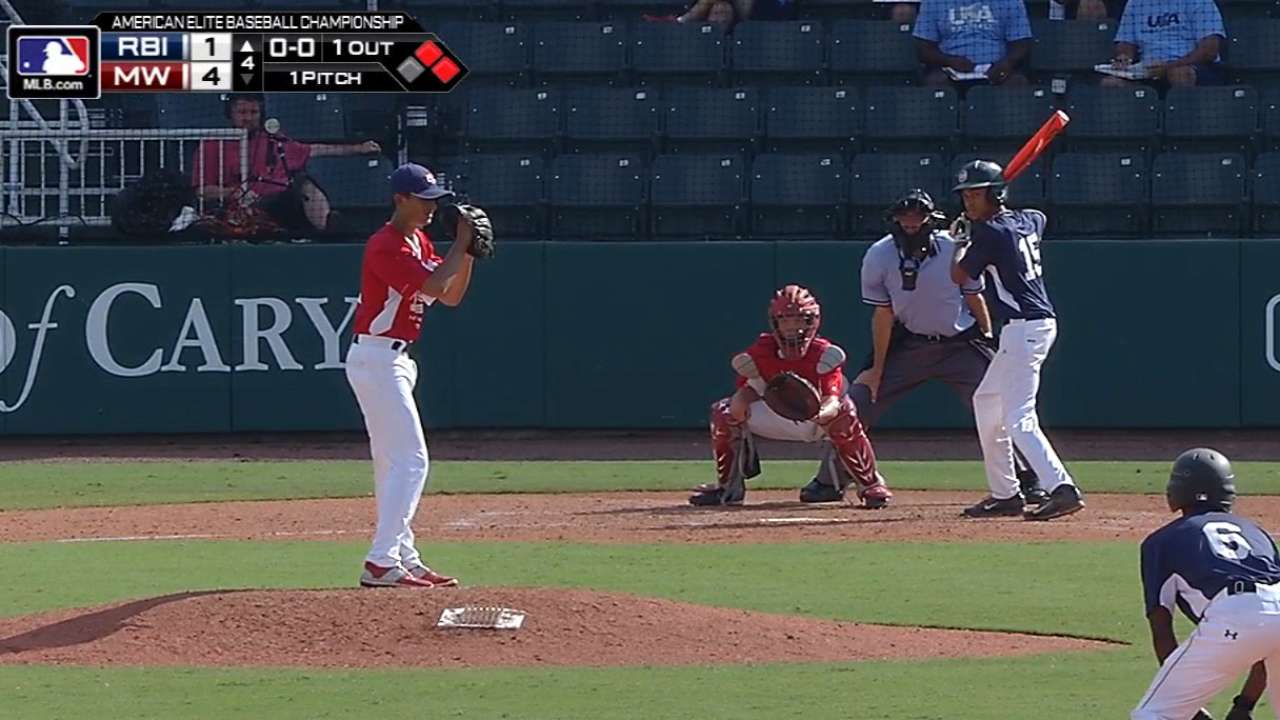 The Reviving Baseball in Inner Cities (RBI) program was started in 1989 to bring inner-city players back to the baseball diamond. Now, 26 years later, the program is thriving with talented players from all over the country.
RBI, sponsored by Major League Baseball, is devoted to promoting baseball in lower-income communities. It was launched in South Central Los Angeles but has developed into a nationwide program.
RBI is also having an impact at the American Elite Baseball Championship (AEBC). On the heels of a huge win on Thursday morning, RBI 13U coach Mark Whiten noted just how important the program is for his players.
"Hopefully, they get that fire lit in them to where they want to play a lot more baseball," Whiten said. "I've learned that as kids get older, they tend to fade away from baseball a little bit. ... I hope this makes them want to keep with it until they can't play anymore.
"It's a great game. It's just a matter of them being taught the right way and understanding the little things about baseball -- which a lot of them really don't. That's where I come in."
Whiten is now 15 years removed from his Major League career. Ironically enough, his rookie season was the year after the RBI initiative began.
For Demetrius Hill, a shortstop on the 13U team, having Whiten as a coach is nearly as valuable as being a part of the program.
"[Whiten] helps me with my swing, which has come a long way," Hill said. "That's why I come to these [tournaments]. The coaches really help you out, and that's how you get better."
The AEBC tournament is in its second day of competition, with RBI at 1-1 after a win over Capital. With such players as Hill, a Chicago native, and others from Michigan, Pennsylvania, Florida, New Jersey, Maryland and Indiana, the team is pulling together through its training with local RBI programs.
In the opposite dugout, another former Major Leaguer was coaching the Capital squad. Jeff Schaefer, who spent five seasons in the bigs, saw his team drop to 0-2 in AEBC play.
Although his team is a long shot to get back in the winner's bracket, playing in the AEBC is still an opportunity his players wouldn't be afforded otherwise.
"Any time you get a chance to come play and put 'USA' across the chest is special," Schaefer said. "This isn't just a normal weekend baseball event, it's so much more than that. ... It's tough, because these kids have jitters when they know people are watching.
"But they are 13-year-old boys. There's joy and there's heartbreak. At the end of the day, they are growing as players."
RBI helps nearly 230,000 young men and women across the country further their careers in the sport. Whether it's playing in a prestigious tournament for USA Baseball or learning under the tutelage of former MLB players, RBI gives kids a chance to play the game they love.
Thanks to a strong base of inner-city players with power at the plate, the future looks bright for the still fledgling program. In a word, Hill says playing for the RBI program with USA Baseball across his chest makes him, simply, "Proud."
R. Cory Smith is a contributor to MLB.com. This story was not subject to the approval of Major League Baseball or its clubs.