Aoki placed on DL with concussion
Giants call up outfielder Lollis in corresponding move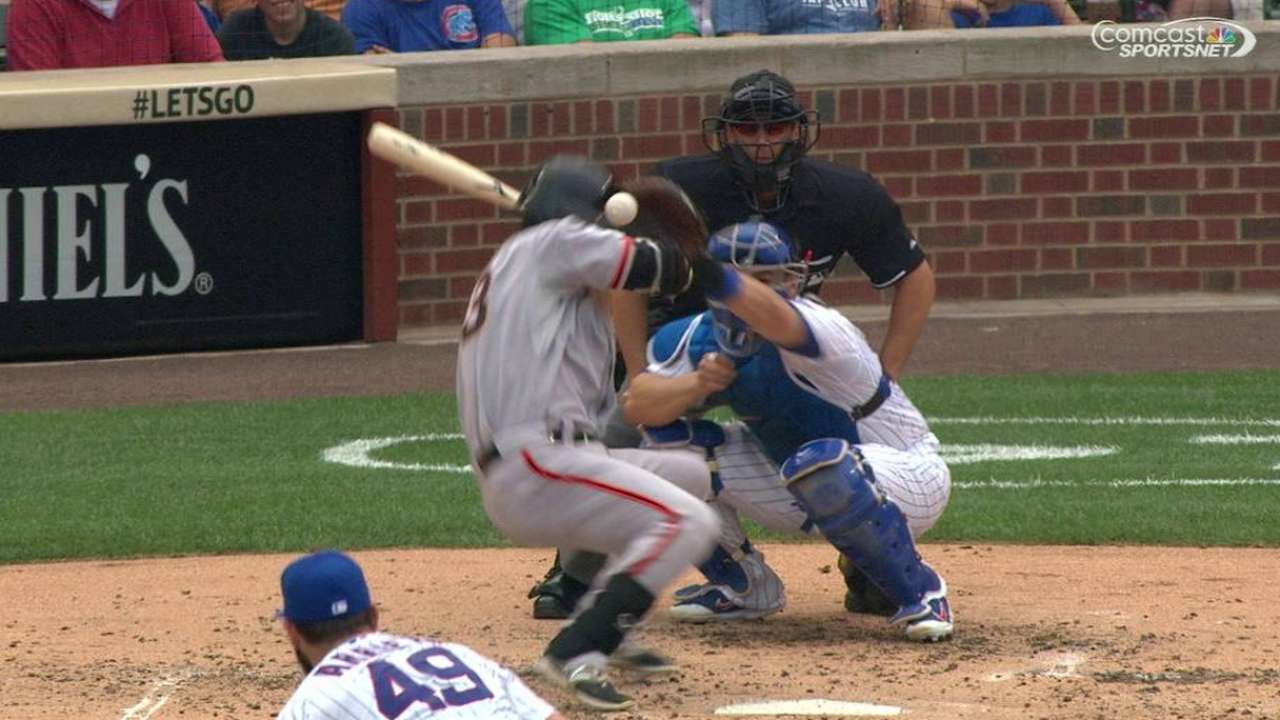 SAN FRANCISCO -- The San Francisco Giants placed left fielder Nori Aoki on the seven-day concussion disabled list and recalled outfielder Ryan Lollis from Triple-A Sacramento in a corresponding move.
Aoki, who was hit in the helmet with a Jake Arrieta fastball on Sunday, missed Tuesday's game against the Astros and returned to the lineup Wednesday afternoon. However, Aoki felt lightheaded throughout the first few innings and exited the game after the fourth.
Aoki passed concussion tests Sunday through Wednesday, but failed Thursday's test and was diagnosed with a concussion. The extent of the injury is unknown, but the team did not want to take any chances.
"He could be ready in two or three days," Giants manager Bruce Bochy said. "We just can't run short here. When you're talking about a concussion, you want to be on the side of caution and give him the full seven days."
Aoki told reporters prior to Thursday's series opener against the Washington Nationals he feels better than he did Wednesday, but credits that to the day of rest.
"I haven't really moved around too much today," Aoki said through translator Kosuke Inaji. "In a sense, I feel good, but at the same time, I don't feel good."
Bochy said he's "hopeful" Aoki will be able to return after seven days and added that if his leadoff hitter arrives at AT&T Park Friday and his symptoms have subsided, he may be able to begin rehabbing.
"If he comes in and feels good tomorrow then he'll start doing activities," Bochy said. "We'll find out, I think, pretty soon. We'll start putting him on the bike, exercising and see how he responds."
Lollis figures to serve as bench depth during Aoki's absence while Justin Maxwell mans left field in an everyday role.
• Tim Hudson will begin a rehab assignment Friday with Class A Advanced San Jose, where he is scheduled to throw two innings. The Giants want to make sure the 40-year-old feels comfortable coming out of the bullpen because the team is unsure of what his role will be when he returns.
Bochy said Hudson will start Friday's game for the San Jose Giants, but will work from the stretch to simulate a relief appearance. Bochy added how much he appreciates the veterans' willingness to take on a potential new role.
"That's pretty neat to have a guy that's accomplished what he has in this game and have the number of wins and success and saying, 'Hey, you want me in the 'pen to help out?' and prepare for that," Bochy said.
Oliver Macklin is an associate reporter for MLB.com. This story was not subject to the approval of Major League Baseball or its clubs.