Moss puts in late-night work in batting cage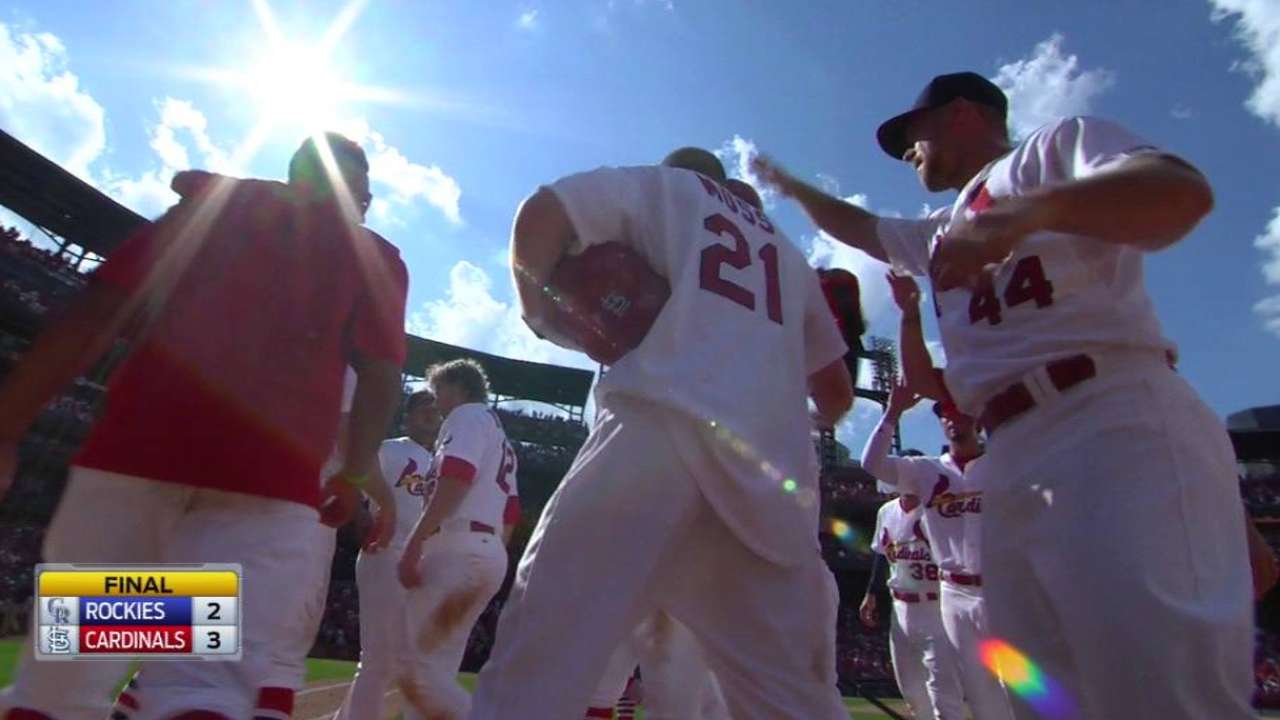 ST. LOUIS -- A three-strikeout night on Wednesday led Brandon Moss to a late-night stay at Busch Stadium, where he worked out his frustrations and his swing during a lengthy postgame session in the batting cage.
Moss wasn't sure what time he departed the ballpark, other than to note it "was late enough where I felt bad that the guys stayed and helped me out." But Moss went on to describe the series of late-night swings as a "big step forward."
"Obviously, I know the home runs, the hits, those will come," Moss said during a candid conversation on Thursday. "I would like for them to come sooner rather than later, because you want to make a good impression and do something to help the team. Fortunately, everyone is playing well and we're winning the ballgames, so there hasn't been too much of a focus on it. But like I was telling my dad, there's going to come a point where everyone is not swinging well and everything is not going so well, and I'm going to come up in a big situation and need to come through for the team. I need to be ready, and I need to be in a position to do that. And if I keep having at-bats like I had last night, I'm not going to be."
Moss has not made the desired impression or impact since a July 30 trade brought him to town from Cleveland. Acquired to offer a boost of power, Moss has just one extra-base hit (a double) and four singles in 32 at-bats. Moss has struck out 11 times. Two of those came against Pirates ace Gerrit Cole, who got Moss to swing through a pair of four-seam fastballs. Reliever Joakim Soria then did the same.
"Last night was a bad approach and being way over aggressive and trying to do more than I was going to be able to do," Moss said. "You're hitting against a guy who has some really good stuff, and you're hitting in a spot where the pitcher is behind you. You should be a little more selective. And instead of being selective, I was aggressive trying to get him early to try and not get behind.
"I also feel like there were some mechanical things going on -- my timing not being very good, rushing to the ball a little bit. Last night was just a bad night. That's the way that goes. I wasn't taking time to pick up the ball or recognize pitches. I was just trying to drive the ball regardless of where it was. Just bad at-bats."
Manager Mike Matheny, who kept Moss out of the lineup for Thursday's series finale, acknowledged that while Moss continues to work through issues with his swing, he may also be pressing during his efforts to prove himself a worthy midseason acquisition.
"Just because he cares," Matheny said. "He was very clear, too, about how excited he is to be here, and then to not be able to jump in and take the kind of at-bats [he wants], he's frustrated. He's a pro. ... I think he's got a great presence with our club and what he's doing. He needs, for himself and for us, to jump into a good feel at the plate."
Jenifer Langosch is a reporter for MLB.com. Read her blog, By Gosh, It's Langosch, follow her on Twitter @LangoschMLB, like her Facebook page Jenifer Langosch for Cardinals.com and listen to her podcast. This story was not subject to the approval of Major League Baseball or its clubs.