Brewers battling through 'difficult moment'
While Cubs are thriving, Milwaukee rebuilding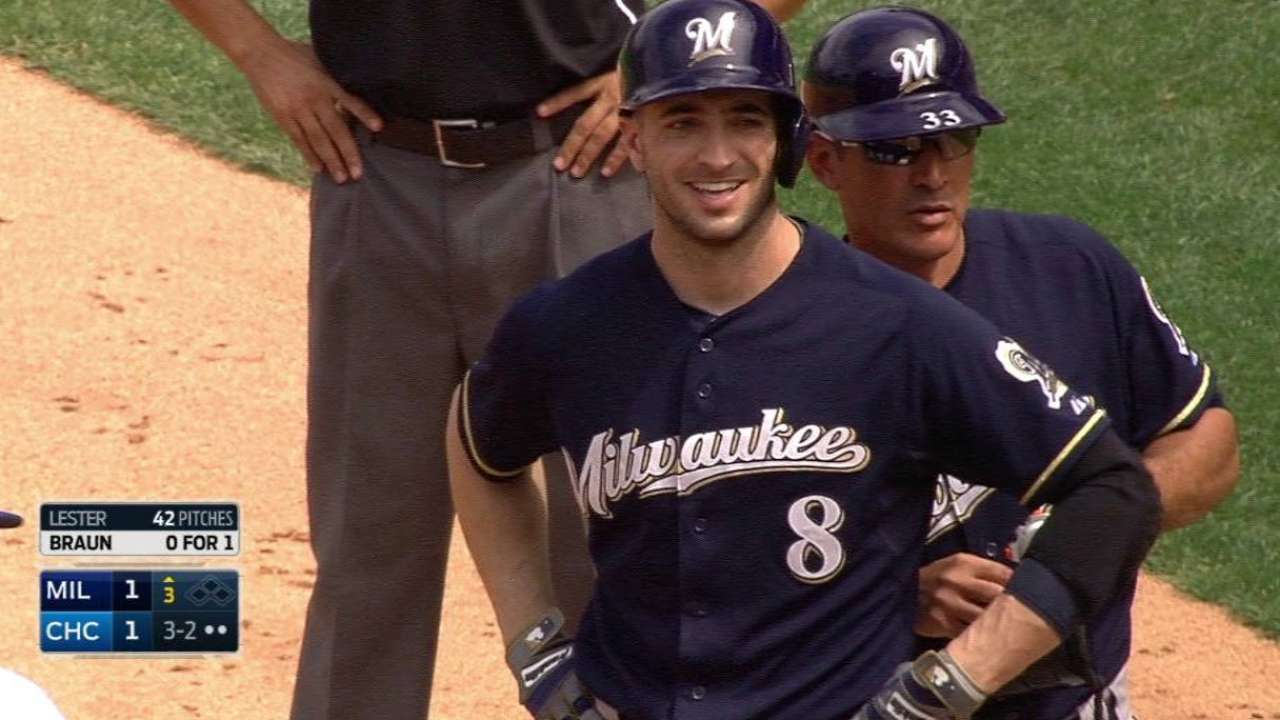 CHICAGO -- Brewers manager Craig Counsell bluntly assessed what happened to his team over the past three days at Wrigley Field.
"We got our butts kicked," Counsell said in the wake of a sweep-clinching, 9-2 loss Thursday that featured five Cubs home runs. "I mean, that's pretty simple. The Cubs are playing well, but we got our butts kicked."
These were two teams headed in opposite directions. The Cubs, having just emerged from a sometimes painful rebuilding period, have won seven in a row and 13 of 14, and are in position to make the playoffs as one of the National League Wild Cards.
The Brewers, having just traded away three mainstays of the starting lineup to signal the beginning of their own rebuild, have lost 16 of 22. In that time, Milwaukee has been shut out five times, held to two or fewer runs 12 times, and ranks last in the Majors with 2.77 runs per game.
"This is a difficult moment," said closer Francisco Rodriguez, one of the remaining veterans in the wake of trades that sent Aramis Ramirez, Carlos Gomez and Gerardo Parra to contending clubs. "Unfortunately, we've been through it the whole season and part of last year. We have to continue to show up and give everything you have every night."
Does he still like what he sees in the "showing up" department?
"Everything is normal. Guys are having fun, guys going through their routines," Rodriguez said. "But when we go out there, we're not clicking. When we hit, we don't pitch. When we pitch, we don't hit. It's just not clicking. Either it's one way or the other -- and today, it was everything bad. Again.
"But no one is going to feel sorry for [us] for a second. You have to continue to go out there and fight and try to find a way. We're not going to make the playoffs, right? But that doesn't mean that we cannot have fun and get the job done at the same time in these upcoming seven weeks."
At the same time, the rebuilding process has moved from the clubhouse to the front office. General manager Doug Melvin announced Tuesday his intention to transition to a different role with the club as soon as it can hire a new GM.
In the meantime, Melvin will continue to run the baseball operations department, and Counsell, who stressed several times this week the importance of embracing change, will try to keep players focused on winning games.
"There's a lot of guys with a lot to play for," Counsell said. "Losing's difficult. It makes it harder to have fun, there's no question. But there's a lot of guys with a lot to play for."
Adam McCalvy is a reporter for MLB.com. Follow him on Twitter @AdamMcCalvy, like him on Facebook and listen to his podcast. This story was not subject to the approval of Major League Baseball or its clubs.