Tulo looks to extend 13-0 record as starter
Three players since 1961 have better opening streaks with new teams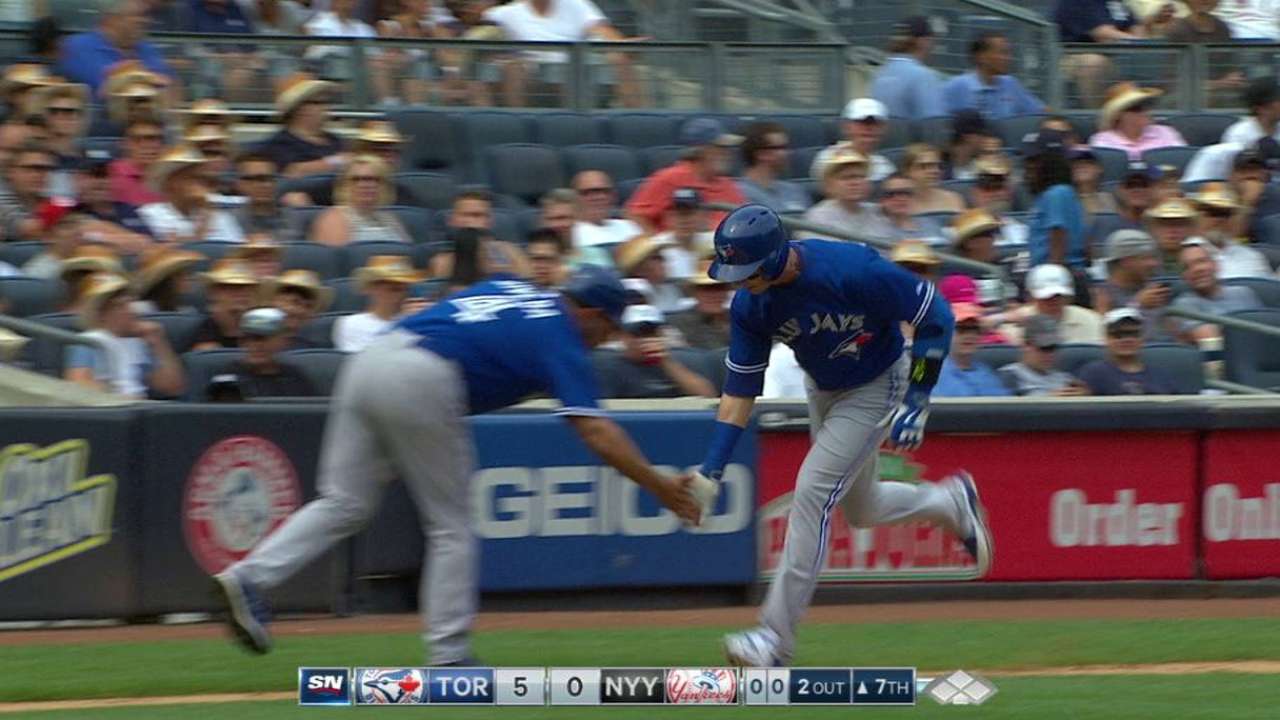 Troy Tulowitzki is going where no Major League Baseball player has gone before, at least since the 1961 expansion era began, but there are still a few more names for him to pass on the record books when it comes to his 13-0 record as a Toronto starting shortstop entering this weekend's big series at home against the Yankees.
According to the Elias Sports Bureau, three players since 1961 have made more than 13 consecutive starts with new clubs that won them all: Braves catcher Javy Lopez (17-0, Oct. 1, 1992, to April 18, 1994), Dodgers third baseman Wilson Betemit (14-0, July 30-Aug. 15, 2006) and A's second baseman F.P. Santangelo (14-0, Aug. 4-Sept. 9, 2001).
None of the three had anywhere near the established credentials that Tulowitzki, the five-time All-Star, brought from Colorado after his July 28 trade. And in the case of Lopez, it was a starkly opposite situation that played out over more than two years as an aspiring callup -- an arcane legacy of the Braves' 1990s dynasty that few would be able to recall.
Lopez came in as Damon Berryhill's backup for Bobby Cox's Braves as a September callup in 1992, when Atlanta reached its first World Series before losing to Toronto. Lopez's first start was on Oct. 1 in a 6-5 victory over the Giants, catching starter Steve Avery. The Braves played a doubleheader the next day, with Berryhill starting the first game and Lopez starting the nightcap, going 3-for-4 in another Atlanta win.
Berryhill remained the regular catcher in 1993, with Lopez getting another handful of starts as a callup, and then the job was his as Berryhill signed with Boston as a free agent for the '94 season. Not to slight Lopez, who contributed well whenever he started, but that streak was pieced together over a long haul and was happenstance, really.
Betemit was the closest similarity to Tulowitzki's situation, yet he never had played a full season. Betemit was traded by Atlanta to the Dodgers on July 28, 2006, for Willy Aybar, Danys Baez and cash, and Los Angeles went on a tear, winning 15 of the next 16 games.
Betemit was an immediate impact player at third base, with three hits in his debut and a homer in the next game, and four homers during that 16-game run. He came off the bench a couple of times during those games.
Santangelo was simply trying to extend a workmanlike Major League career, one that would expire shortly after his 14-0 streak was finished. Oakland acquired him at the end of 2001 Spring Training, and he was in the right place at the right time when the A's began playing him that August. Those A's, who won 102 games, were 18-2 when he started, including his first 14 starts. There were many appearances off the bench during the course of that streak, though.
Lopez, Betemit and Santangelo all had something else in common during their unbeaten-streak seasons: Each played in the subsequent postseason. A harbinger for Tulowitzki?
Tulowitzki did not play in the Blue Jays' victory over Oakland on Thursday -- Toronto's 11th win in a row. He is expected to return to the American League East leader's starting lineup as the Yankees come to Rogers Centre for a three-game series starting Friday night.
Mark Newman is enterprise editor of MLB.com. Read and join other baseball fans on his MLB.com community blog. This story was not subject to the approval of Major League Baseball or its clubs.