Rockies find power neutralized by sharp pitching
Club still hits 'em out away from Coors, but Mets hurlers overcome that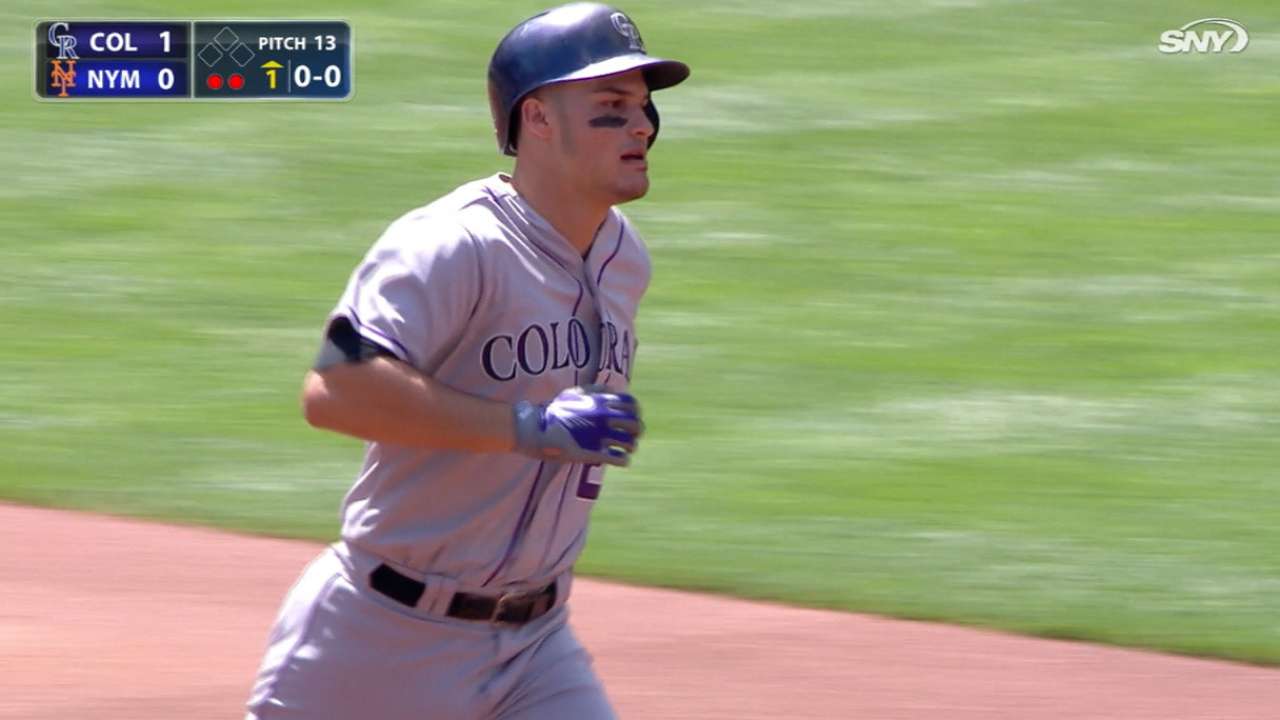 NEW YORK -- Nolan Arenado knew the Rockies needed to do as much as they could early against Mets hard-throwing rookie pitcher Noah Syndergaard on Thursday afternoon.
DJ LeMahieu knocked a solo homer with one out in the first inning, and Arenado went deep two batters later. But Syndergaard would yield just two more hits in his seven innings, and the Mets feasted on Rockies pitching, 12-3, to complete a four-game sweep at Citi Field.
"I feel like as the game went on, his stuff started getting sharper," said Arenado, whose homer was his 28th of the season. "We got three runs. We just couldn't get any more."
The LeMahieu and Arenado homers ended a 23-inning scoreless streak after Carlos Gonzalez's two-run homer in Monday night's fourth inning. The steak was fashioned mostly by Mets starters Jon Niese, Matt Harvey, Jacob deGrom and Syndergaard.
"He's a great pitcher and he throws hard," Arenado said. "Everyone we faced throws 95-99 [mph]. Usually that's coming out of the 'pen. But we're seeing it for 5-7 innings. Then you get the closer [Jeurys Familia] in the ninth. There's no let-up."
The Rockies went 2-5 on a road trip against the top two teams in the National League East standings by taking two of three at Washington before being swept at Citi Field. While the series against the Nationals, with Gonzalez and Arenado powering the attack, showed the team's offensive capability (even with Troy Tulowitzki now producing runs for the Blue Jays), the series in New York highlighted some warts.
Offensive production naturally drops when the Rockies are away from Coors Field. When pitchers struggle the way Eddie Butler did Thursday, or the way the bullpen struggled in the previous three games after decent work from the starters, results can be ugly.
Arenado, a third-year player who has produced offensively and defensively, believes in the Rockies' future, even if the present is clouded with losses. The Rockies are 47-66, last in the NL West.
"Obviously, if you have arms like that ... they're all No. 1s," Arenado said of the Mets. "But we're learning. We've got some guys and they're trying to figure out who they are. We're all trying to figure out who we are. We've just got to go out and battle as best we can, find a way to win. We couldn't do it this trip. We went to Washington and won a good part of it.
"Nobody wants to lose here. You deal with it. But losing gets old. No one's happy about losing. But we battle. That's all you can do."
Thomas Harding is a reporter for MLB.com. Follow him on Twitter @harding_at_mlb, and like his Facebook page. This story was not subject to the approval of Major League Baseball or its clubs.