Syndergaard shows maturity in ability to settle down
Rookie goes seven strong afer giving up pair of homers in first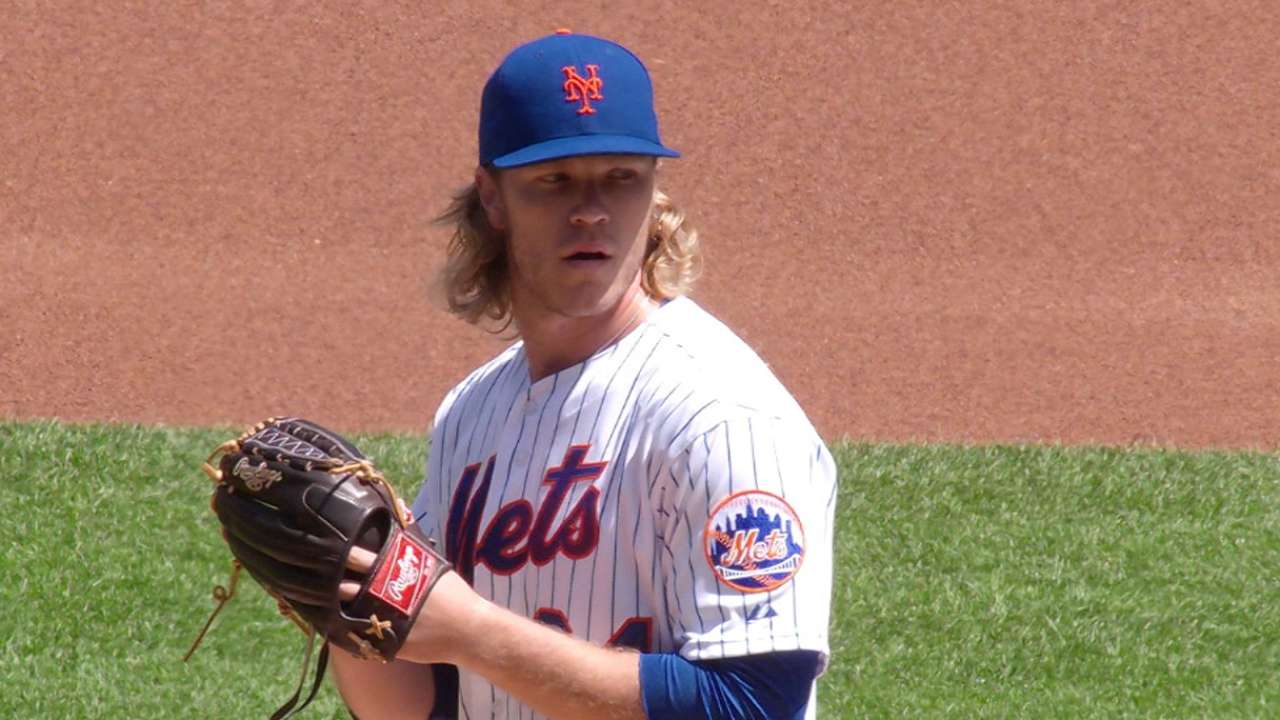 NEW YORK -- For weeks, Terry Collins has repeated the same few sentences about Noah Syndergaard. He knew all about Syndergaard's physical gifts, he says. What has surprised him is the rookie's ability to learn and adjust on the fly.
Through 16 Major League starts, Syndergaard had shown the capacity to overpower big league lineups, to cruise through innings when things were going his way. What he had yet to master was what to do when those lineups got to him.
That step in the process started Thursday, when Syndergaard allowed home runs to two of the game's first four batters. He recovered in dominating fashion, finishing seven innings in the Mets' 12-3 win over the Rockies. He gave up two singles in the second, but held the Rockies hitless for the rest of of his outing, walking two and striking out five.
Normally, when things don't go Syndergaard's way, he responds as one would expect of a rookie with a 98-mph fastball: He goes back to that four-seamer, trying to make each pitch perfect. He aims for corners. He looks for strikeouts, rather than taking outs where he can get them.
Extreme results follow. Sometimes, it works and he gets out of dangerous situations. Sometimes, it results in even more problems.
"We know he can do that, but it's gotten him in trouble in his last couple starts," Collins said.
Last time out, Syndergaard piled trouble on top of trouble, allowing four runs in the first two innings of his start at Tampa Bay. His pitch count soared, and he lasted just four innings.
Thursday, he started down that tempting path again; 10 of his first 12 pitches were fastballs as he tried to power his way out of a potential big inning. DJ LeMahieu got to him first, putting a 97-mph fastball over the wall in center field. Five pitches later, Nolan Arenado hit the same pitch into the left-center-field seats.
"I made two mistakes in that inning, and they jumped all over those fastballs," Sydnergaard said. "After that, I was just able to settle down and continue to pitch, rather than throw."
After that first inning, Mets pitching coach Dan Warthen sat Syndergaard down and talked through the adjustments. Warthen suggested backing off the fastball and starting at-bats with breaking balls and offspeed pitches, rather than trying to overpower batters right away.
Just 11 of his next 20 opposing hitters saw a first-pitch fastball, as Syndergaard worked through quick innings. Syndergaard capped his day with a five-pitch seventh. Consider the next phase of his learning process well under way.
"It was one of those outings where I was able to make mechanical adjustments throughout the game," Syndergaard said. "It's not necessarily how you start, it's how you finish."
Alden Woods is an associate reporter for MLB.com. This story was not subject to the approval of Major League Baseball or its clubs.