Plenty of developments at Owners Meetings
Korn Ferry retained to assist front-office candidates, increase diversity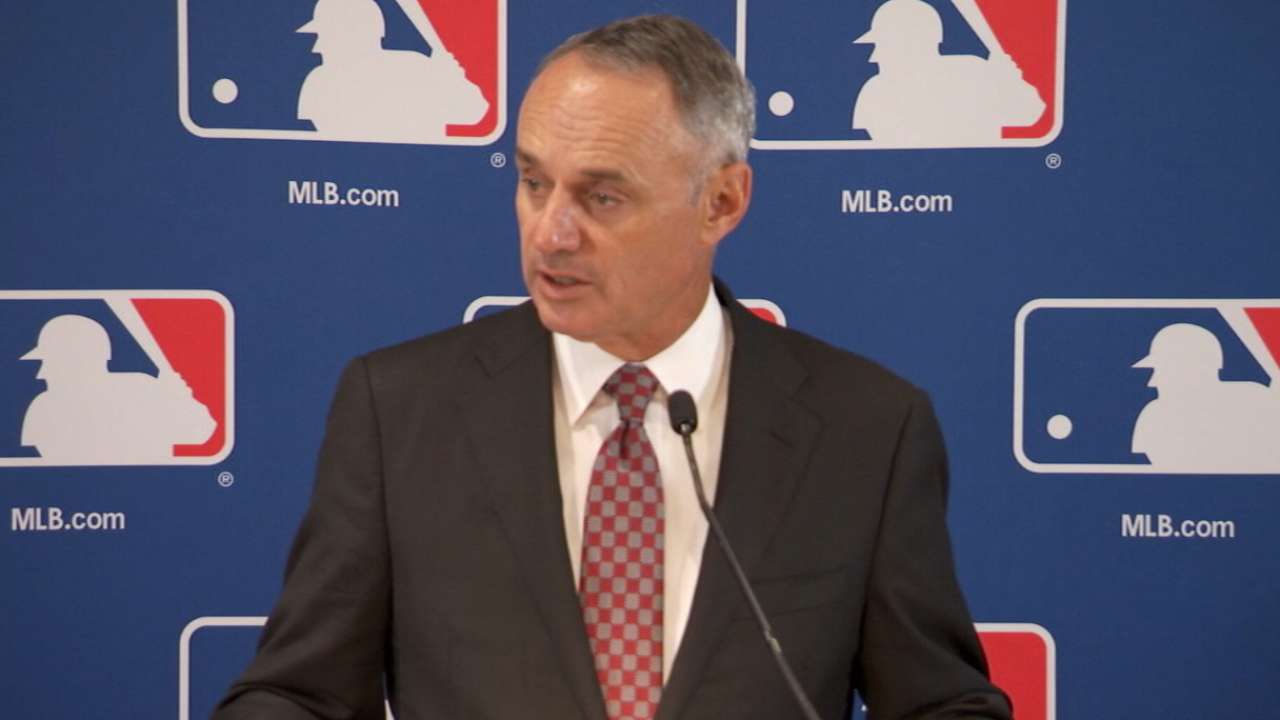 CHICAGO -- Three months ago, Commissioner Rob Manfred promised Major League Baseball would build upon the "Selig Rule," which required that minority candidates be interviewed for managerial and significant front-office openings in an effort to increase diversity.
It didn't take long.
As the quarterly Owners Meetings were wrapping up on Thursday, one of the developments was an announcement that MLB has retained the leadership search firm Korn Ferry to provide support services in interview preparations for key baseball operations positions, with a special emphasis on minority and female candidates.
"You know, interviews for these sorts of jobs are not like when you go in to be interviewed to be a first-year lawyer. They look at your resume and your grades and whatever. They talk to you a little bit," Manfred said. "These interviews are detailed activities. It's not just how you present yourself in the interview, [although] that's a skill that can be refined. But it's also substantive packages of material that demonstrate your ability to evaluate personnel or manage, depending on what the job is. And we think we can help diverse candidates who get interviews make the best possible presentation. And, hopefully, help them get hired."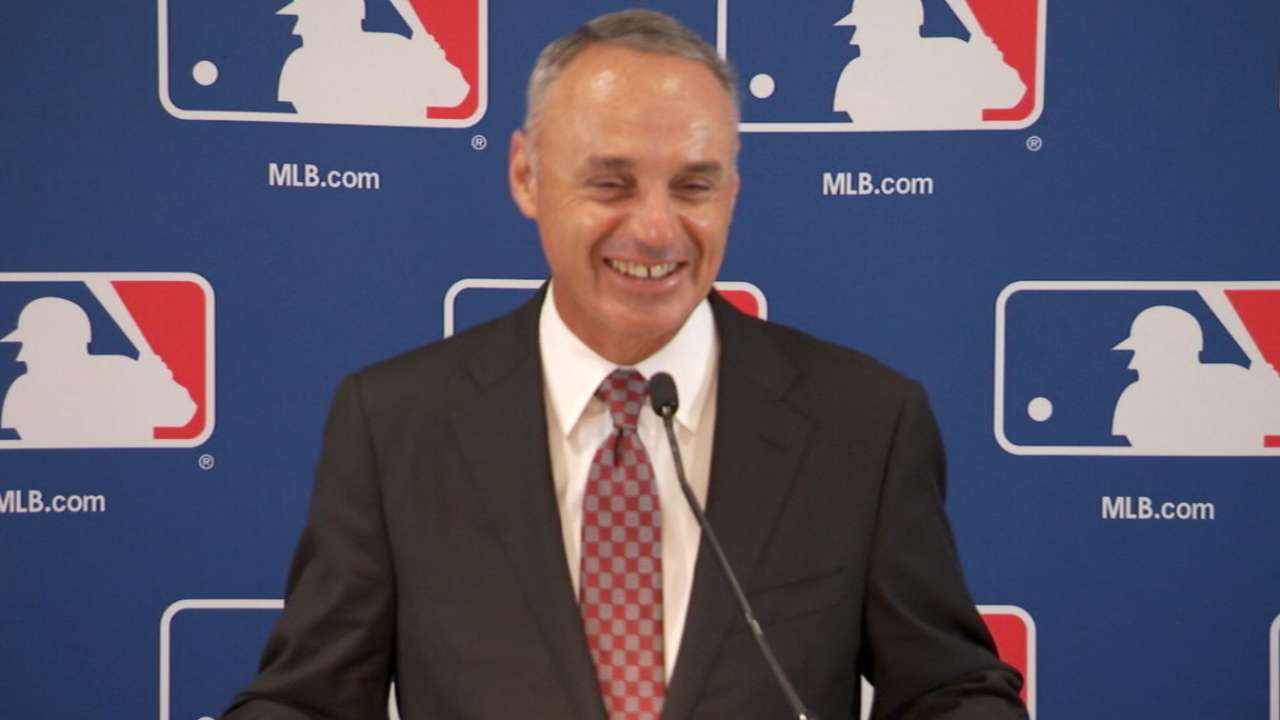 Meanwhile, behind closed doors, the most buzz at the meetings was generated by the progress and promise of BAM Tech, the technology arm of MLB Advanced Media that recently entered into a groundbreaking digital media-rights partnership with the National Hockey League.
"The owners unanimously endorsed the establishment of BAM Tech as a stand-alone entity and endorsed and authorized whatever transactions and financing arrangements are necessary to make sure that BAM Tech is a player in the purchase of content rights for sports and non-sports," he said.
"The timetable is hard to say at this point. I think the charge to the board was best summarized as exploring all the potential transactions and/or financing arrangements that would best put us in a position to grow Bam Tech quickly."
Manfred touched on several other topics as the session ended.
With the current Collective Bargaining Agreement set to expire in December 2016, there was a presentation from the Labor Policy Committee updating the status of preparations for the next round of negotiations with the MLB Players Association.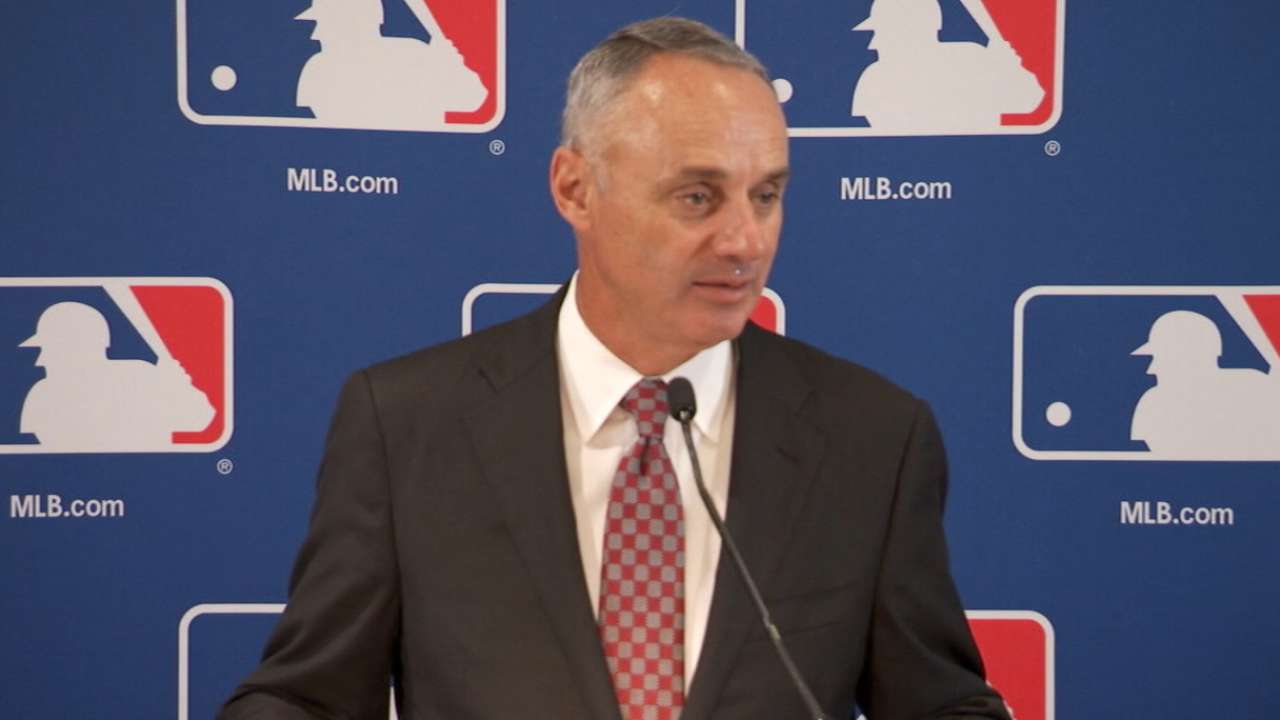 "[Chief legal officer] Dan Halem and I worked together on labor matters for a very long time," Manfred said. "I've always been a big negotiation preparation person. I think the better job you do in that preparation, the better chance you have to make a big and make an effective deal. And I think Dan is taking that process really seriously. He's done a tremendous amount of work already."
The Commissioner repeated his commitment to growing the game internationally. "We have a variety of locations that we're looking at in the hope we'll be playing [regular-season games] abroad. But we don't have any on the calendar right now," he said.
Youth initiatives have been a cornerstone of Manfred's agenda, and he indicated there will be announcements soon about additional Urban Youth Academies. He praised the success of the first Elite Development Invitational that was held recently in Vero Beach, Fla., which made two weeks of coaching by former big leagues available to 158 players, many of them minorities. "That is a model we want to expand upon. We think these elite camps can become something that becomes aspirational for kids who are playing the game," Manfred said.
And he noted that 130 mayors are hosting grass-roots Play Ball events this month, and thanked the Players Association for its commitment to this effort. "That's a huge step forward for baseball in this area," Manfred said. "[MLBPA executive director] Tony Clark deserves a great deal of credit."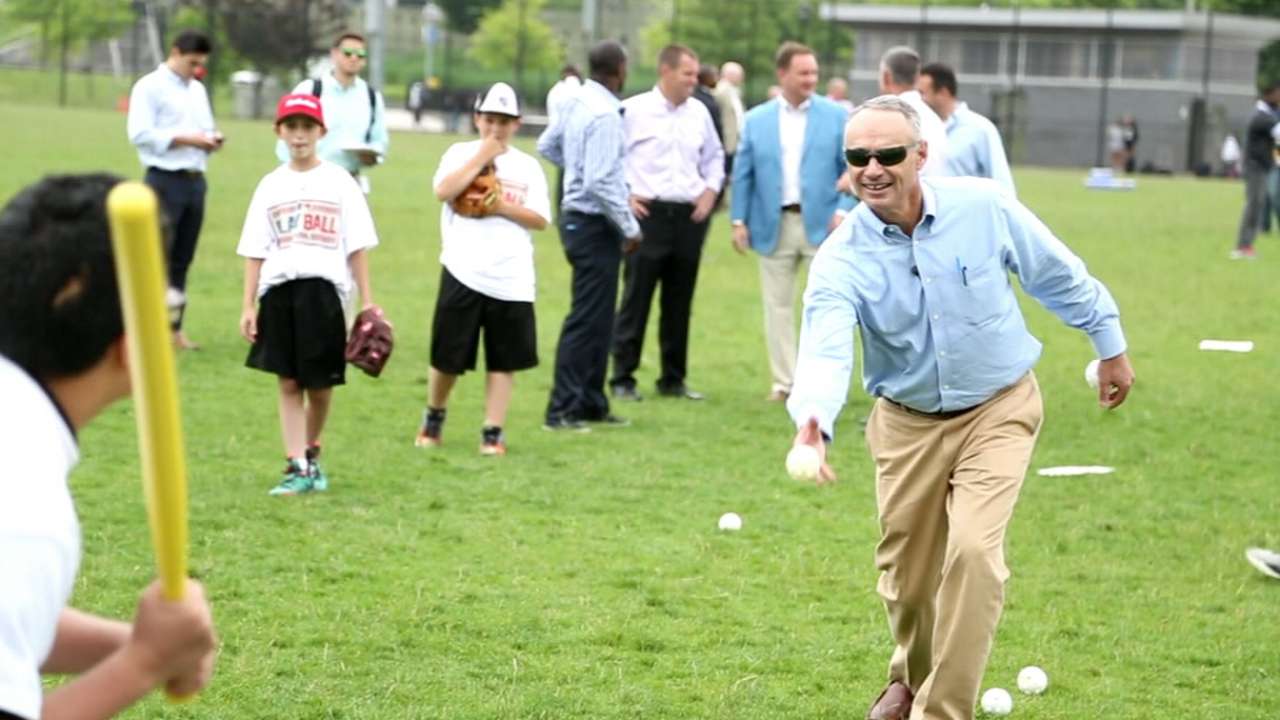 Manfred's remarks came one day short of a year from Owners Meetings in Baltimore during which he was elected MLB's 10th Commissioner.
"It's gone pretty darn quickly," he said with a laugh. "We're trying to add luster to the face of our game and I think we've made really good progress. We feel great about the beginning of this period of time and we're working hard on making sure that we grow the game as fast as we possibly can."
Paul Hagen is a reporter for MLB.com. This story was not subject to the approval of Major League Baseball or its clubs.