Brewers post four SBs in third off Lester
Cubs lefty commits costly error on throw to first; Maddon says vet will figure it out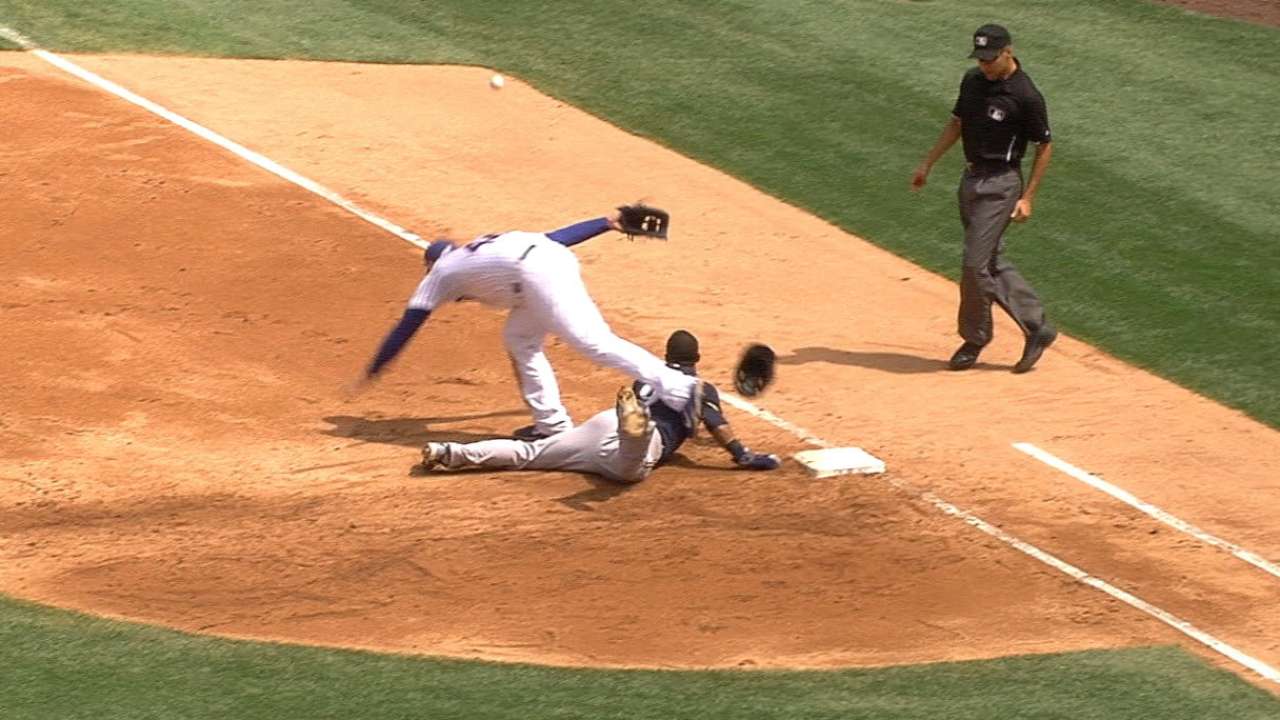 CHICAGO -- Jon Lester's inability to throw to the bases is well known, but Cubs manager Joe Maddon said he isn't concerned with the left-hander.
Lester had gone 66 straight games without throwing to first, ending that streak April 19 this year. The Brewers tested Lester in the third inning of Thursday's 9-2 loss to the Cubs at Wrigley Field.
Pitcher Tyler Cravy led off with a bunt to Lester, who did manage to throw his counterpart out by bouncing the ball to first baseman Anthony Rizzo. But Jean Segura then reached on an infield single to third baseman Kris Bryant. Segura advanced on an errant pickoff throw by Lester, stole third and scored on Ryan Braun's chopper to Rizzo.
Braun then stole second and third, and Khris Davis walked and swiped second. The good news for him is the Brewers only scored one run in the inning. In the sixth, Hernan Perez singled in a run and stole second, but was stranded. Lester leads the Major Leagues in stolen bases allowed (35).
"We all know what's going on here," Lester said. "I just have to do a better job. ... I'll continue to improve."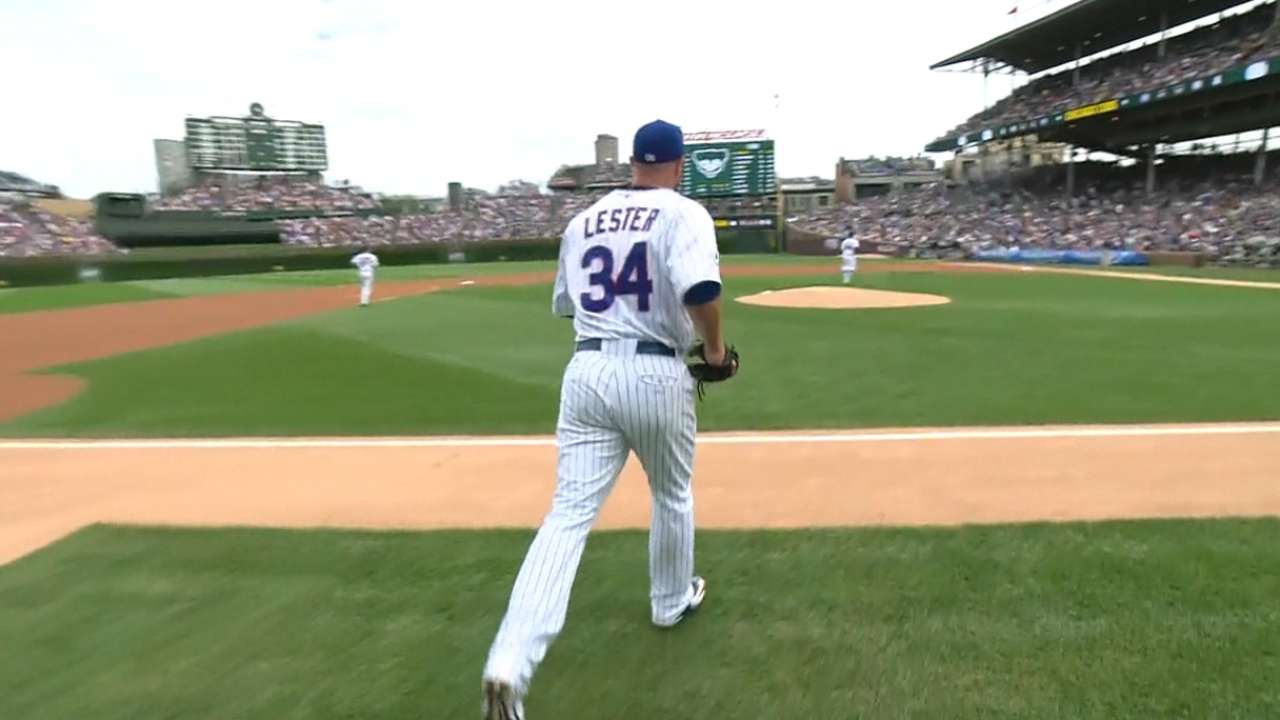 Maddon feels that what he called the "dynamic duo" of catcher David Ross with his defensive skills and Lester's ability to strike out batters can limit the damage.
"What you have to do is focus on the hitter and get the out," Maddon said. "David Ross, believe me, he does a great job controlling all of that. When he threw out Segura, that was a big play. The pickoff attempts keep it a little bit shorter, the calling of the game [by Ross], the trips to the mound, the manager, the coach on the field, the middle linebacker on the field -- it's spectacular. Jonny was really good but don't underestimate the importance of what Rossy did out there today."
The five stolen bases are the most in a single game for the Brewers this season.
"I think it's something you have to do against him," Milwaukee manager Craig Counsell said. "You don't get many guys on base against him and we just tried to be aggressive and kind of get him out of his rhythm."
Lester did post his fourth double-digit strikeout game, fanning 10, and is the first Cubs left-hander in franchise history with that many double-digit K games in a single season. He's given up two runs or fewer in his past five starts, and has a 4-0 record and 2.04 ERA, so if the baserunning is an issue, it doesn't show.
"To be able to maintain that focus between him and home plate is the most important thing," Maddon said. "There's times when it could be an issue and be bothersome but overall, he's able to keep low numbers in spite of not wanting to throw to the first-base side. I also believe there's going to be one moment when he'll have that epiphany where all of a sudden it makes sense to him and he'll do it more."
Carrie Muskat is a reporter for MLB.com. She writes a blog, Muskat Ramblings. You can follow her on Twitter @CarrieMuskat and listen to her podcast. This story was not subject to the approval of Major League Baseball or its clubs.