Chavez fills in admirably, beaten by one pitch
A's righty starts in Gray's place, strikes out nine but allows a three-run homer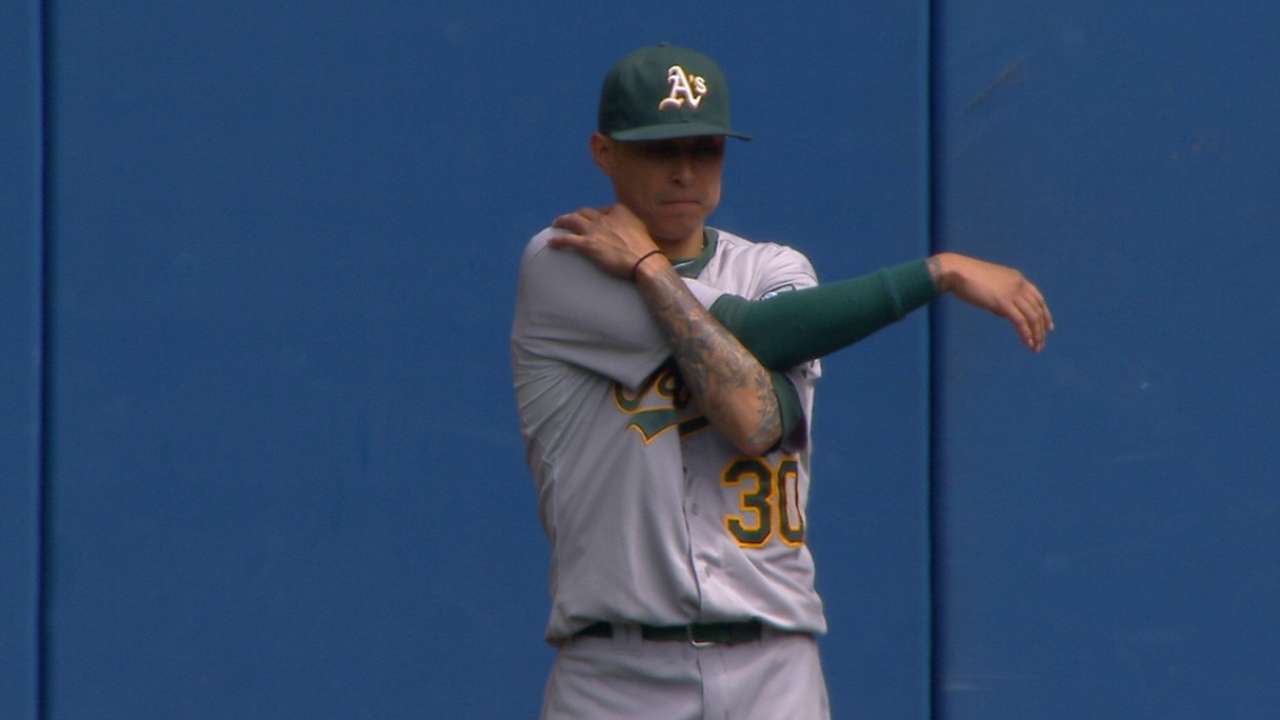 TORONTO -- After scratching ace Sonny Gray ahead of Thursday's matinee finale at Rogers Centre, the A's turned to right-hander Jesse Chavez to salvage a win out of a challenging three-game series against the streaking Blue Jays. Chavez delivered on all pitches but one, and that was the difference in a 4-2 loss.
Chavez pitched with hardly any support, though, as the A's were unable to muster a run in the first two innings despite putting five men on base against lefty Mark Buehrle.
In contrast, the Blue Jays continued to torment Oakland in the second inning, this time stringing together three straight singles -- the last driving in a run -- ahead of Ryan Goins' three-run homer, bringing Toronto's run total in the second inning of the series to 14.
"I kind of let that inning get ahead of me for a second," Chavez said. "I got caught up in Buehrle's quick pace a little bit and just tried to do the same thing and, that inning, it was just one pitch and we paid for it.
"I was trying to go up and in. He just got the hands out and beat me to it. I thought it was a good pitch. It was out of the zone, but here, you get the ball up, it has a chance to go."
"Other than that," A's manager Bob Melvin said, "he pitched great. As of last night, he didn't know if he was pitching, but he pitched well against a hot lineup."
Chavez went on to retire his next 10 batters, seven by strikeout. He ended his day with nine strikeouts over six innings, didn't walk a batter and, along the way, told pitching coach Curt Young, "I felt this was probably the best I've felt in six or seven starts."
Catcher Josh Phegley took notice.
"He was throwing his bread and butter, that fastball-cutter, to both sides of the plate right on the corners," Phegley said. "You could see some of the swings they took, they couldn't really figure it out. If they took it, it was on the corner. If they swung, they swung through it or it was a ground ball. He looked great.
"It's tough to see Sonny not in there. We've counted on him all year and he's been there for us, but Chavy stepped up and he didn't use it as an excuse and came out there and threw the ball great. I just walked by him a second ago and said, 'Take one pitch away from there, and it's a great outing and we win that game.'"
Jane Lee is a reporter for MLB.com. This story was not subject to the approval of Major League Baseball or its clubs.