Goins adds power from bottom of the order
Stepping in for Tulo, shortstop hits three-run shot in big second inning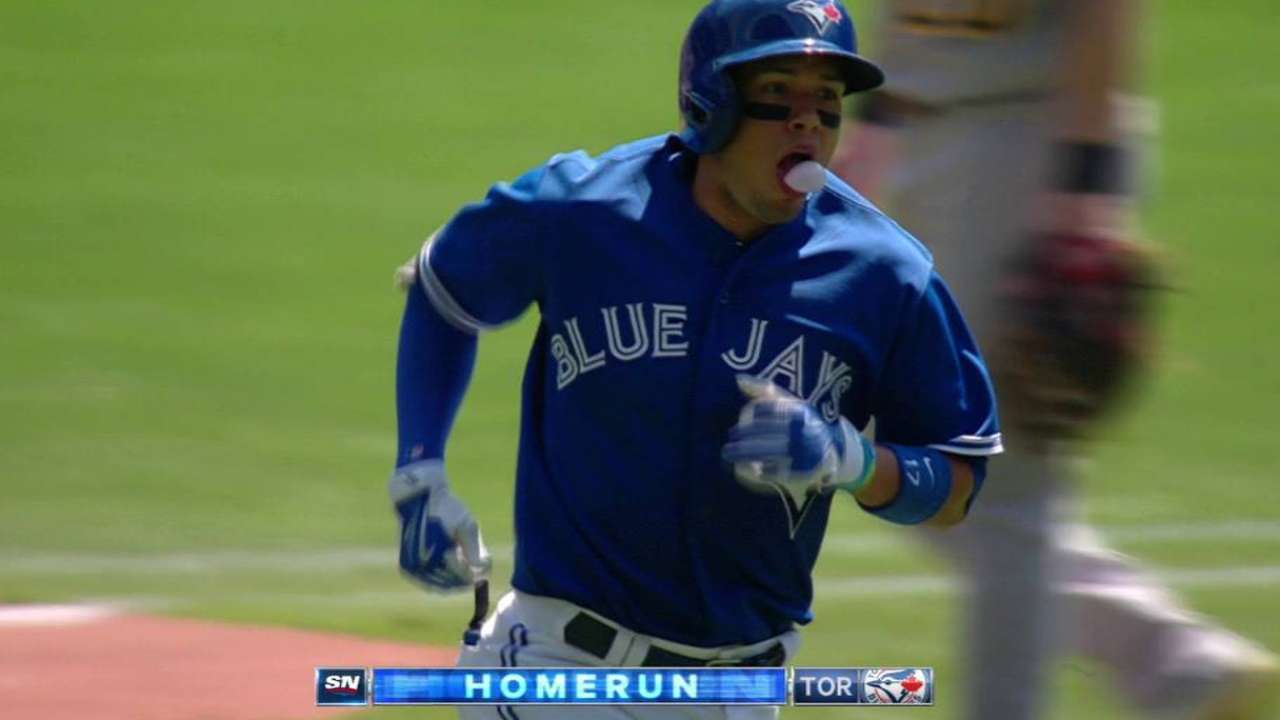 TORONTO -- Ryan Goins is known for his hot glove, but on Thursday, he burned the opposition with the bat. The Blue Jays' No. 8 hitter muscled up for a three-run shot to help his team to a 4-2 victory over the A's in the series finale at Rogers Centre, increasing Toronto's win streak to 11 games.
Leading by a run and facing Oakland starter Jesse Chavez, Goins axed a high fastball deep to right field in the second inning to extend the Blue Jays' advantage to 4-0, a cushion they'd need to stave off a late eighth-inning charge from the A's that narrowed the lead to two runs.
"It's great helping the team win," said Goins, who hit his fourth home run of the season. "When they put me in the lineup, you got to go out and produce."
Goins has been thrust into an everyday role in the absence of second baseman Devon Travis, who's sidelined with a shoulder strain. On Thursday, he was standing in at shortstop as the club gave Troy Tulowitzki the day off.
"With the opportunity to play a lot, he's done a heck of a lot better," Blue Jays manager John Gibbons said.
Goins had gone hitless in his past three games and 1-for-17 in his past six entering Thursday, so it was a good time to break out of a slump with a game-changing home run.
With a lineup as top-heavy as the Blue Jays', any production they can get from the bottom of the order is an added bonus.
"The big part of the lineup is gonna be one through five, six, seven," said Goins, whose on-base percentage is .405 over 12 games in August. "Us guys at the bottom are just trying to have a good at-bat and turn it over to those guys, they're gonna be the guys who carry us."
Jamie Ross is an associate reporter for MLB.com. This story was not subject to the approval of Major League Baseball or its clubs.