Maddon: Lifting Hammel 'baseball decision'
Cubs manager fine with righty's reaction to early exit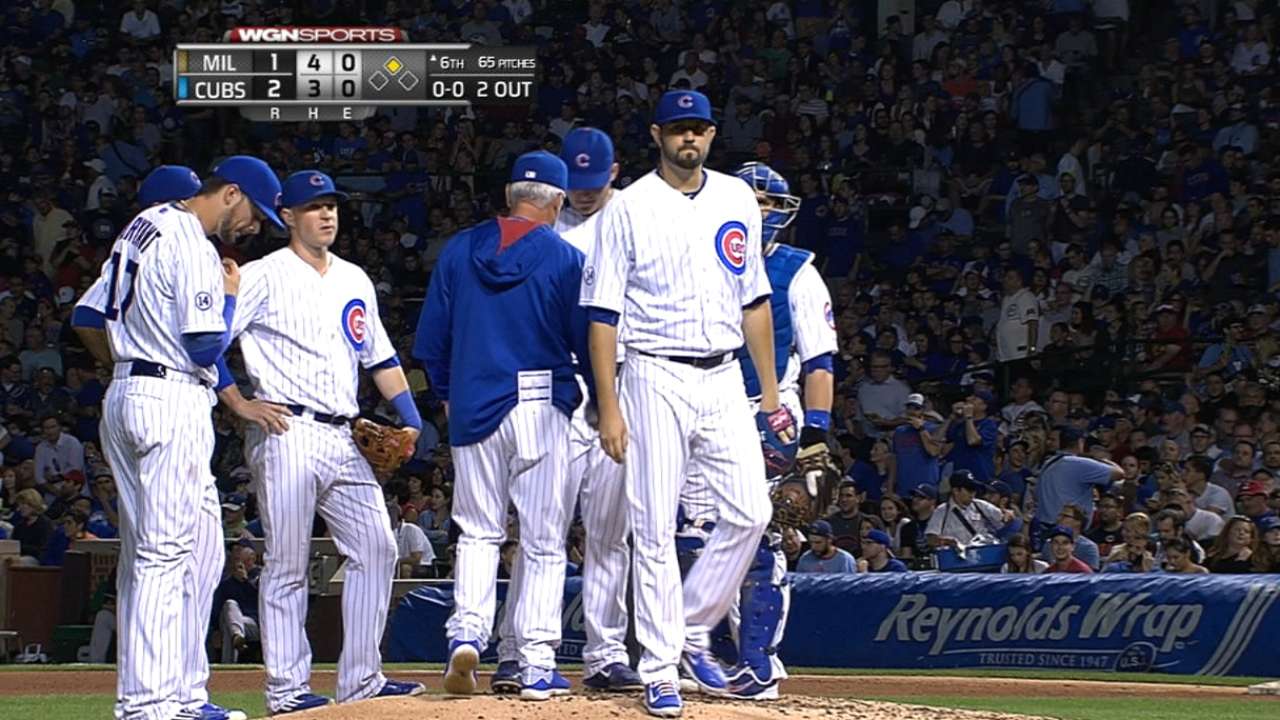 CHICAGO -- Jason Hammel met with Cubs manager Joe Maddon after his previous outing because the right-hander didn't understand why he was pulled so early. On Wednesday, Hammel was lifted after throwing 65 pitches over 5 2/3 innings and wasn't happy about the early exit. But the two had not talked as of Thursday.
"Unless he wants to, I don't have to," Maddon said Thursday. "I don't think it's necessary."
The game was tied at 1 and the Brewers had a runner at second with two outs in the sixth when Maddon pulled Hammel rather than have the pitcher face left-handed-hitting Adam Lind.
"It was just a baseball decision in the game," Maddon said. "What's the difference if you throw 5 2/3 innings and 115 pitches or 5 2/3 and whatever he threw? I think everything gets skewed as far as the pitch count thing. It's not a 100-pitch exercise. He did his job."
Hammel has not pitched more than 5 2/3 innings in his last six starts since he was sidelined with a left hamstring injury on July 8. Maddon said the plus side is that with limited innings, Hammel will be fresh down the stretch.
However, Hammel is like any other starting pitcher in that they like to go deep in games.
"You can't keep everybody happy every moment of every day and that's OK because he's such a competitive fellow," Maddon said of Hammel. "I know as we move this thing forward, he'll play really big for us down the stretch. ... Part of the job is you have to do what's right on a nightly basis. You can't worry about hurting somebody's feelings a little bit. You have to do what you think is right and then move on."
Extra bases
• The Cubs return to Interleague Play with a three-game series against their crosstown rivals, the White Sox, starting Friday afternoon at U.S. Cellular Field. Maddon has not picked a designated hitter, saying he was "undecided." Expect either Kyle Schwarber or Miguel Montero to handle that role Friday against right-hander Jeff Samardzija.
Carrie Muskat is a reporter for MLB.com. She writes a blog, Muskat Ramblings. You can follow her on Twitter @CarrieMuskat and listen to her podcast. This story was not subject to the approval of Major League Baseball or its clubs.