Twins rearrange rotation after Hughes injury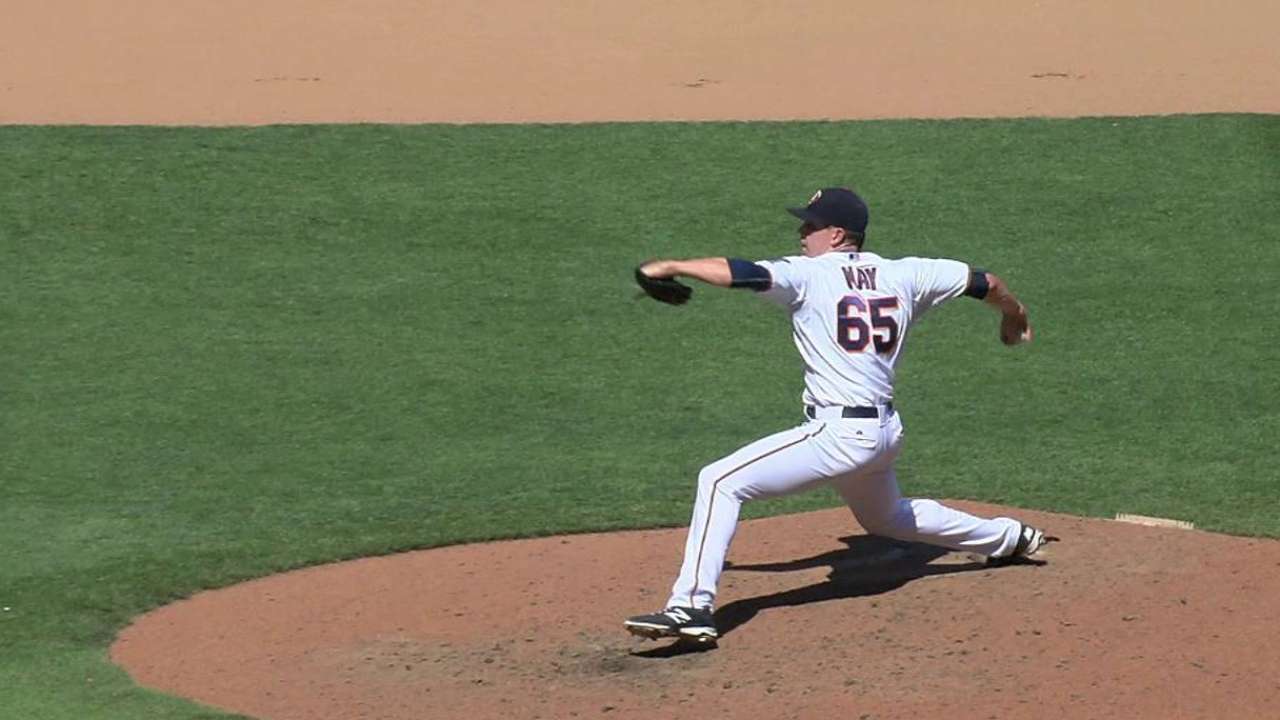 MINNEAPOLIS -- Just as the Twins were primed to regain one starter from the disabled list, they were dealt another setback.
Phil Hughes will head to the disabled list with lower back inflammation. As a result, Trevor May will start on Friday. The Twins will call up Tyler Duffey from Triple-A Rochester to pitch Saturday and Tommy Milone will be activated from the disabled list for Sunday's start.
Hughes felt his back flare up during a Tuesday bullpen session, which manager Paul Molitor said was shut down "rather rapidly." Hughes has dealt with the issue in the past and has had success with a cortisone shot. General manager Terry Ryan said the Twins think he could be back when the 15 days are up.
Hughes gave up seven runs in three innings his last start out, but Molitor said the issue didn't present itself until Tuesday.
In his place, May will slide into the rotation on Friday against the Indians and make at least two starts. May started 15 games to begin the year, but was shifted into the bullpen to make way for Ervin Santana. Though the Twins see May as a starter in the long term, he has excelled in the bullpen since being moved there in early July.
Molitor said he would have preferred to keep May out there if he wasn't "compounded by other circumstances."
"I don't really want to turn him into a yo-yo man so to speak," Molitor said. "I don't want him to start two games and go back. We're going to just how to see how it plays out. It might turn out that way, but I don't think it's very fair to him to do that."
Since he has been in the bullpen for so long, he will be held to a strict pitch count and Molitor said he thought getting May out there for more than 50 pitches would be unrealistic.
"I'm just kind of staying even about it," May said. "Starting's just pitching, I guess, but fortunately it's against a team we just saw. I was able to get in against them a couple times so it's a good way to start."
May had been considered an option to start a bullpen game on Saturday. Instead, the Twins will turn to Duffey, who started Aug. 5 in place of Milone. Duffey gave up two runs in six innings against the Blue Jays, but the Twins liked how he responded on Tuesday at Triple-A Rochester.
Duffey threw six innings of one-hit ball, and the Twins believe he is more ready for the start than No. 3 prospect Jose Berrios -- No. 25 overall according to MLBpipeline.com.
"We thought about that certainly," Ryan said of Berrios. "This is probably going to be a one-start opportunity and Duffey's got a lot more of that Triple-A experience than Berrios. We think Duffey, now that he's got a little bit of the jitters out of his approach here, I hope, after that appearance up in Toronto, that he'll give us a chance to win this game."
Duffey is expected to be sent back after his start to make way for Milone, who has been sidelined with a mild flexor strain in his left elbow. Milone threw a bullpen prior to Thursday's game.
"Overall, I didn't feel anything so that's obviously a good sign," Milone said.
The rotation will stabilize after the weekend as the Twins will turn to Kyle Gibson, Mike Pelfrey and Santana against the Yankees.
Betsy Helfand is an associate reporter for MLB.com. This story was not subject to the approval of Major League Baseball or its clubs.