Rea clan comes out in force for prospect's debut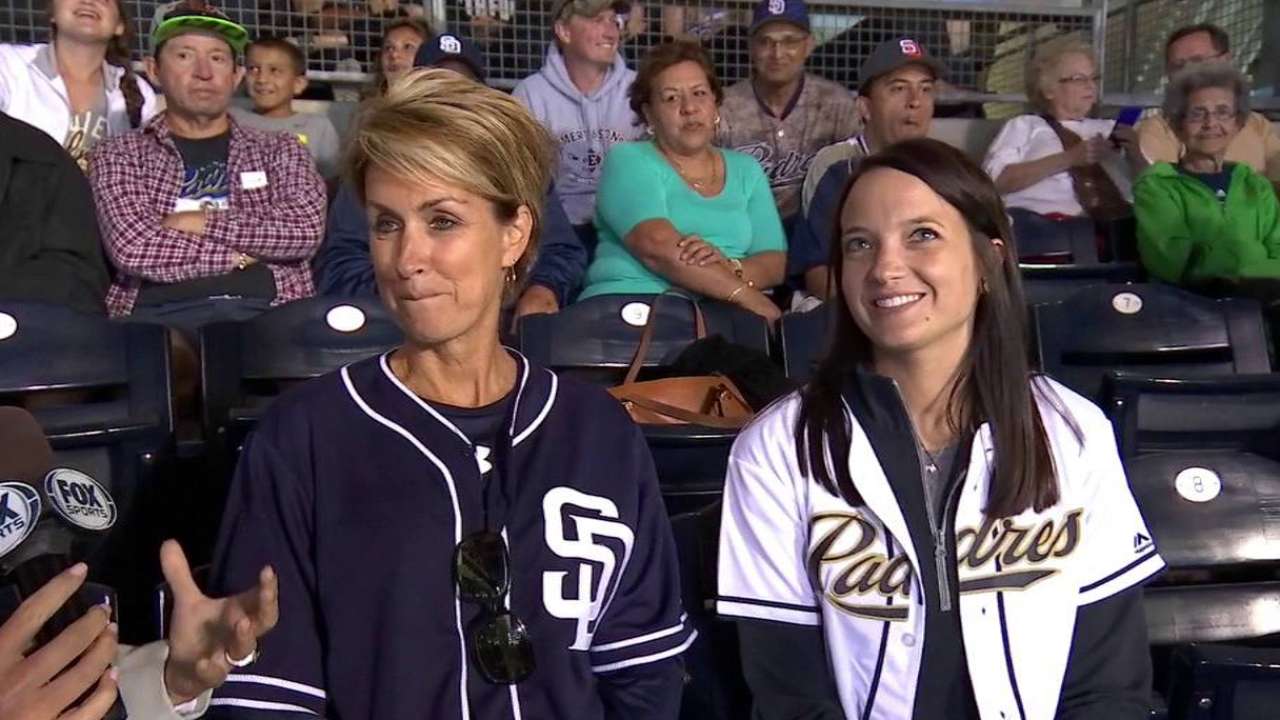 SAN DIEGO -- It's not a simple trip to get to Petco Park from Cascade, Iowa.
First, you have to make a three-hour car ride just to get to Chicago before you hop on a four-hour flight to San Diego. But that's the journey more than 70 people made to watch pitcher Colin Rea beat the Reds, 11-6, in his Major League debut on Tuesday.
Rea's parents, siblings, friends and his former host family in Lake Elsinore, Calif., were all there to watch the Padres' No. 2-ranked prospect take the mound. The ages ranged from 3 months old to a vibrant 82.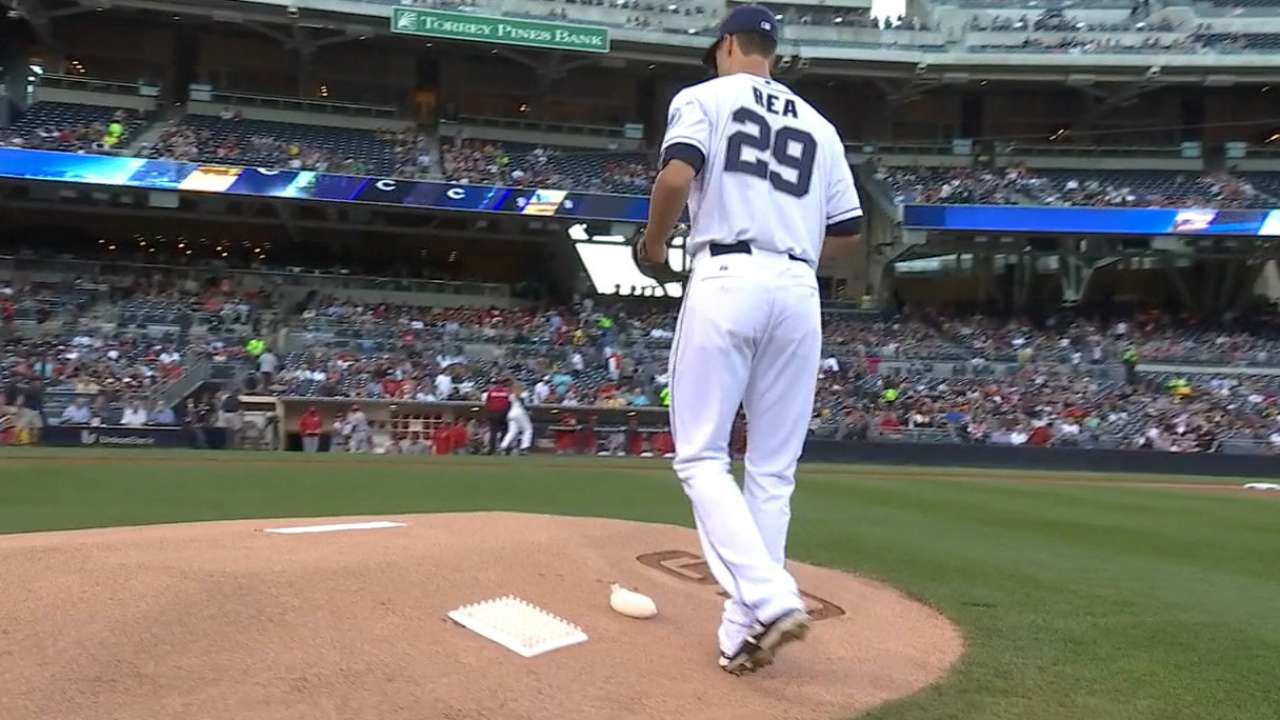 They were spread across Sections 115 and 111, some wearing brand-new No. 29 Rea jerseys. As it turned out, the Padres' team store at Petco could only make so many, running out of the letters R, E and A.
"It's crazy to think all of us had that moment -- our first big league game," said Padres pitcher Tyson Ross, who in June watched his younger brother, Joe, make his big league debut for the Nationals in Washington.
"It takes a village to raise you, so it's pretty cool when you have that many people pulling for you. To have 75 people physically here at Petco or even just tuning in, it's pretty cool."
Before the game even started, the Rea crew already faced a challenge. It wasn't someone being too nervous (although Rea's mother, Bridget, and his wife, Megan, may have been the exception) or a member of the party getting lost in a new city.
The issue was taking the group photo, which required an usher of their section to call in extra help. After about 10 minutes of organization, the photo was eventually snapped.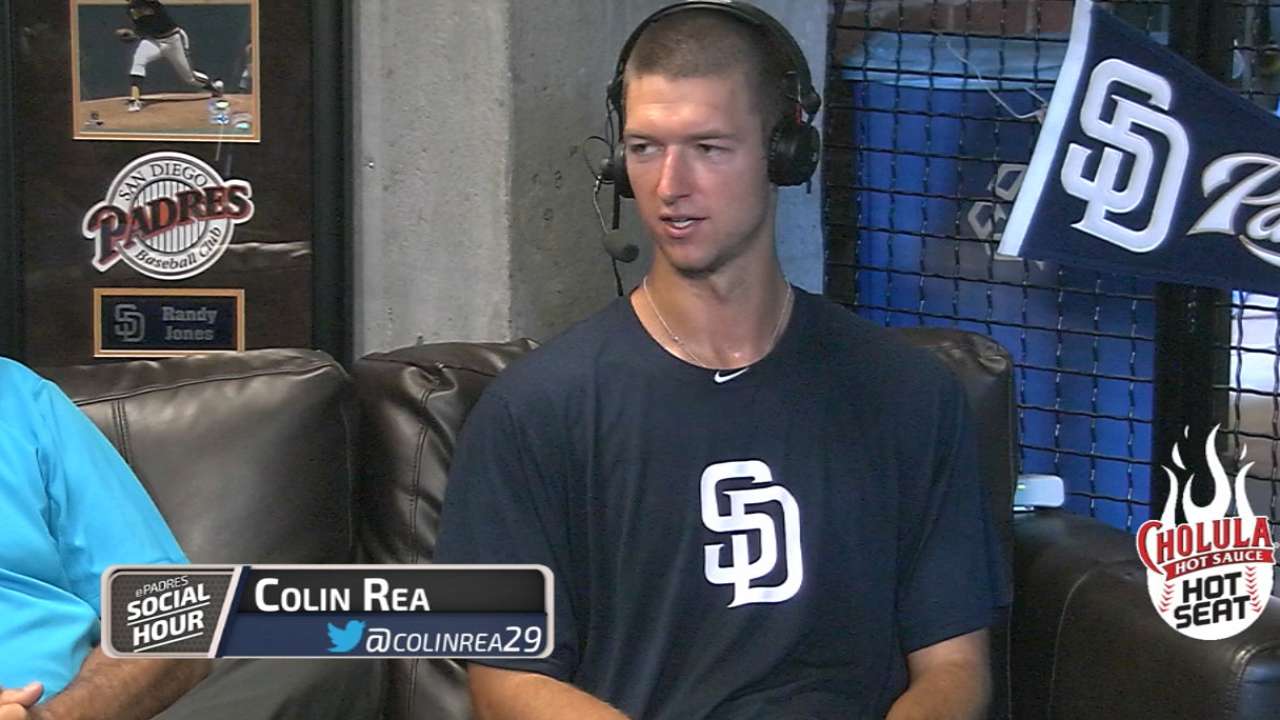 As Rea ran out on the field for the first time, the Rea faithful let out a big cheer. The pitcher turned around and gave his support system a wave, then went back to focusing on the task ahead.
"It doesn't seem real," younger sister Claire said as she watched her brother playing catch.
Right before the game started, Claire checked her phone. She had a text from a friend in Ireland trying to watch the game at 3 a.m. their time, and she opened Snapchats from people back home in Cascade, just 20 miles south from the "Field of Dreams" movie set.
In Cascade, the main street of the town has a sign that reads "Home of Red Faber," for the Hall of Fame pitcher.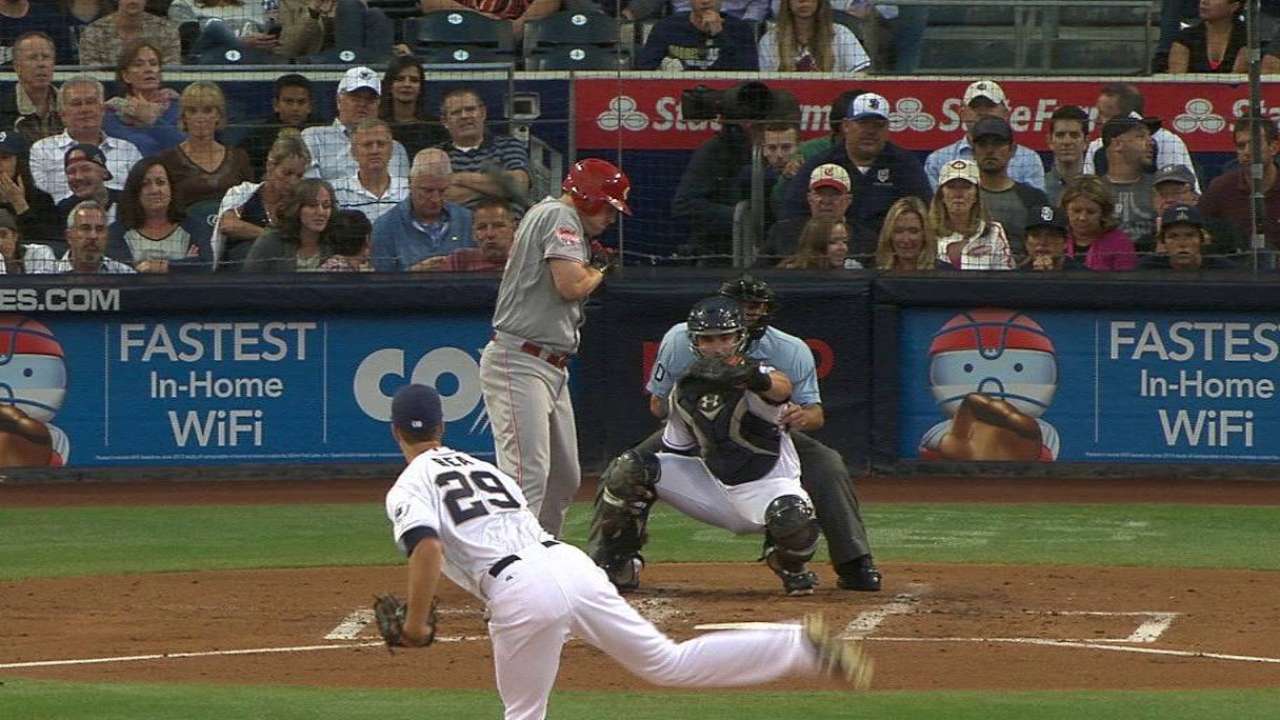 "People are now saying it should say 'Home of Red Faber and Colin Rea,'" Claire said.
"I don't know if we're to that point yet," a humble Rea said a day after his debut.
Back home, the four restaurants in the 2,207-person town were packed, and the bar in the next town over was standing-room only.
The shed located on the Rea family farm is the usual spot where they watch Colin's games. It's the same shed where Rea would practice pitching at a target "X" on the wall.
On Tuesday night, Petco Park had to do.
As Rea's name was announced as the starting pitcher and his face appeared on the big screen, cheers erupted from Section 115.
"Home-field advantage," older brother Calvin joked. "It's just like he is playing at our home diamond."
Except there were 26,588 in the ballpark on Tuesday.
Rea allowed the first two batters he faced to reach base, but he recovered with a double play.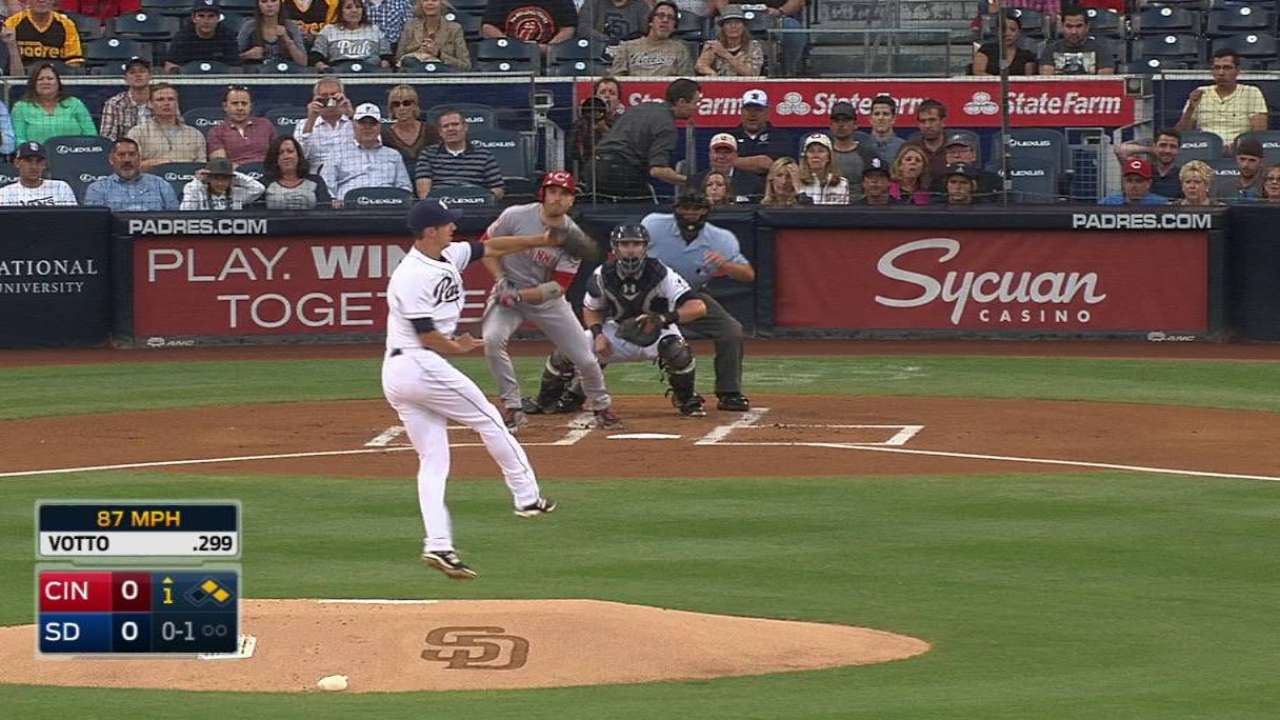 In addition to throwing five innings of three-hit ball while fanning four, the 25-year-old recorded his first big league hit his first time up -- a single to left field in the second inning.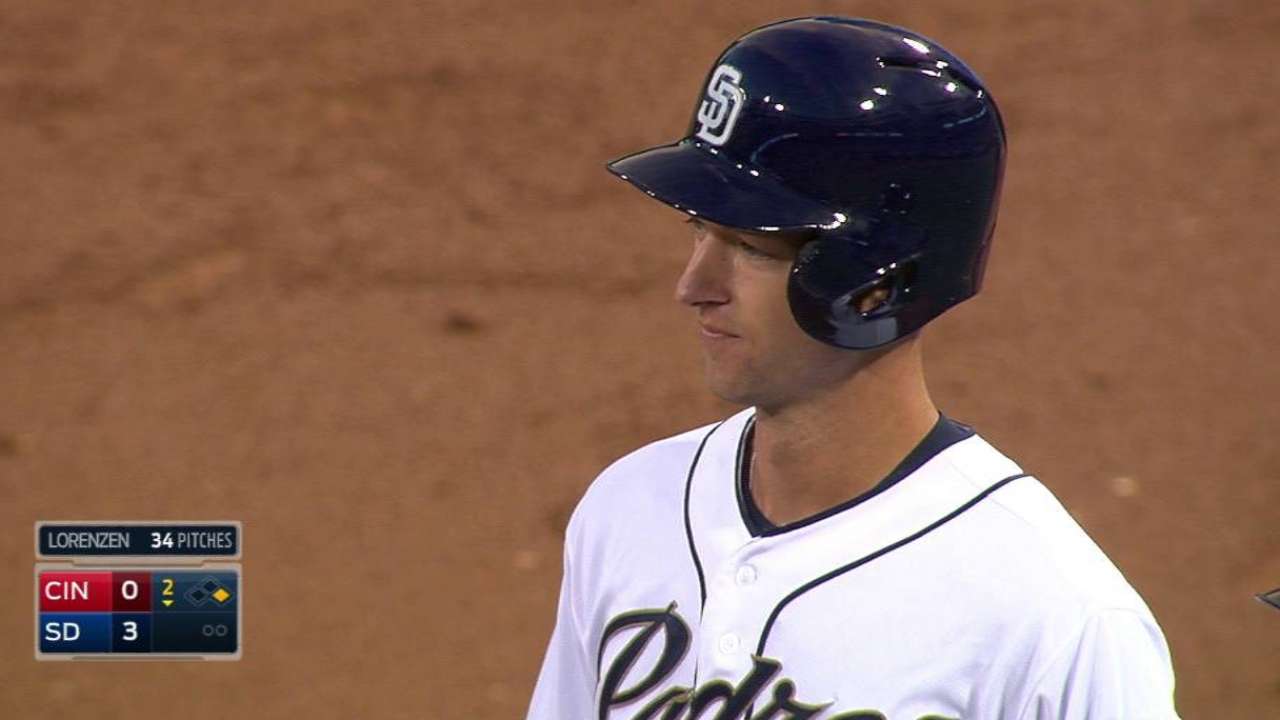 As the game went on, the energy did not die. The Rea clan continued to cheer, whether it was a simple strike by Rea or a two-run homer by Jedd Gyorko. By the end of four innings, the family's spirit was infectious, as random fans in the crowd would scream, "We love Colin."
"Something like this just doesn't happen in our small town," a family friend said.
Beth Maiman is an associate reporter for MLB.com. This story was not subject to the approval of Major League Baseball or its clubs.