MLB.com Columnist
Jonathan Mayo
Pipeline Inbox: Who was the steal of the Draft?
Mayo responds to fans' questions about baseball's top prospects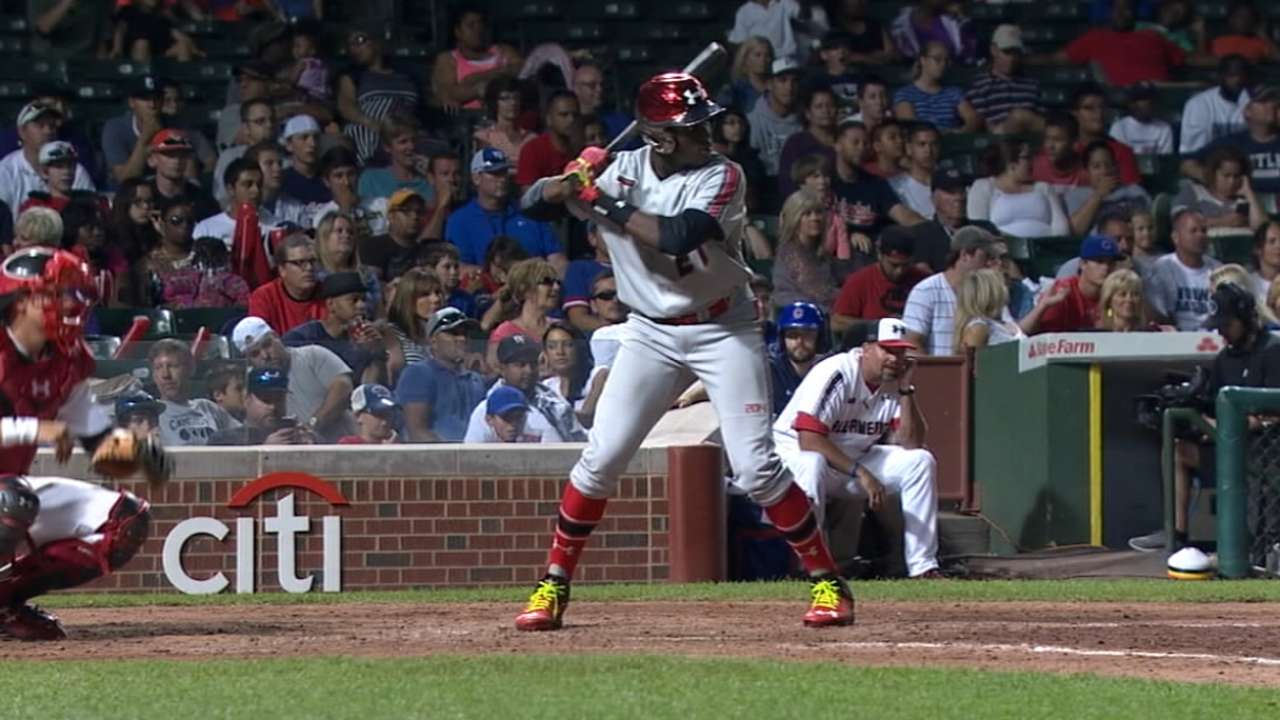 As the summer wears on and the end of the 2015 season is in sight, it's clear many fans are looking to the future. Especially if your favorite club is not in playoff contention, a desire to talk about next year and beyond becomes more and more prevalent.
Luckily, this is the place to come for such talk. As a result, this week's Pipeline Inbox discusses potential big league impact players for 2016 as well as an early look at the 2015 Draft class and how it's performed.
Who is the steal of the 2015 Draft thus far? Demi Orimoloye? Austin Byler?
-- Michael S., Ashland, Ohio
Funny you should ask. Both of your candidates were among the 10 members of the 2015 Draft class highlighted in a recent story I wrote about draftees who have begun their careers well. I'm glad you used "thus far" in your question, because obviously there is still a very long way to go before anyone could properly identify true steals of the Draft.
Byler's numbers have definitely been impressive, but it should be noted that as a college senior, he's 22 years old and he's playing in the Rookie-level Pioneer League. He's more than a year older than the average hitter in the league. Not taking anything away from Byler, but we might need to see him at a higher level before getting too excited.
Orimoloye could indeed be a steal, having fallen to the fourth round after an uneven spring. The extremely athletic Canadian high schooler looked like a potential first-round pick after his showing last summer, so it's possible the Brewers got that kind of talent at a fourth-round rate. The .507 slugging percentage along with the 17 steals give you a glimpse at what Orimoloye can do (four outfield assists, too!), but he'll have to improve on the 39/3 K/BB ratio. That can improve over time, obviously, but before anointing him THE steal of the Draft, let's see what he can do in full-season ball in 2016.
What do you see Brett Phillips' ceiling being as a big leaguer? Will he be a callup this September and/or get regular playing time next year?
-- Mike V., Brooklyn, N.Y.
Phillips has improved his stock nearly as much as anyone over the past year and change. A sixth-round pick in 2012, Phillips wasn't ranked on the Top 100 at all heading into the 2015 season, and now he comes in at No. 38. Part of the Carlos Gomez trade, he's now the No. 2 prospect on the Brewers' Top 30 list.
I think it's unlikely that Phillips will get a September callup. Keep in mind, he isn't on the 40-man roster (and doesn't have to be any time soon). Phillips also began the year in the Class A Advanced California League and has just 42 games of Double-A experience under his belt as of Wednesday. There's no reason to rush him.
That said, there isn't any obstacle in center field in the big leagues. I could see a scenario where Phillips begins the 2016 season in the upper levels of the Brewers' system, then hits himself up to the big leagues. He has the speed to stay in center, though his plus arm would work in right as well. Phillips has largely hit in the leadoff spot as a pro and could be a dynamic top-of-the-order catalyst, though the power potential could eventually put him into more of a run-producing spot.
Will Tim Anderson be ready to step in next year for Alexei Ramirez?
-- Joe C., Chicago
Assuming the White Sox don't exercise the option on Ramirez in 2016 -- and given it's for $10 million and Ramirez has a .606 OPS, that's not an outlandish leap to make -- the White Sox will need a shortstop for the start of the 2016 season. I think it's extremely possible that Anderson, the team's top prospect and top pick from the 2013 Draft, could be in the mix to replace the veteran at shortstop.
Offensively, Anderson has shown he can be a very dynamic player, hitting for average and using his plus speed to both steal and take extra bases. He has some raw power, but the one thing he does need to continue to refine is his strike-zone judgement. Working deeper counts should let Anderson tap into that power and allow him to get on base even more to use that speed.
The bigger question facing Anderson heading into the Draft was whether he would be able to stay at shortstop. Extremely athletic, his footwork and hands left some questioning whether center field might be a better fit. But Anderson has answered those questions, and the White Sox are confident he can and will stay at short long term.
Anderson did miss a lot of development time with injury in 2014, but he's closed the gap somewhat with his strong 2015 campaign. I could see him getting a very long look in Spring Training with a chance to win the job, but if you want to be conservative, projecting a midseason callup is more than safe.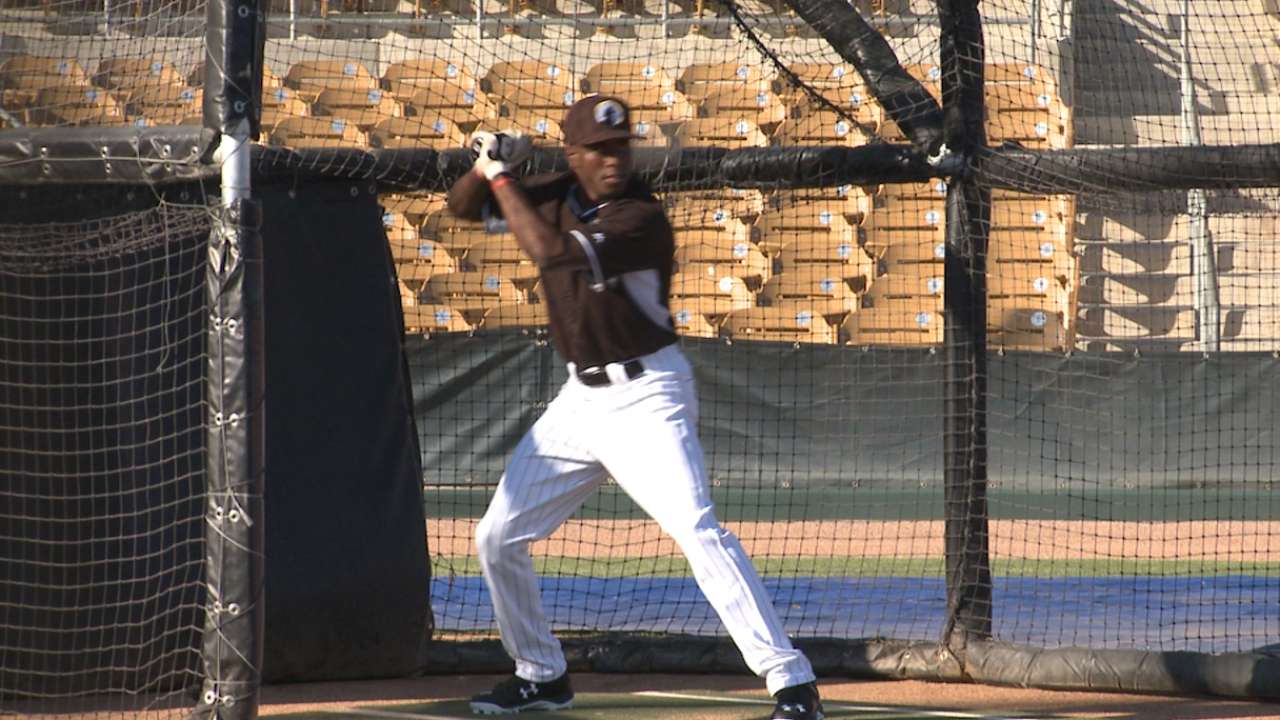 As a general rule of thumb, what position requires the most Minor League development before being Major League ready?
-- John K., Flemington, N.J.
I think there are two potential answers to this: starting pitcher or catcher. But while an argument can be made for the difficulty of taking a raw high school arm to develop into a big league starter, I think the amount a catcher has to learn, either from high school or the college ranks, makes backstop the hardest position to learn.
The reasons are fairly obvious. Think about all of the responsibilities a catcher has on both sides of the ball. Defensively, work often needs to be done on receiving, blocking, even catching and throwing to try and control better runners than a catcher had likely faced as an amateur. They have to learn how to handle better breaking stuff and more lively fastballs consistently. On top of that, they have to understand how to handle a staff, both in terms of individual pitcher's stuff and their personalities.
More than anything, learning to call a game effectively can slow a young catcher's progress. Even at the college level, it's rare a catcher got the chance to call his own game. At the professional level, that is expected. Oh, and don't forget that catchers are often counted on to be run-producing bats -- the offensive side of their game can't be ignored if they want to be everyday players in the big leagues.
There's a reason why players like Bryce Harper, Wil Myers, even Alex Jackson in the Mariners' system, were moved to the outfield. Yes, maybe their glove was well behind their bat, but it's become common practice to move that kind of offensive potential, as attractive as it would be from that position, out from behind the plate in order to let their bat help get to the big leagues much more quickly.
Jonathan Mayo is a reporter for MLBPipeline.com and writes a blog, B3. Follow @JonathanMayo on Twitter. This story was not subject to the approval of Major League Baseball or its clubs.