Bird is the word: Yankees call up prospect
Lefty-swinging first baseman/DH ranked No. 4 in New York's system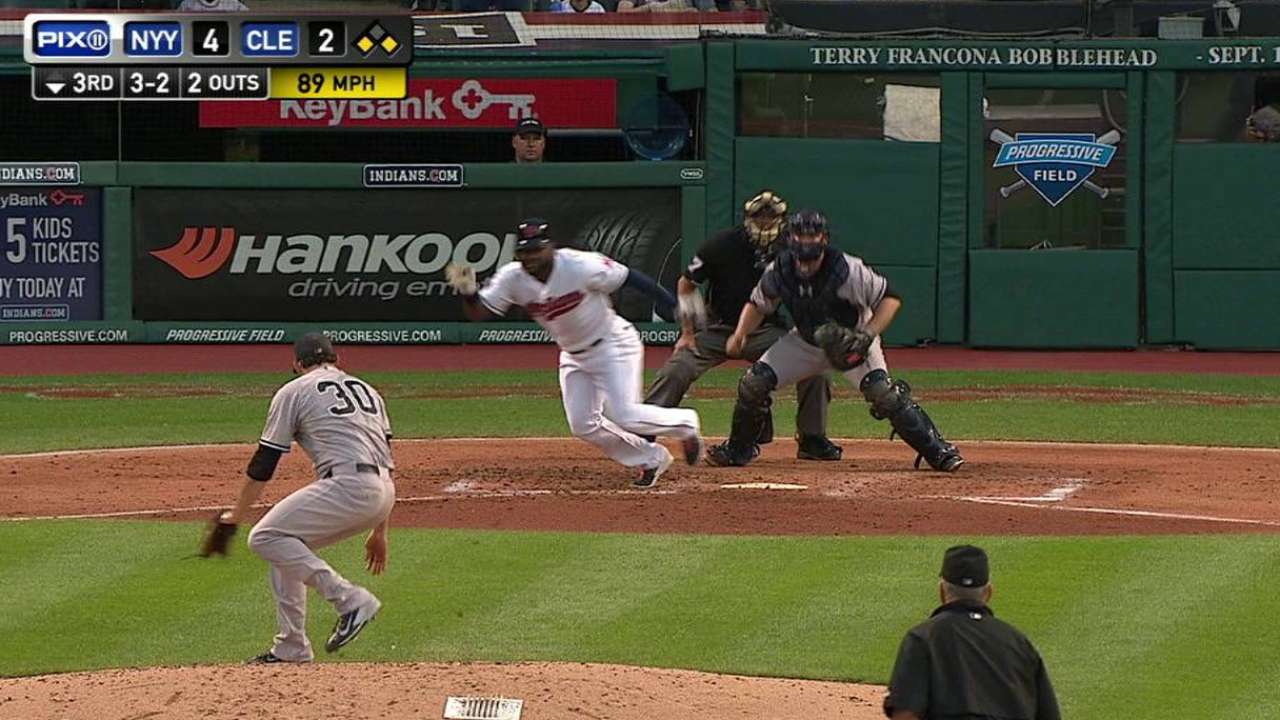 CLEVELAND -- As the Yankees attempted to upgrade their roster for the stretch drive, opposing clubs repeatedly asked for big-swinging first baseman Greg Bird in trade proposals. Those overtures were rejected, with the club wishing to hold on to one of its brightest prospects.
Now the Yankees are fighting to reclaim the top spot in the American League East, and they are ready to see what another piece of their future could look like. Bird, their No. 4-ranked prospect according to MLBPipeline.com, made his Major League debut against the Indians on Thursday, batting seventh and playing first base. He went 0-for-5 during the Yanks' 8-6 win, becoming the first Yankees player to go hitless in five or more at-bats in his debut since Derek Jeter on May 29, 1995.
"I'm excited to be here," Bird said. "I don't know what else to say other than that. It's a dream come true. Like I've always said, it's an honor to be a part of this organization, and now it's an honor to be a part of the team, so I'm looking forward to it."
Bird, 22, was summoned from Triple-A Scranton/Wilkes-Barre and selected to the 25-man roster. Manager Joe Girardi said that he plans to use Bird to spell both first baseman Mark Teixeira and designated hitter Alex Rodriguez, with Bird likely to start at least one game this weekend at Toronto.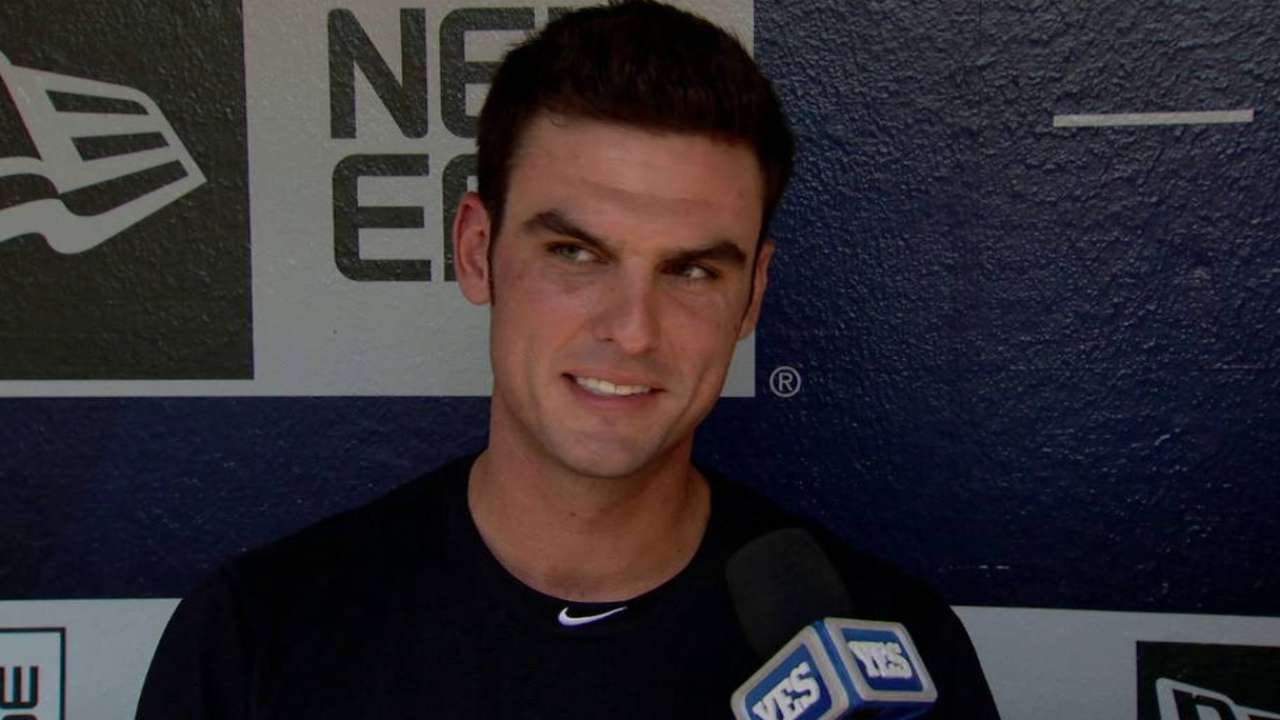 The left-handed-hitting Bird was batting .301 with a .500 slugging percentage in 34 games for Scranton/Wilkes-Barre. A fifth-round selection in the 2011 Draft, Bird has been a career .282 hitter with 48 home runs in 347 Minor League games.
"You hear people use the term, 'professional hitter,'" Girardi said. "He knows how to hit the ball to all fields, he knows how to drive the ball, he knows how to drive in runs; you know, he's had a pretty successful Minor League career hitting the ball."
This spring, general manager Brian Cashman referred to Bird as "by far" the best hitter among the organization's Minor League players. Rodriguez was similarly wowed by Bird this spring, saying that he and outfielder Aaron Judge, the Yankees' No. 2 prospect, were "two of the finest hitters I've seen in a long time."
Bird will become the 15th player to make his Major League debut with the Yankees this year. On Thursday afternoon, outfielder Brett Gardner quizzed right-hander Luis Severino about what the Yankees have in Bird. The 21-year-old pitcher replied, "The best."
"Our goal this whole year has been to help this team win," Bird said. "So all of these guys, however we can do it, we're going to do it to the best of our ability. So getting to talk to them and hear their experiences and what it's been like, it's been great."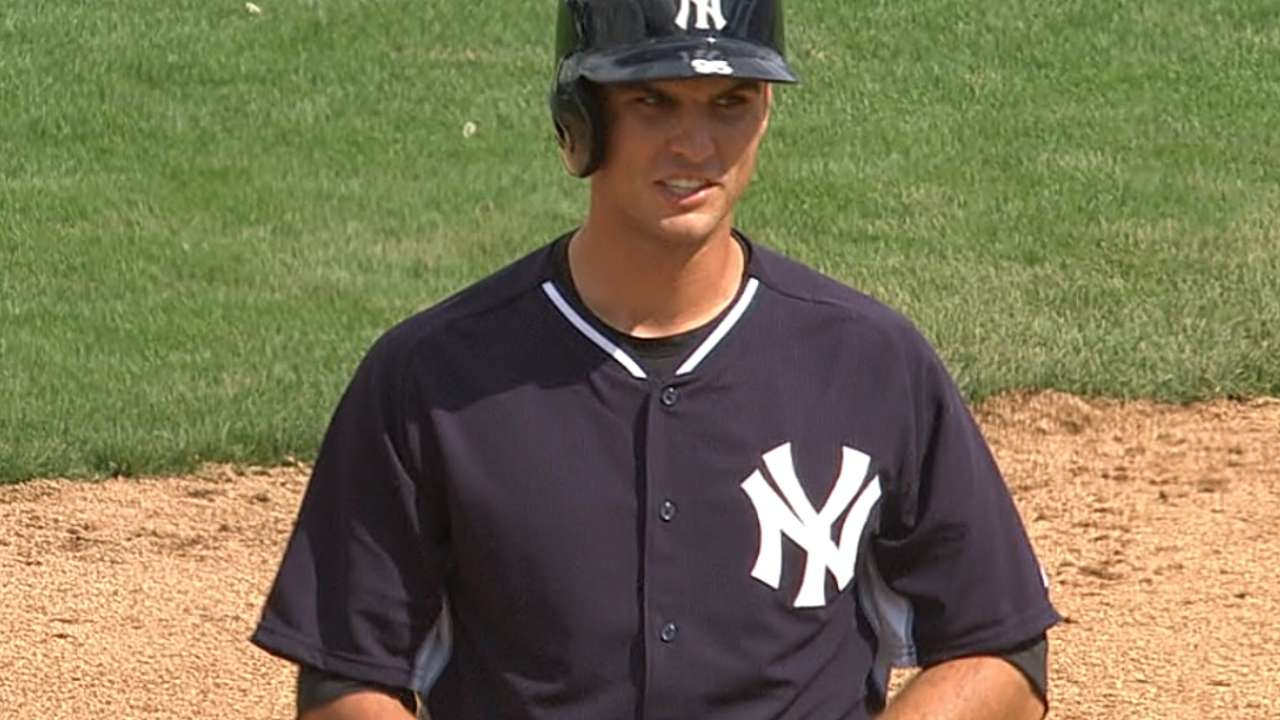 In corresponding roster moves, right-hander Nick Goody was optioned to Triple-A, while right-hander Diego Moreno was transferred to the 60-day disabled list.
The Yankees, who have lost five straight, are in a stretch of 16 consecutive games, so Bird provides a boost of youth to a veteran lineup that has appeared sluggish of late.
Girardi said that Teixeira and Rodriguez are both healthy, but over the Yanks' last seven games entering play on Thursday, Teixeira is 4-for-28 with nine strikeouts and Rodriguez is 4-for-28 with seven strikeouts.
"So much of it depends on the type of games you have, how late we get into certain cities and how they're feeling physically," Girardi said. "It's that time of year that you check in with guys more physically. We'll take it day by day."
The Most Valuable Player of the Arizona Fall League last season, Bird began this season with Double-A Trenton. The Colorado native hit .258 with a .358 on-base percentage and a .445 slugging mark in 49 games prior to his promotion to Triple-A.
"It's going to be a good night," Bird said. "We're just trying to get back on the winning side of things, I think. That's my only goal, is to help this team win right now. However I can do that, that's what I'm trying to do here."
Bryan Hoch is a reporter for MLB.com. Follow him on Twitter @bryanhoch, on Facebook and read his MLBlog, Bombers Beat. This story was not subject to the approval of Major League Baseball or its clubs.