Lopez, Difo among 10 top prospect performers Wednesday
Nats' No. 4 prospect fans a career-high 11 and No. 5 prospect hits his first Double-A homer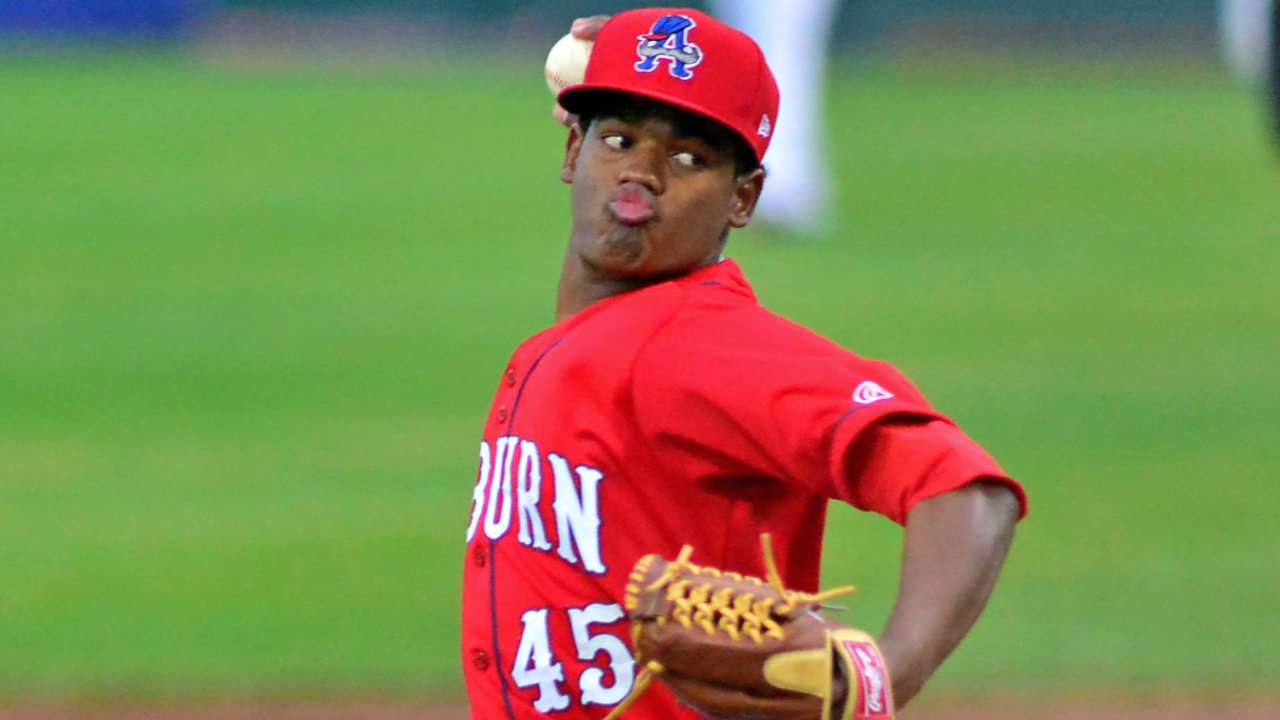 Two top Nationals prospects flashed their best stuff on Wednesday, with No. 4 prospect Reynaldo Lopez contributing his best start of the year for Class A Advanced Potomac and No. 5 prospect Wilmer Difo putting on a hitting clinic for Double-A Harrisburg.
Lopez was brilliant in an 8-2 win over Winston-Salem. The 21-year-old right-hander fanned a career-high 11 batters while surrendering just two hits and no walks in seven shutout innings. The performance gave him his first win in exactly one month and cut his ERA from 4.55 to 4.22. He stands at 6-7 after 18 starts for the P-Nats.
"From the first pitch of the game, he was dialed in, that's for sure. He had as good an angle on his fastball as I've seen him," P-Nats manager Tripp Keister told MiLB.com. "He pitched off his fastball, he commanded it to both sides. He had good angle, threw some good curveballs and changeups. It was an outstanding performance."
Difo has been very consistent as of late and that didn't change with a 2-for-3, three-RBI night that included a triple and and his first Double-A homer.
The shortstop has hit in five straight games, going 10-for-21 in that span. He also had nine combined hits in back-to-back games on Aug. 2 and Aug. 4 and has raised his batting average (.293) 33 points since the calendar flipped from July.
A 2010 signee from the Dominican Republic, Difo has hit .281/.349/.403 across six levels for Washington. He made his Major League debut in May and went 1-for-8 with a single and a strikeout in eight appearances.
The rest of the 10 best performances from top Minor Leaguers
• Astros No. 2 prospect (No. 50 overall) Mark Appel flashed his elite stuff in Triple-A Fresno's 8-2 win over Albuquerque. The 6-foot-5 right-hander went eight innings, giving up one run on four hits while striking out eight batters. Appel has allowed six earned runs in his past four starts (25 2/3 total innings), a run that's cut his Fresno ERA from 6.52 to 4.00. He's also displayed an impressive command of the strike zone since his promotion in late June, striking out 40 hitters and issuing 16 free passes.
• Brewers No. 2 prospect (No. 38 overall) Brett Phillips was perfect, finishing 4-for-4 with a double, triple and RBI for Double-A Biloxi. The Shuckers survived a minor comeback attempt by Pensacola in the ninth, prevailing 4-1. Phillips had only notched one multi-hit game in his first 11 for the Shuckers, but Wednesday's breakthrough improved his line from .222/.391/.417 to .300/.451/.550. He's coming off an excellent campaign at Double-A Corpus Christi, where he hit .321 in 31 games before being traded from Houston to Milwaukee.
• D-backs No. 29 prospect Mitch Haniger and No. 30 prospect Daniel Palka turned in special performances as Class A Advanced Visalia beat San Jose, 6-0. Haniger popped two home runs during a 2-for-5 night. He's had three multi-hit games, going 7-for-15 with three homers and three RBIs in his last three contests. Palka, meanwhile, became the Minor League's second member of the 20/20 club this season. The outfielder went 2-for-2 with a homer, two RBIs and two walks on Wednesday. He joined Class A Advanced Lancaster's Derek Fisher as the only players with 20 homers and 20 stolen bases in 2015. Fisher, the Astros' No. 9 prospect, roped his 20th home run of the year less than an hour before Palka hit his.
• Dodgers No. 9 prospect Cody Bellinger hit two homers -- including a two-run shot in the seventh and final inning -- but they weren't enough in Class A Advanced Rancho Cucamonga's walk-off 12-11 loss to High Desert. Down 11-8 in the seventh, Bellinger hit a two-run homer that Jacob Scavuzzo followed up with a solo homer of his own. But the comeback didn't stick. High Desert's Joe Jackson singled to left field with the bases loaded and Alberto Triunfel waltzed home for the Mavs' winning run. Bellinger finished 2-for-4 with three RBIs, and is now fifth in the Minors with 25 homers on the season.
• Indians No. 1 prospect (No. 31 overall) Bradley Zimmer ripped two more homers for Double-A Akron and has five in his past seven contests. He finished 2-for-3 with two RBIs in the RubberDucks' 7-3 triumph over New Hampshire. The outing marked his first career two-homer game, and his recent hot streak has caught the attention of Indians manager Terry Francona. "As you can imagine, there's a lot of guys that are excited about his development," Francona said, while also noting that Zimmer's defense has greatly improved through repetition.
• Phillies No. 1 prospect (No. 6 overall) J.P. Crawford socked his first homer since July 21 as Double-A Reading defeated Harrisburg, 8-4. The shortstop finished 2-for-3 with two runs and an RBI. Crawford also stole a base on Wednesday, swiping his third of the season for the Fightin' Phils. He's been very prudent at the plate this year, taking 37 free passes while striking out just 30 times.
• Reds No. 1 prospect (No. 33 overall) Jesse Winker homered for the second straight game, and is 10-for-23 in his past six contests. The left fielder could not save Double-A Pensacola in a 4-1 loss to Biloxi, but his .271 average is the highest it's been since July 12. He's notched 18 doubles, 10 homers and 40 RBIs in 103 games for the Blue Wahoos.
Alex M. Smith is a reporter for MLB.com. This story was not subject to the approval of Major League Baseball or its clubs.