Bird's-eye view: Cespedes hits first Mets HR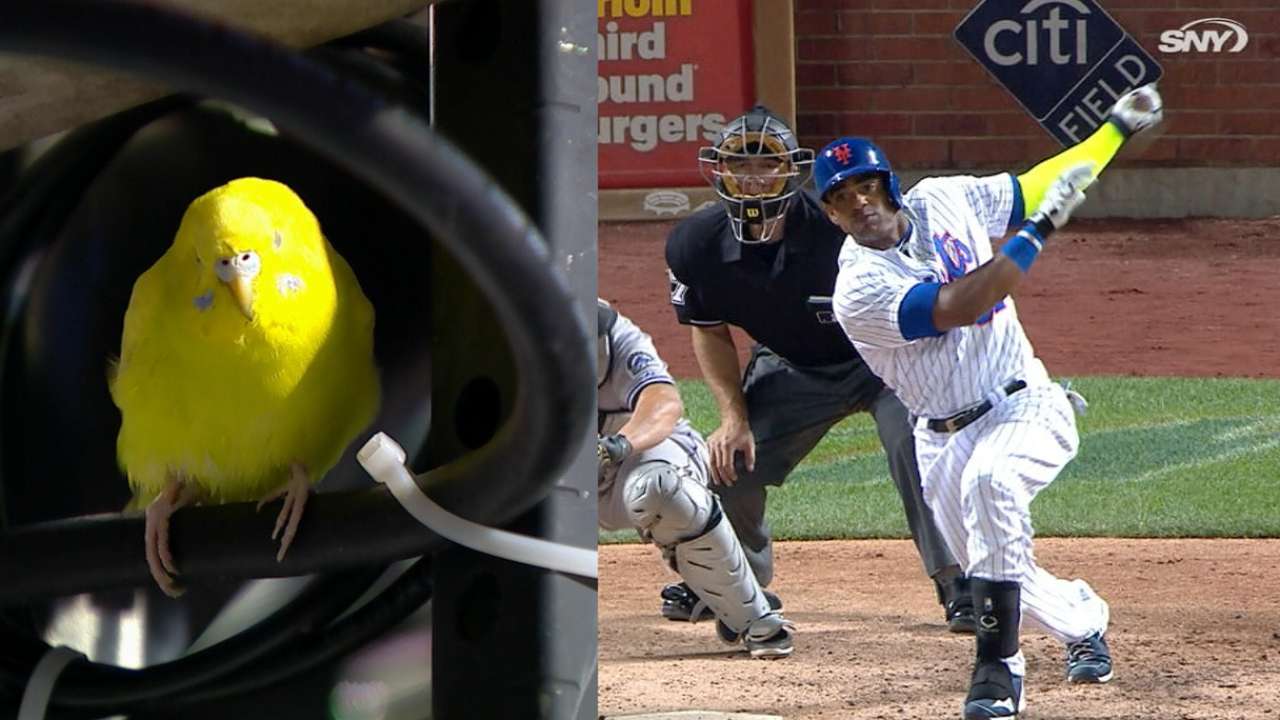 NEW YORK -- Yoenis Cespedes might want to be a bird. Look at the evidence. First, when he came to the plate Wednesday night, his bright yellow armband matched the plume of a parakeet that had perched itself high above the backstop.
"I just used it because I know there was a bird in the field and I just want to look like the bird," Cespedes said with a knowing laugh. "Maybe it would bring me some luck."
Second, he hit his first Mets home run in the eighth inning of a 3-0 win over the Rockies. His motivation?
"I knew it was on the fence, so I was searching for a fence myself," he said.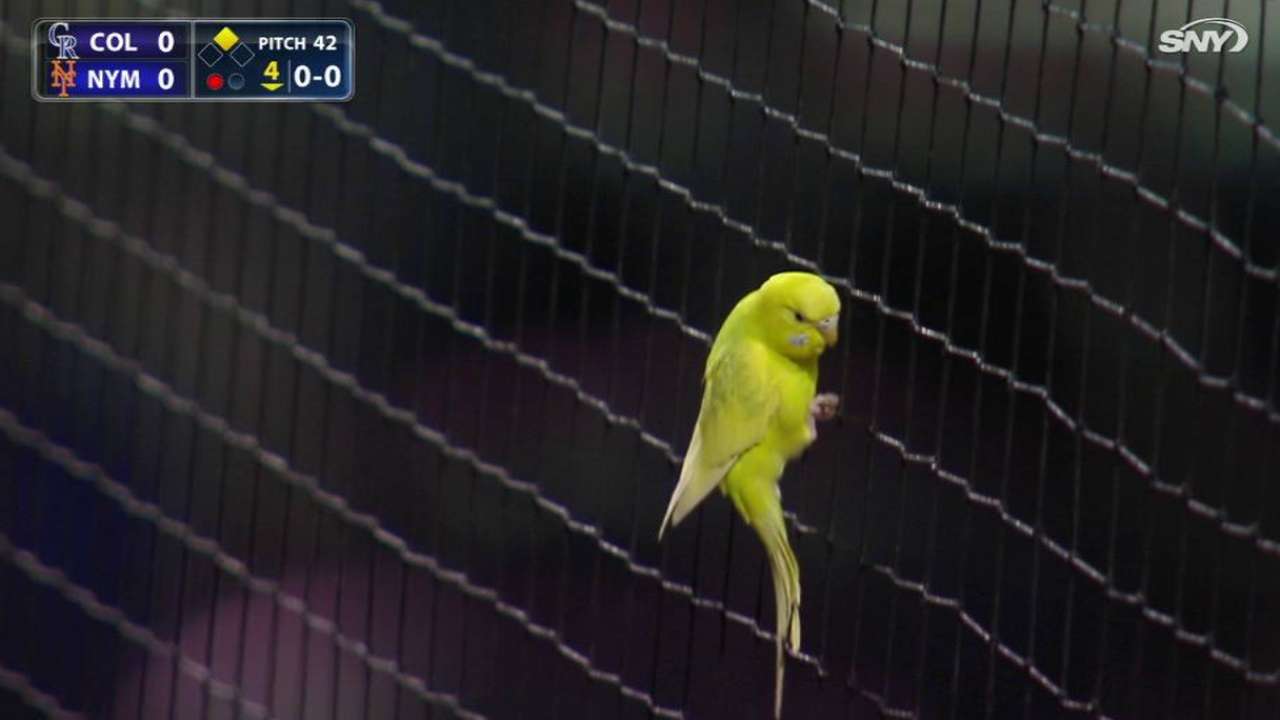 Cespedes, usually stoic with the media, was in the mood for jokes Wednesday night. His home run opened the valve on a pressure that had been building for two weeks.
After the Mets made him their highest-profile midseason acquisition since Mike Piazza, he had yet to find the bat-flipping form he showed off in the 2013 Home Run Derby, held at Citi Field.
The Mets' move for Cespedes minutes before the July 31 non-waiver Trade Deadline brought back that same excitement, but Cespedes needed time to acclimate himself, and he went 1-for-15 in his first four games at Citi Field.
"New park, new league," manager Terry Collins said. "I'm not concerned. I know he's going to hit."
On Wednesday, Cespedes did just that, hitting a Christian Bergman curveball over the fence in right-center field, where most deep drives settle into warning-track flyouts at Citi Field.
The pitch before, an 88-mph fastball that broke toward his chin just before crossing the plate, forced him to dive out of the batter's box to safety. After a flash of concern, emotion left his face.
He adjusted his helmet and resettled it onto his head. Knowing the next pitch would be low and away, he stepped back into the box and waited for his pitch. Then, he launched it. Statcast™ projected the home run to land 408 feet away, with an exit velocity of 107 mph.
"That kind of tells you that he's not too intimidated by anything," Collins said. "He gets his hat knocked off, and the next pitch he hits a homer to right-center field. Explains the kind of guy he is."
After 89 Major League home runs and 169 more in Cuba, homers don't come with much excitement for Cespedes anymore. Except this one.
When Cespedes arrived in Queens, he said he couldn't wait to play in front of the New York crowd again. Memories of 2013 still played clearly, and he remembered how the fans yelled as he launched ball after innocent ball into the upper decks. On Wednesday, those cheers came back as he made his way around the bases.
"I felt happy to get it out of my chest, out of my bat, to get the first one out of the way," Cespedes said.
By the time Cespedes touched home plate, his new bird friend had moved closer to the dugout, waiting for him as he jogged past.
Alden Woods is an associate reporter for MLB.com. This story was not subject to the approval of Major League Baseball or its clubs.