Cuddyer, Uribe reach 1,500 hits in same game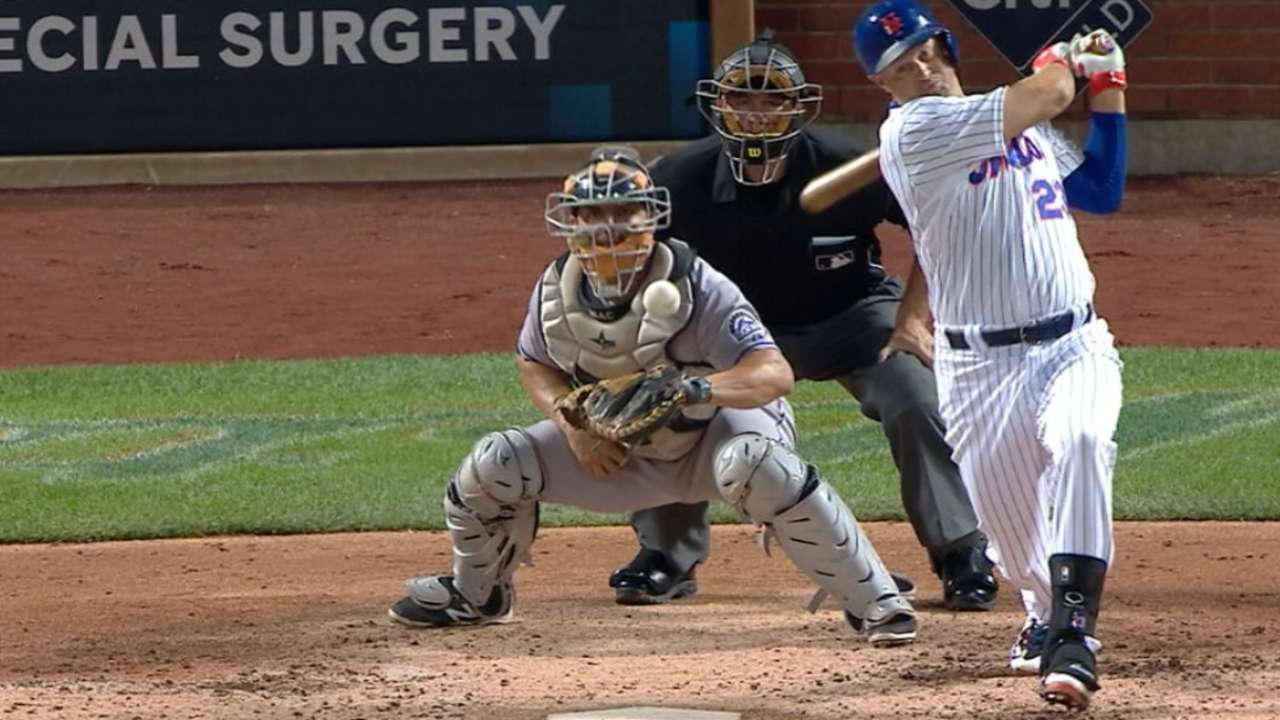 NEW YORK -- Born five days apart in 1979, Michael Cuddyer and Juan Uribe have played a combined 3,227 games over 30 seasons, their paths rarely meeting until this year. Cuddyer came to the Mets as a free agent last offseason. Uribe, as a trade acquisition days before the non-waiver Trade Deadline.
Since their arrivals, those two have grown into twin pillars of a clubhouse sorely missing David Wright. Cuddyer has led by example, turning heads for his hustle despite a bum knee. Uribe became a mentor for the room's Latin players almost instantly upon arriving, commanding respect for his two World Series rings. So it was only fitting that these two Mets, intertwined by a bizarre thread of baseball fate, each recorded their 1,500th career hits in Wednesday's 3-0 win over the Rockies -- the only other franchise that Cuddyer and Uribe have in common.
"Three thousand hits," Cuddyer said, chuckling. "We're in the Hall of Fame if we can go in as a tandem."
The Mets would be plenty happy with another few months of this sort of production. In the fourth inning Wednesday, Uribe doubled home the Mets' first run, then scored on Cuddyer's 1,500th hit, an RBI single. A pitch later, Cuddyer -- bad knee and all, just three days removed from the disabled list -- took second base on a wild pitch, one night after stealing second and scoring on a single.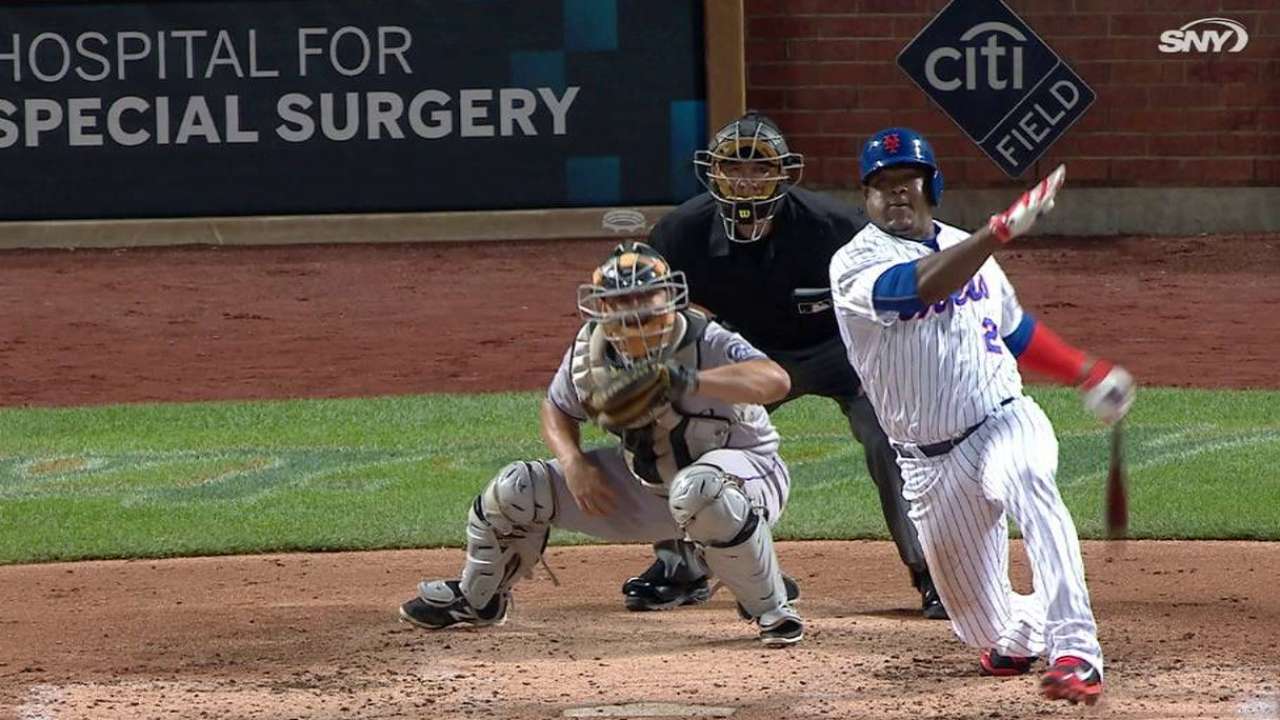 In the sixth, it was Uribe's turn to hustle, sprinting 90 feet to turn an infield grounder into hit No. 1,500. He finished 2-for-3 with a walk, though his primary contribution may have come on defense. After the Rockies put runners on the corners with one out in the fifth, Uribe darted in to field a squeeze attempt from pitcher Jorge De La Rosa, baited DJ LeMahieu back toward third base, then fired to first for an out.
Moments later, Jacob deGrom was out of the inning unscathed.
"I'm happy I helped the team win today," Uribe said. "I feel good. It was an important win today."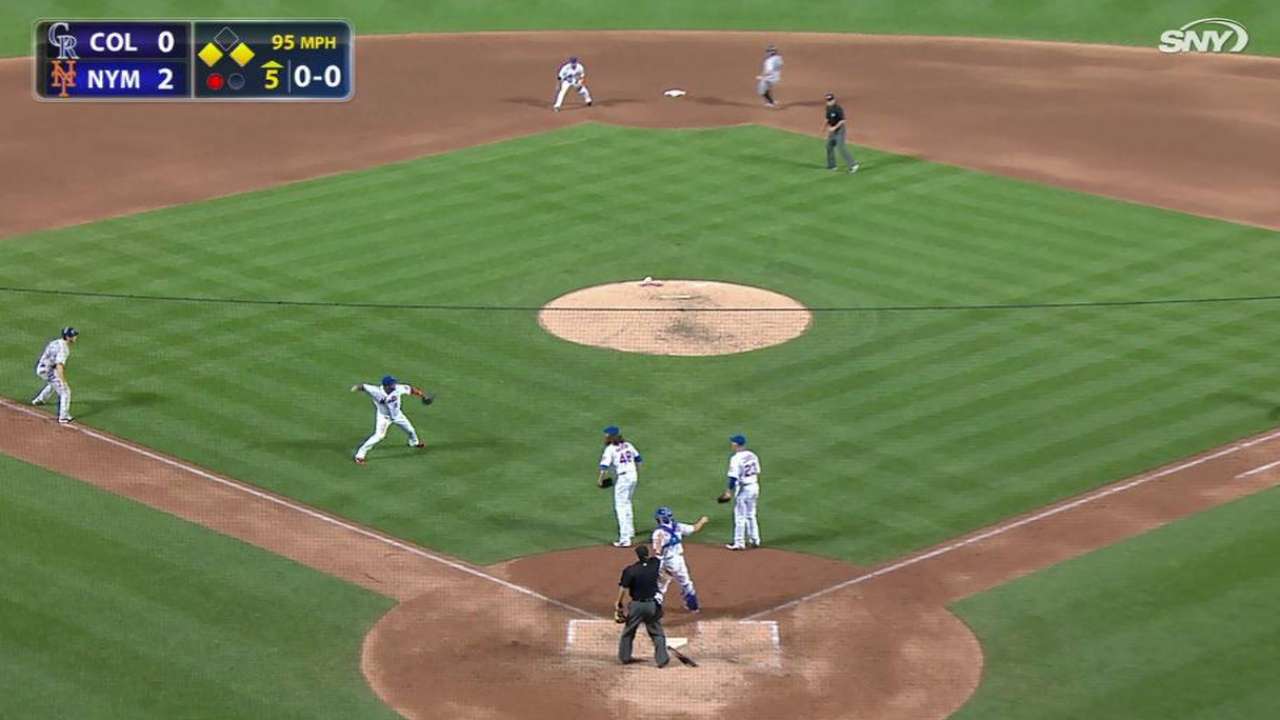 For a Mets club suddenly boasting all the aspirations in the world, every win is important. The Mets were glad to see Cuddyer and Uribe become the 610th and 611th players all time to reach 1,500 hits, but they have been nearly as thrilled to watch the leadership of those two on a daily basis. Asked about it after Wednesday's game, manager Terry Collins remarked that he wished troubled-but-talented infielder Jordany Valdespin, whom the Marlins just released from their Triple-A team, had the opportunity to learn from Uribe.
"Minutes," Collins said when asked how long it took for the veteran infielder's leadership to show. "He walked into the clubhouse with personality, with reputation, and the Latin guys flocked to him. They know him. They've heard of him. He's an outgoing guy. He's funny. He's a lot of fun to be around, and that stuff, people gravitate to those kind of guys."
Anthony DiComo is a reporter for MLB.com. Follow him on Twitter @AnthonyDiComo and Facebook, and listen to his podcast. This story was not subject to the approval of Major League Baseball or its clubs.