Hammel unhappy about being lifted early
Maddon pulls Cubs starter with two outs in sixth inning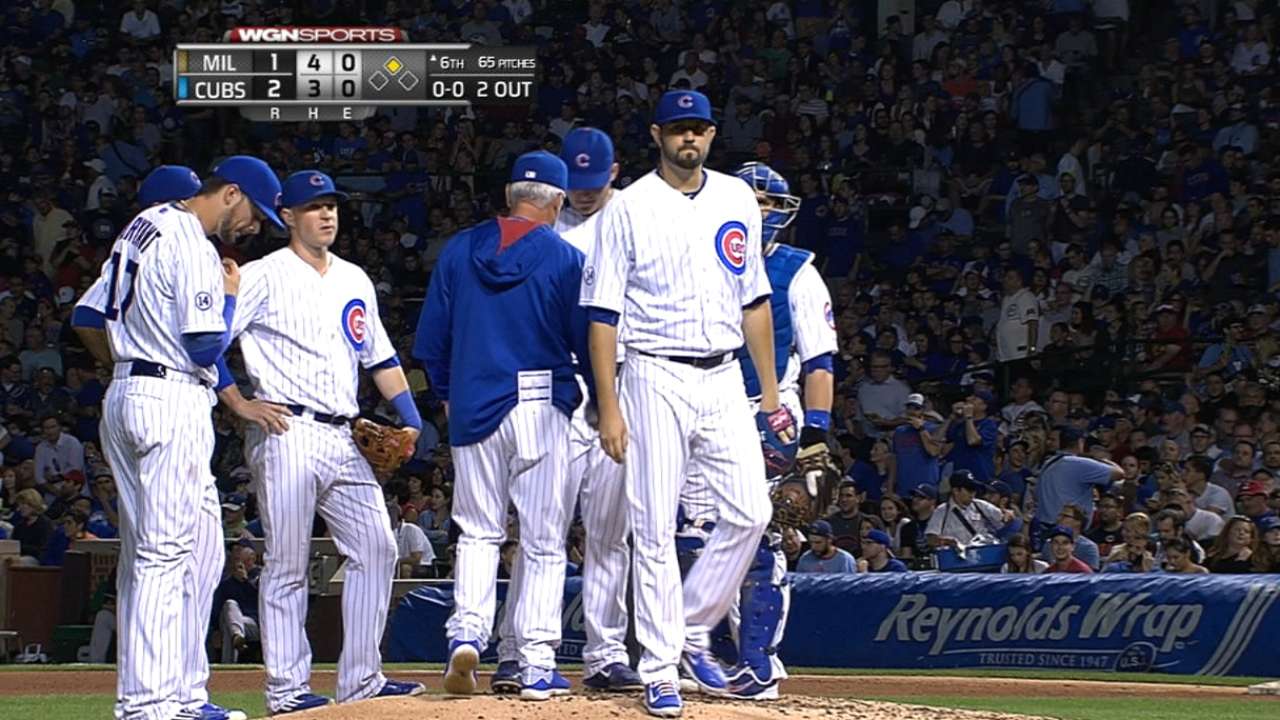 CHICAGO -- In his last start against the Giants, Jason Hammel was pulled in the fourth inning after throwing 76 pitches, and wasn't happy about the early exit. On Wednesday night, the right-hander was lifted with two outs in the sixth and a runner at second against the Brewers. He wasn't too pleased about manager Joe Maddon's decision this time, either.
The Cubs did beat the Brewers, 3-2 in 10 innings Wednesday. Hammel did not get a decision, giving up one run on Ryan Braun's 250th career homer -- a solo shot in the first. He did not expect an abbreviated outing.
"I am certain he's going to be upset," Maddon said. "I expect him to be upset. I'm happy that he's going to be upset because he's such a competitor and an outstanding pitcher.
"From my perspective, where I'm sitting, it's not about being nice," Maddon said. "It's about trying to do the right thing at the right moment.
The game was tied at 1 when Maddon pulled Hammel, whom the manager did not want facing Milwaukee's Adam Lind.
"He's one of the scariest left-handers out there," Maddon said.
Was Hammel upset at the early exit?
"Yeah, obviously," Hammel said.
Surprised?
"Obviously," he said.
Even Cubs catcher Miguel Montero said Maddon's decision caught him a little off guard.
"[Hammel] was a little flat with his slider and a little bit up," Montero said. "[Maddon] saw that. They were hitting the ball good, and that's why he probably made that decision. As a player, we don't understand because we like to compete and we think we're still good. Sometimes we have to kind of step back and say, 'You know what, you were right.'"
Carrie Muskat is a reporter for MLB.com. She writes a blog, Muskat Ramblings. You can follow her on Twitter @CarrieMuskat and listen to her podcast. This story was not subject to the approval of Major League Baseball or its clubs.