Play Ball initiative takes over Elizabeth for a day
Youth clinics, competitions abound in baseball 'hamlet'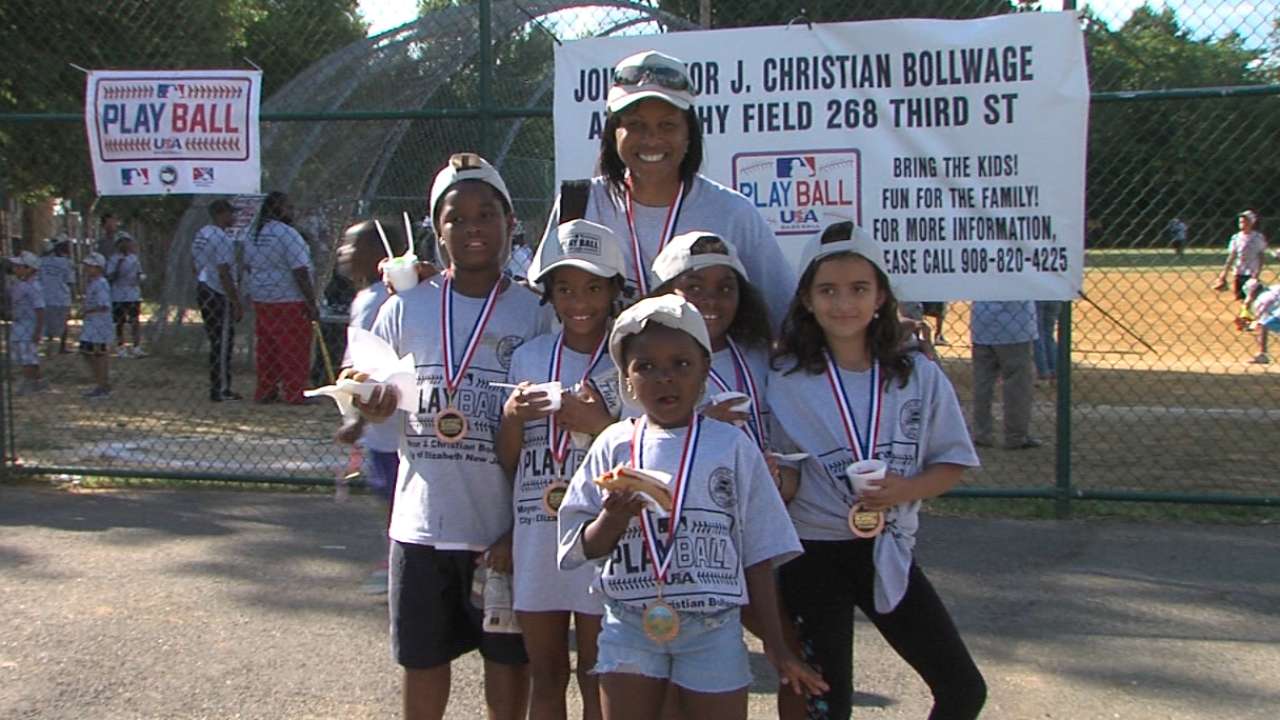 The Play Ball initative touched down in Elizabeth, N.J., on Wednesday, inspiring a block party and an all-day celebration of the game. Nearly 150 kids showed up for an instructional clinic at Brophy Field, and the day's events also included a trio of games.
The first two games were for the kids, and the third was for the community at large. The city's two Little League organizations -- E-Port and Elmora -- played in championship games in both softball and baseball. The kids, ranging from ages 6 to 14, were competing for the Mayor's Trophy, which crowns the local champion league for the season. Afterwards, the city's adults played in their own game under the lights.
Before the games started, though, the kids participated in an instructional clinic and feasted on hot dogs, pretzels and Italian ices.
Al Hawkins, a former 15th-round selection of the Milwaukee Brewers in 1996, was on hand as one of the local heroes, and he said he was having a great time working with the next generation of players.
"It means a lot to me, being from Elizabeth and walking these same streets that these kids walk today," said Hawkins, who's currently employed as the pitching coach at Montclair State University.
"It means a lot to me to try to help them as I was helped growing up. ...They didn't have these programs here when I was a kid. I wish they did, but they had more leagues for us to play in."
Paul Addessa, the city's director of recreation, said that each of the kids was given a medal for their participation, and he also said that the Play Ball clinic doubled as a chance for parents to register kids for the next Little League season. In short, Addessa hoped it would give local baseball a booster shot.
"Elizabeth, for many years, has been a baseball town," said Addessa. "Over the last couple years, it's been going toward soccer as opposed to baseball, but this is an event where we can encourage kids to start playing baseball again. And not only baseball, but softball for the girls."
Elizabeth, the hometown of New York Jets coach Todd Bowles, has a rich athletic history, and several of the adults spoke about what Little League has meant to the city over the years. Baseball has been an Elizabeth staple for generations, and with a little luck, it will remain that way for years to come.
"Baseball is a great sport. It's one of the sports that really brings kids together," said Mayor Chris Bollwage, who was elected to his first term in Elizabeth in 1992. "They get to play as a team. They get to win together, they get to lose together and they also get to understand each other. ...Seeing the hundreds of kids come out today with the sponsorship of Major League Baseball and the city of Elizabeth coming together to play the grand old sport, it really does great things for our community."
Mayor Bollwage threw out a special first pitch and addressed the crowd before the Play Ball games on Wednesday.
"We're the fourth-largest city in the state of New Jersey, but we're a small little hamlet as well," said Mayor Bollwage. "Everybody knows everybody in our city. The mayor before me was here for 28 years, and I'm in my 23rd year. The city really responds to people who are effective leaders and who also provide recreation for young people. We've done that in the city of Elizabeth. Baseball is a primary sport in our community. We've been here since 3 o'clock, doing lessons for the kids and throwing baseballs. And now we have three games tonight, with the last game being old people like me playing at 8 o'clock."
Spencer Fordin is a reporter for MLB.com. This story was not subject to the approval of Major League Baseball or its clubs.