Mets players participate in kids' instructional clinic
Parnell, Conforto, Flores pitch in at Play Ball initiative event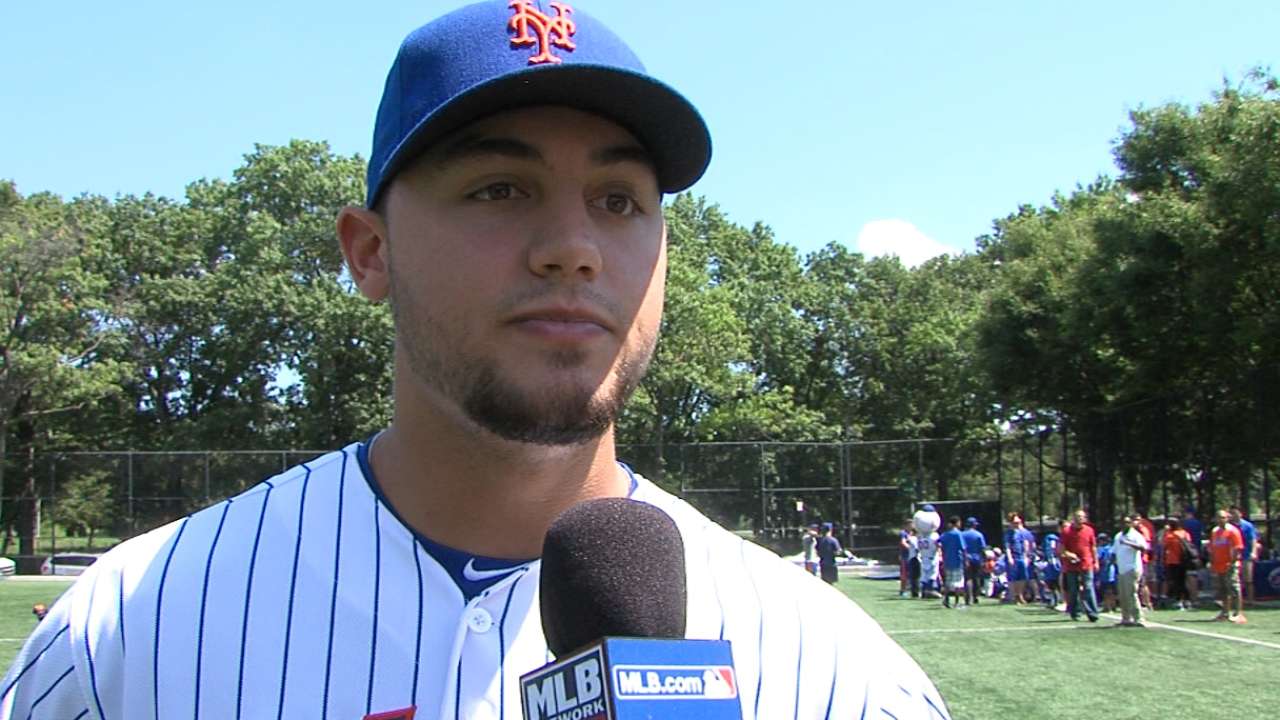 NEW YORK -- The Mets chipped in to the Play Ball initiative on Wednesday, when they brought nearly 100 kids face-to-face with their dreams. The team staged an instructional clinic at Hinton Park, a lush green space that looks right at the towering Citi Field edifice from across the Grand Central Parkway.
Three Mets -- Bobby Parnell, Michael Conforto and Wilmer Flores -- came out to work with a bunch of youngsters from a variety of local youth organizations. The kids stretched and worked on throwing and baserunning drills in the morning before greeting the players with hand shakes and cheers.
"We had a great group of kids and they were really happy to see us," said Parnell, a veteran reliever who has spent his entire career with the Mets. "It's fun for us to get away from the ball field and come out here to hang out with these kids. They're always enjoying the time and teaching us stuff too."
Parnell hung around with the pitching groups, helping the players with their grips, throwing motions and follow-through. Conforto, a rookie outfielder, supervised the players taking their swings off the batting tee, while Flores, a young infielder, watched the kids as they took ground balls in the infield.
The kids came from four groups: The Sports & Arts in School Foundation, Far Rockaway RBI, the Greater New York Sandlot Athletic Association and the Brooklyn Eagles, a youth baseball team.
The children even got to hang out with Mr. Met, the team mascot, who shook hands and posed for pictures. The players stayed for an hour, providing tips and posing for a group photo before returning to Citi Field to prepare for their game against Colorado.
"It was a blast," said Conforto, a first-round pick in the 2014 MLB Draft. "Any time you can come out here with some kids in the community and encourage them to get out and play baseball or play whatever -- or really just be outside having fun with each other -- is a blessing. To be honest, it was a really fun experience and refreshing to see their enthusiasm in just wanting to be out here and playing the game. That's a cool thing. It's always fun just to be around these kids and to see their smiling faces."
And that's the whole point of the Play Ball initiative. Major League Baseball and more than 100 mayors around the country are trying to celebrate the game and encourage more kids to play it.
"The biggest thing is to find time to be outside and play," said Parnell, a native of Salisbury, N.C. "You don't always have to be playing baseball. You can be playing other sports. Find something you enjoy and always enjoy it. Make sure it's always fun. ...I didn't always play baseball. I played football, soccer, basketball. Any other thing that I could do to be outside and just have fun."
Spencer Fordin is a reporter for MLB.com. This story was not subject to the approval of Major League Baseball or its clubs.