Iglesias rights ship, shuts down Padres
Reds rookie settles in after three-run first, retires last 16 batters he faces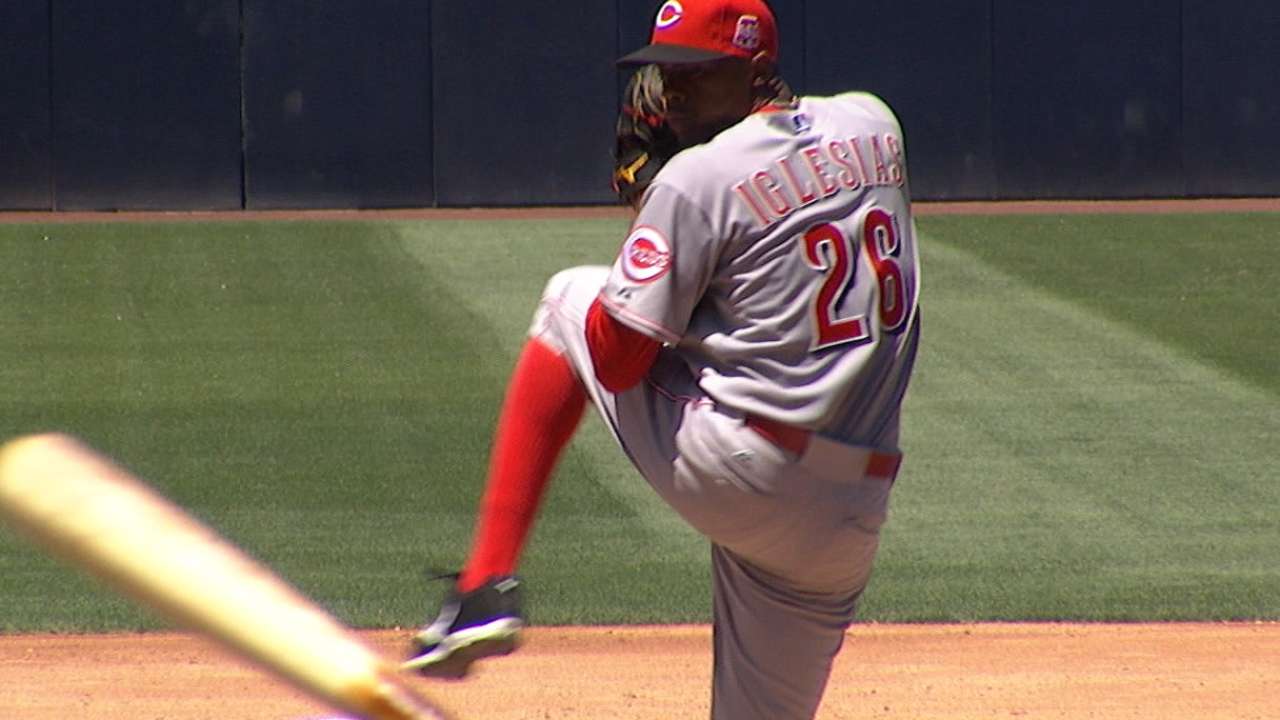 SAN DIEGO -- Raisel Iglesias already blew a lead and was on the verge of letting an inning, and perhaps the game, get away from him and the Reds, too. The rookie not only avoided disaster, but slammed the door shut and nailed it airtight during a 7-3 win over the Padres on Wednesday.
"That first inning was really bad for me, a really bad inning," Iglesias said through translator Tomas Vera.
How did Iglesias make the adjustment so well? He had some help.
A 3-0 Reds had evaporated within the first three batters of the first inning when Iglesias hit leadoff batter Yangervis Solarte and allowed Yonder Alonso's single. Matt Kemp followed with a no-doubt three-run homer that tied the game before Justin Upton walked.
That brought pitching coach Jeff Pico and catcher Brayan Pena to the mound.
"I think maybe the biggest moment of that game was Jeff Pico going out and making a well-timed trip along with Brayan Pena to settle the kid down after walking Upton," Reds manager Bryan Price said.
Following the mound visit, Iglesias helped himself, too. As Upton broke to steal second, the right-hander stepped off the rubber and fired to second base for the first out.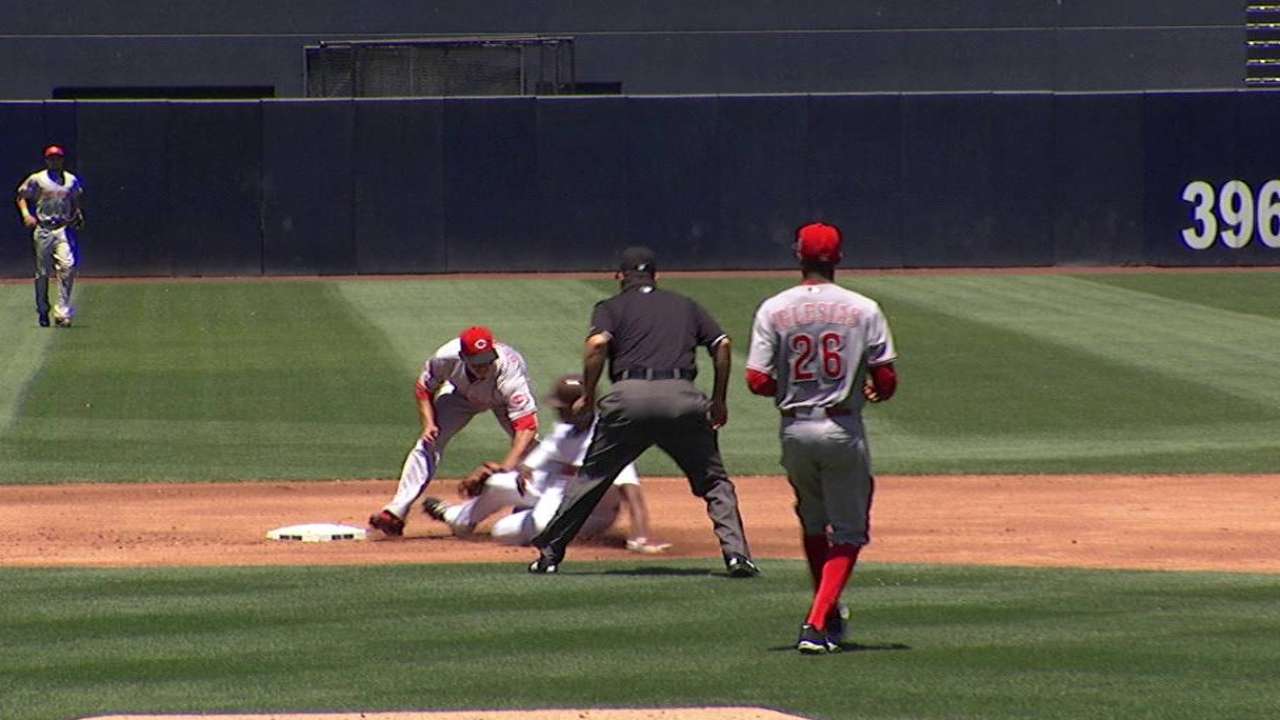 "I think really helped settle that environment," Price said. "From that point on, he was unflappable. It was one of those defining moments in the first inning."
Following a Derek Norris two-out double, Iglesias did not have another San Diego baserunner the rest of the day as he retired the final 16 batters he faced. At one point, the rookie had struck out six of seven and four in a row.
"After I gave up that home run, I actually got really disappointed with myself and I lost control of my emotions," Iglesias said. "I can't explain how bad I was. In that situation, Pena came in and the pitching coach came in and they both started to tell me, 'Calm down, don't let the emotions come in and start to screw up your game. Concentrate and do what you have to do.' You saw what happened."
Iglesias finished with three earned runs and three hits over six innings with one walk while tying a career high with eight strikeouts. It was his third-straight quality start as he improved to 3-4 with a 4.70 ERA in 12 games, including 10 starts. Also important, his course correction saved the bullpen after Michael Lorenzen lasted only 1 1/3 innings Tuesday night.
Ironically, Iglesias has been his best this season in the early innings. He entered with a 1.33 ERA over the first three innings before jumping to a 7.94 ERA in the middle innings.
"After the first inning, I came back and sat down on the bench and started thinking about what I've been doing the last few games," Iglesias said. "'What have I been doing to get the guys out? What have I been using in all the games?' It kind of built my confidence concentrating a little bit better and then I went back to the game. You saw I started pitching how I wanted to pitch."
Mark Sheldon is a reporter for MLB.com. Read his blog, Mark My Word, follow him on Twitter @m_sheldon and Facebook and listen to his podcast. This story was not subject to the approval of Major League Baseball or its clubs.