At no-no's key point, Sucre steps up with big call
Catcher shows faith in Iwakuma's fastball to help induce DP in eighth inning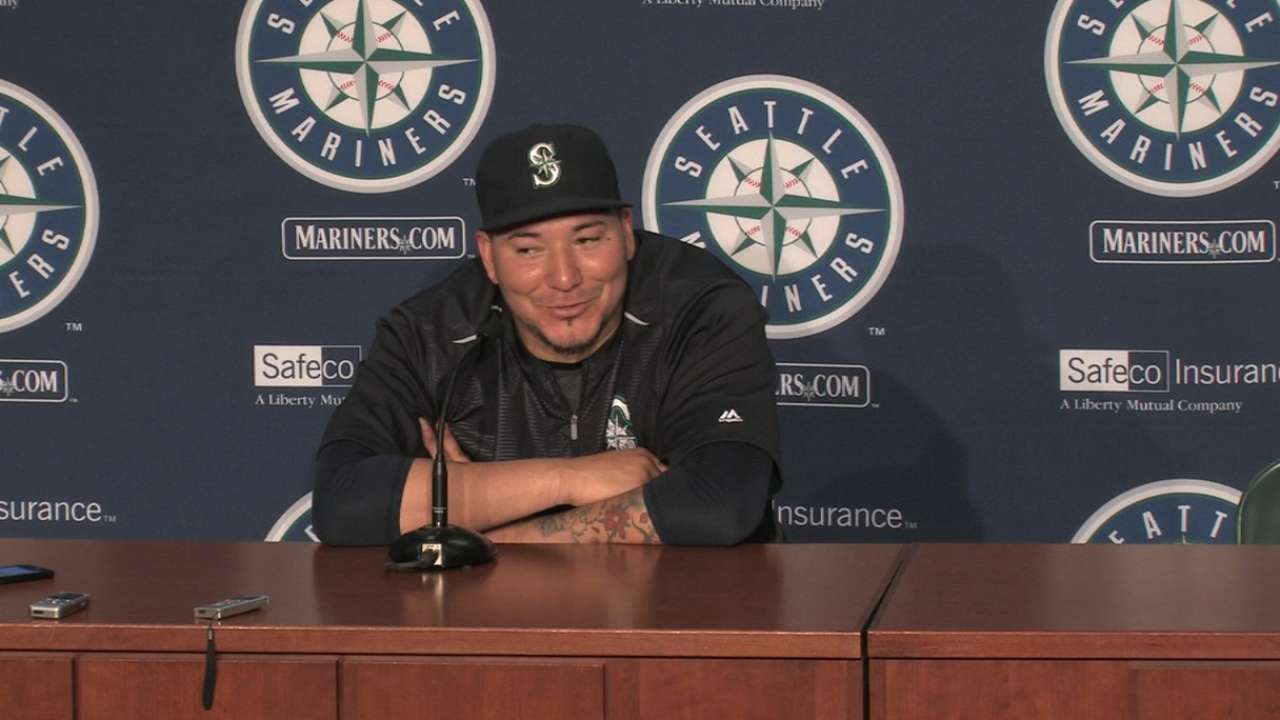 SEATTLE -- Hisashi Iwakuma had been throwing one of the best games of his career through seven innings on Wednesday, but that didn't mean he was out of the woods against a tough Orioles lineup.
The Mariners right-hander started the eighth inning of a 3-0 win by walking Jonathan Schoop, missing with a 3-2 splitter for his third and final walk in what would become the fifth no-hitter in franchise history. After striking out Ryan Flaherty, Iwakuma was faced with a 3-1 count to catcher Caleb Joseph, who came into the game with 10 home runs.
It would be one of the biggest pitches of Iwakuma's afternoon, and Jesus Sucre, in just his 44th Major League start, had a big decision to make.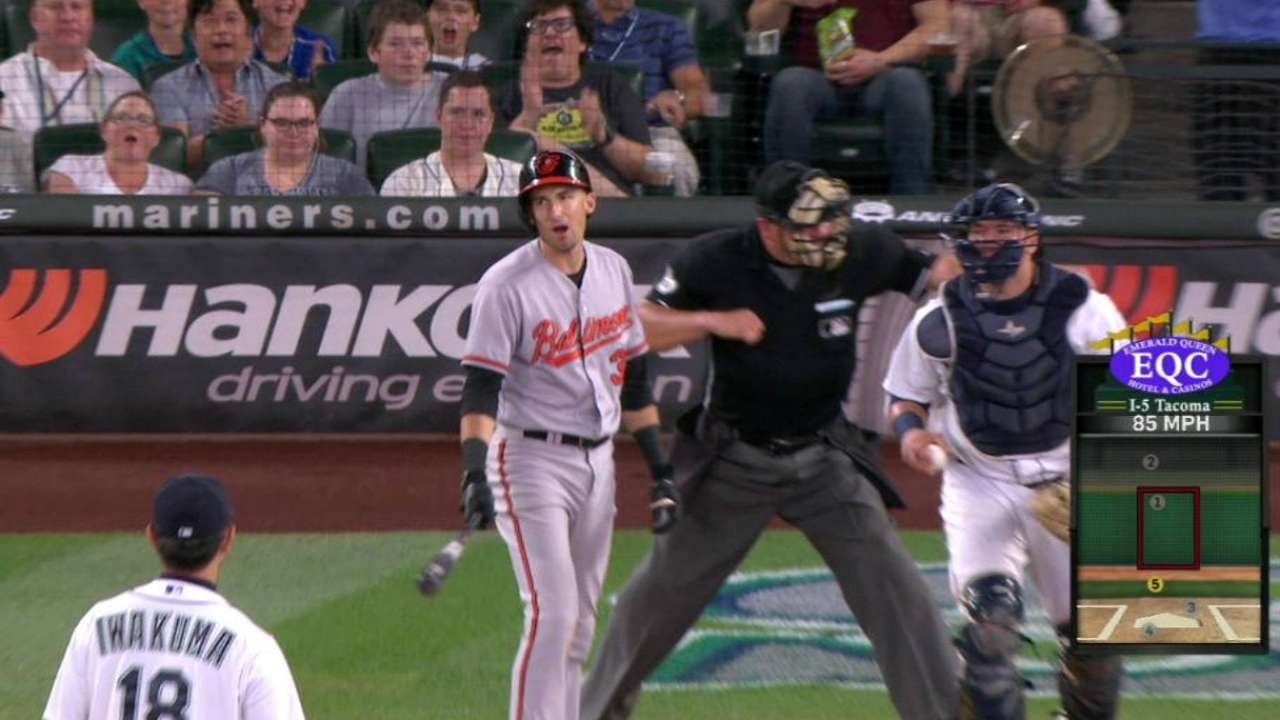 The Mariners' backup catcher knew that fastballs low and away had been working for Iwakuma throughout the game. Sucre thought it was the right pitch, but because he was nervous, he looked toward the Mariners' dugout for any signal from manager Lloyd McClendon and bench coach Trent Jewett.
"I was trying to look at Lloyd or Trent to see if they could call a pitch," Sucre said with a laugh. "I was kind of nervous, and I was like, 'Oh my God. Please help, you guys.' And they didn't say anything, so I went fastball down and away."
The pitch added tension to an already stressful game situation. Big league hitters don't often miss 3-1 pitches, but Sucre said he went with his best bet.
"I called the pitch, but I'm not going to lie -- I was kind of nervous," Sucre said.
Joseph hit the 92-mph fastball right at shortstop Ketel Marte, who flipped to second baseman Robinson Cano to start an inning-ending 6-4-3 double play. The 25,661 fans at Safeco Field erupted, knowing Iwakuma was just three outs away from throwing the fourth no-hitter in the Major Leagues this season.
The moment slightly calmed Sucre, who said he was nervous from the seventh inning onward. The third-year catcher said he saw the opposite reaction from Iwakuma, who flashed an even more devastating splitter after a two-walk fourth inning. And Iwakuma had reason to be calm in the moment; it was Sucre who caught his best outing of the season before Wednesday, an 8 2/3-inning, three-hit gem against the Twins on Aug. 2.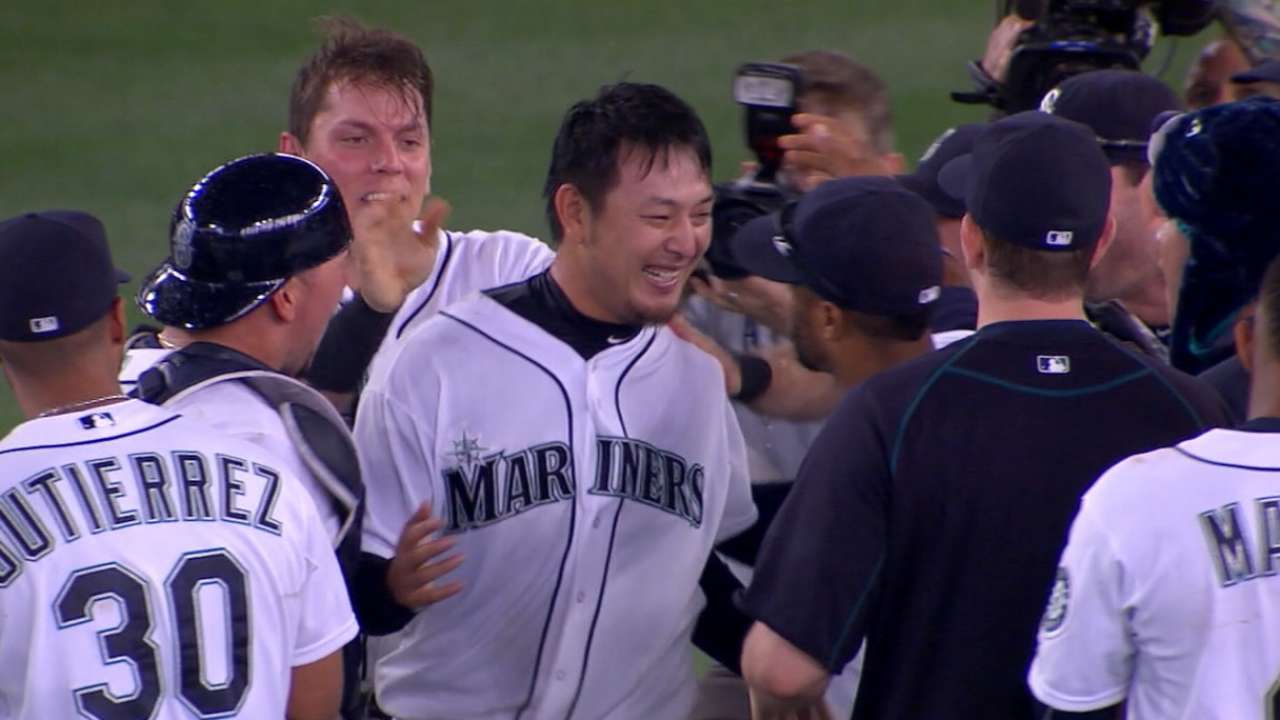 "I think he was so happy," Sucre said of Iwakuma. "Every time he threw a strike, he was happy. You could see it in his face; he was laughing. Every time he finished an inning, he was so happy."
The start made for an anxious couple of hours for the 27-year-old Sucre, but he was all smiles after calling his first Major League no-hitter.
"I was having kind of a feeling in the fifth inning, because he was making some quality pitches," Sucre said. "Oh my God, so awesome. That was a great moment."
Andrew Erickson is an associate reporter for MLB.com. This story was not subject to the approval of Major League Baseball or its clubs.