Tigers show plenty of fight with unlikely rally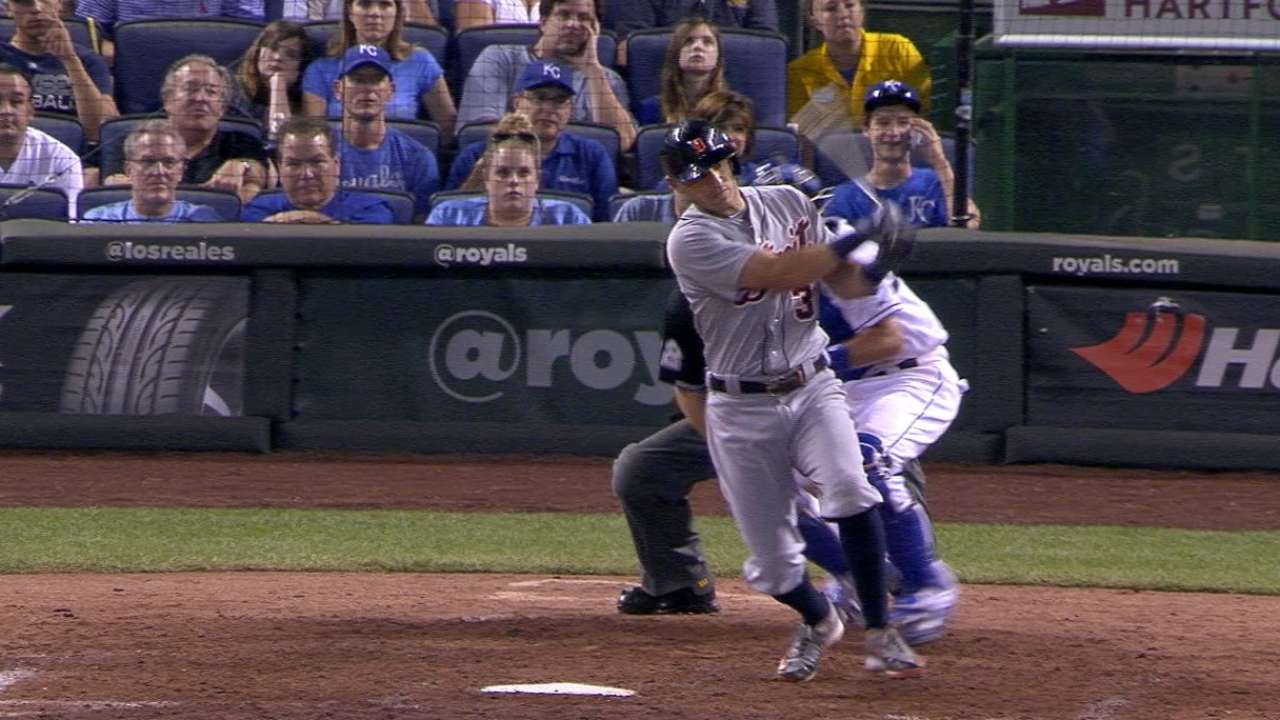 KANSAS CITY -- The Tigers were six outs away from being swept in the three-game series. The way the Royals' bullpen works, that's close to automatic. The way starter Edinson Volquez was rolling, he might not have needed it.
If the Tigers were going to coast down the stretch, this would've been a time.
"There have been times when teams have mailed in games like that," manager Brad Ausmus said after the Tigers' 7-4 win. "These guys didn't mail it in."
It wasn't so much an overpowering of the Royals as it was a piece-by-piece effort. From a four-run top of the eighth -- the Tigers' highest-scoring inning in the seventh or later this season -- to a two-reliever, three-out bottom half, the Tigers beat the Royals at their late-inning strength and then survived their own season-long late-inning weakness.
It was a microcosm of where the Tigers sit at this point in the season, still trying to win now with veteran players while trying to bring along young players for next season.
"There's still fight in here," Kinsler said. "There's still guys trying to prove things. There's still games to be played. This isn't just roll-out-and-lose-every-day. There's still pride at stake and reasons to play hard. Hopefully, we can take a deep breath tomorrow, take a day off, and get ready for a tough Houston team coming up [on Friday]."
The Royals hadn't lost a game when leading after seven innings since May 5, 2014. They'd converted 111 consecutive eighth-inning leads into wins, including 51 this season. The Tigers, by contrast, were 2-49 this season when trailing after seven innings.
James McCann's leadoff single in the eighth wasn't just the first hit Volquez had allowed since the third inning, it was just the second ball to escape the infield in that same stretch. Volquez had retired 13 in a row -- eight groundouts and three strikeouts.
Third baseman Mike Moustakas had recorded five of them, and nearly got a sixth. McCann's single barely eluded him.
"Single, walk, single, and then a double," McCann said. "That's kind of how you string something together. You just keep fighting, keep fighting, keep fighting."
The walk was on four pitches to Gose. The other single was a Jose Iglesias dribbler that stayed fair for an infield single, bringing up Kinsler with the bases loaded and none out.
It was a fitting spot for somebody who had been pushing his teammates to keep competing since their non-waiver Trade Deadline deals. He was 0-for-11 for the series after a 22-for-41 tear since the David Price trade.
Kinsler admitted he looked out toward the Royals' bullpen to see if Kelvin Herrera would be coming on.
"You're aware of what's going on around you, who's warming up," Kinsler said.
Two pitches later, his double down the left-field line brought Herrera on, too late to preserve the lead, and too late to halt the rally. J.D. Martinez snuck a ground-ball single through a drawn-in infield, past the reach of Alcides Escobar for the go-ahead run. Kinsler beat a tag at the plate on Tyler Collins' ground ball for another run.
"The dugout was jumping pretty good the later part of the game," Ausmus said. "There was focus in all the at-bats facing a tough pitcher. Volquez had pitched well all game and Herrera comes in throwing 100. There's fight left in the dog, I think."
Jason Beck is a reporter for MLB.com. Read Beck's Blog, follow him on Twitter @beckjason and listen to his podcast. This story was not subject to the approval of Major League Baseball or its clubs.