MLB.com Columnist
Anthony Castrovince
Kuma makes history in flashing vintage form
Oft overshadowed by King Felix, Mariners veteran proves he can't be taken lightly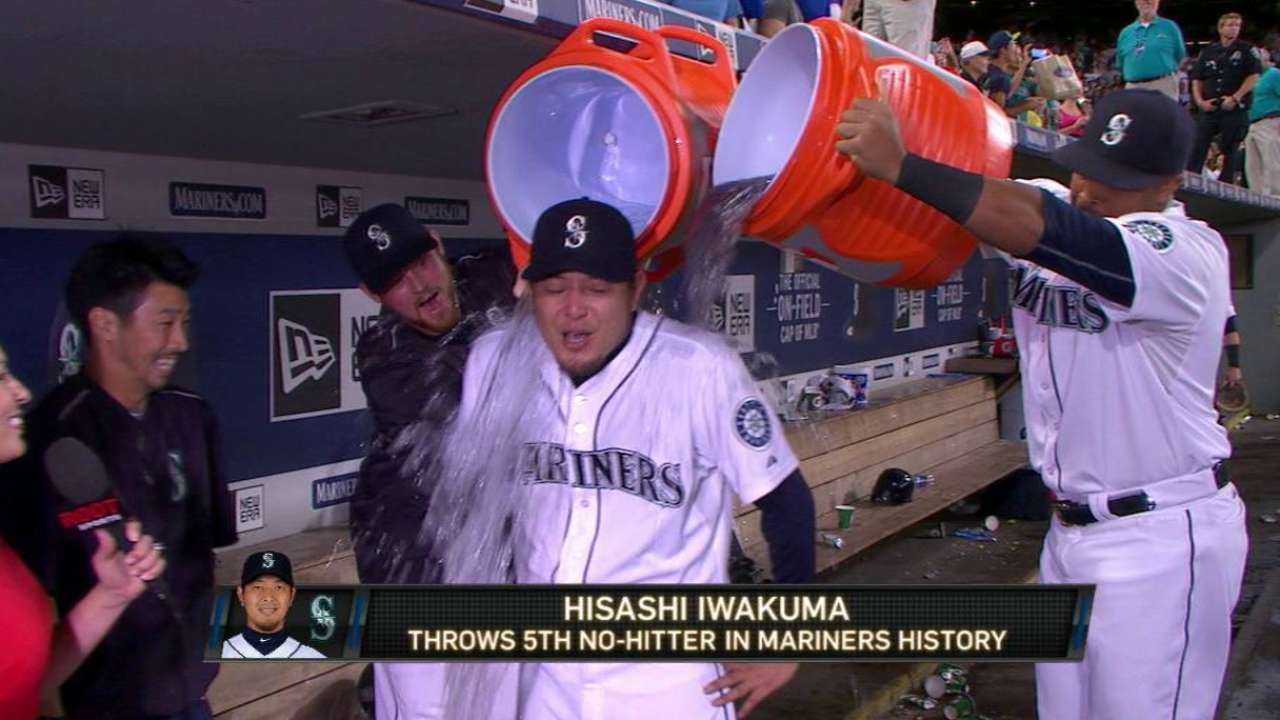 Remember a time -- brief, but existent, all the same -- when it wasn't totally crazy to suggest that the best pitcher on the Seattle Mariners was somebody other than Felix Hernandez?
That time was 2013, specifically. Hisashi Iwakuma -- the man who in Wednesday's 3-0 win over the O's became just the second Japanese pitcher to throw a no-hitter in the Majors -- was a revelation that year, just his second season stateside.
A 2.66 ERA, a .220 opponents' average, a .184 opponents' average in those rare instances when Iwakuma dealt with runners in scoring position. The sabermetricians will tell you Iwakuma was worth seven wins above replacement level that year, an extremely good mark and better even than that of King Felix. With control, with efficiency, with the ability to get people to beat ground balls into the turf, Iwakuma was simply one of baseball's best. He followed it up with a 2014 season that didn't rate as well at surface level (ERA and innings) but was actually quite comparable in the peripheral stats.
It has, as you know, been a different story here in 2015.
Indeed, it's been a roller-coaster year for Iwakuma. He was ineffective, then he was injured, then he was trade bait, then he wasn't. The Mariners got criticized in some corners for holding onto Iwakuma through the July 31 non-waiver Trade Deadline in a disappointing season, in advance of his free agency, but ownership valued the 34-year-old right-hander and evidently still views him as a part of the picture in 2016.
Wednesday was a reminder of 2013-14, a reminder of the value Iwakuma presents when he's on top of his game.
"I can't find the words to express it," Iwakuma said through an interpreter after the final out. "I'm truly happy."
Clearly, Iwakuma had never been this dominant, not even in 2013. Heck, although he had thrown 48 complete games in the Nippon Professional League, he had never gone the distance in the States.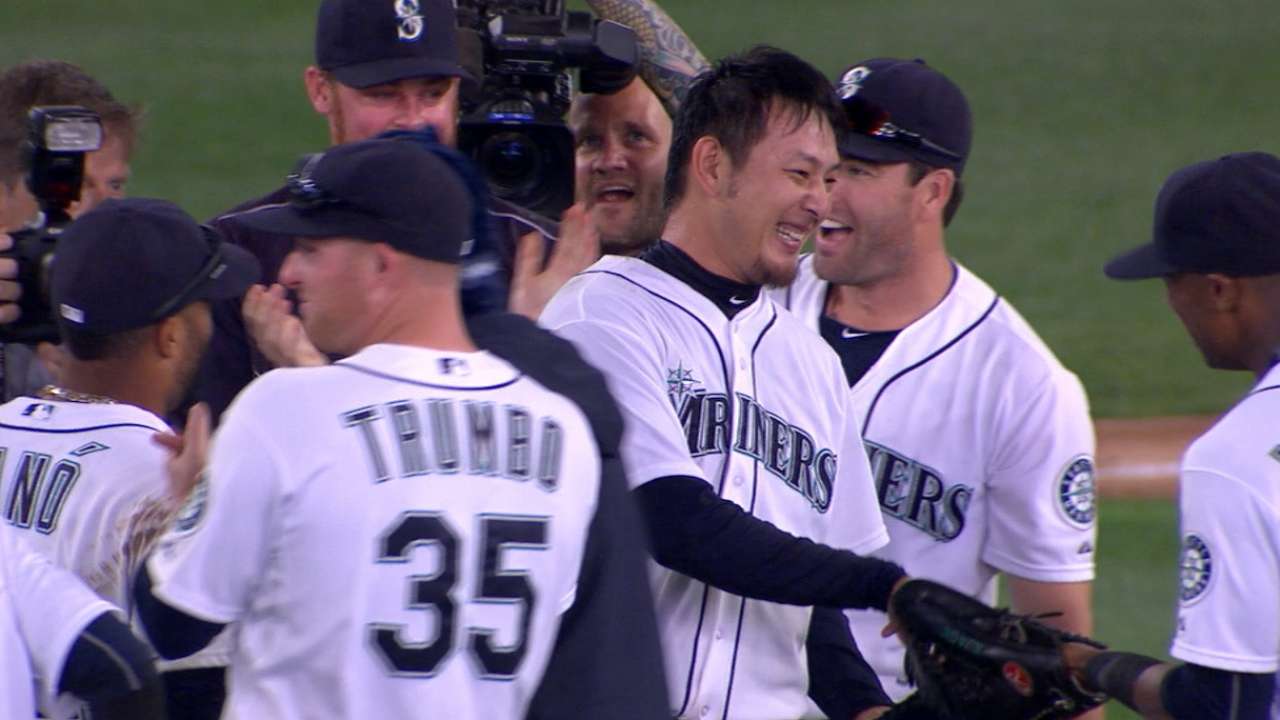 So to both break through that barrier and hold an Orioles team still very much fighting for its postseason life hitless was impressive. We hadn't, in fact, seen a guy throw a no-hitter against a DH-aided lineup since King Felix's perfect game on Aug. 15, 2012, almost three years ago to the day.
We hadn't seen a Japanese pitcher throw a no-no since Hideo Nomo's second back in 2001.
Though they did draw three walks, the O's didn't have any especially hard-hit balls all day against Iwakuma. Kyle Seager made the highlight-reel catch at third -- an over-the-shoulder grab of a ninth-inning David Lough popup deep in foul territory -- that gave the outing its token signature moment.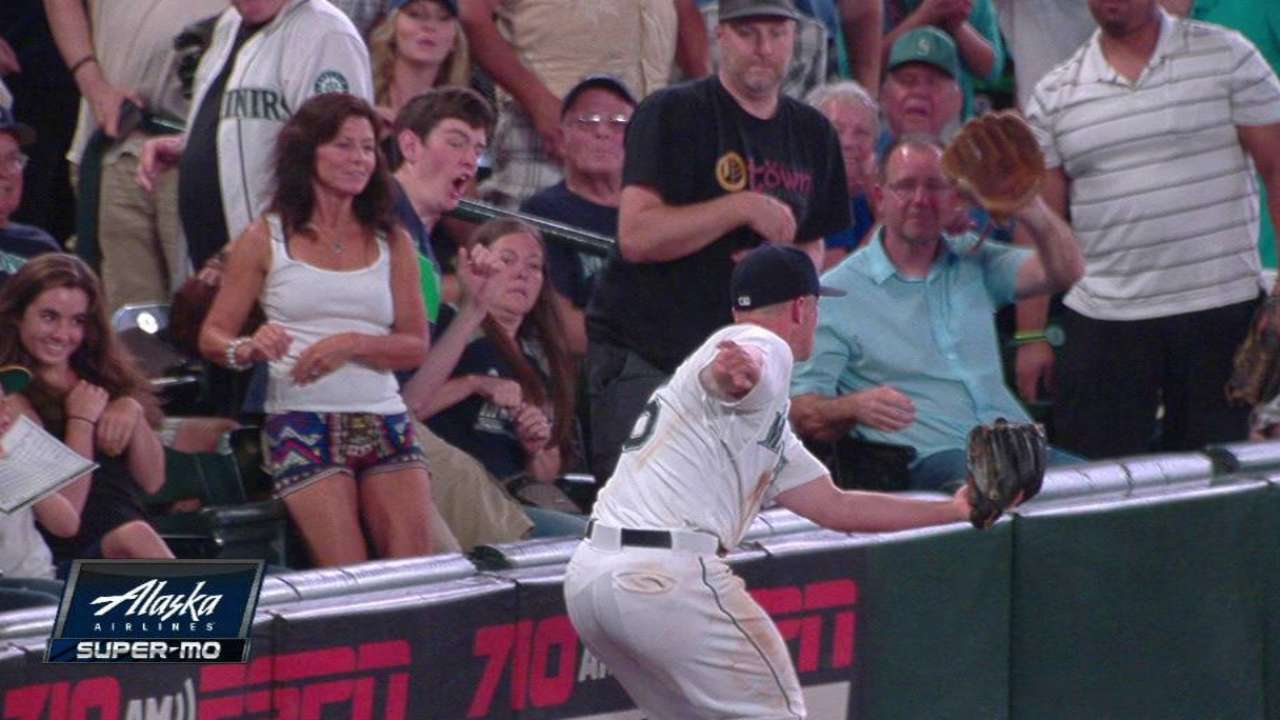 But the real takeaway was the poise and seemingly effortless dominance of a guy making just his 11th start of the season.
Fastballs up, splitters down, good night, and good luck.
A lat injury cost Iwakuma 10 precious weeks of his walk year, so this outing -- parlayed with the respectable 3.00 ERA he had put together over his previous six trips to the mound -- energizes his open-market value.
"I said about three weeks ago 'The Bear' was back," Mariners manager Lloyd McClendon said. "And he's only getting better."
Maybe, in light of Iwakuma's age and this year's injury, this is not a guy you can pencil in for another 200-inning season. But if you can mark him down to miss bats, control his pitches and get ground balls in front of a dependable defense, that's a guy you can feel comfortable sliding into the middle of your rotation. The primary problem for Iwakuma this year -- besides the injury -- has been an elevated home-run rate, but even that has stabilized in recent weeks.
And obviously, nobody took him deep on Wednesday.
When it was over, you could see Hernandez congratulating his teammate while wearing one of those goofy "Kuma Bear" caps. Yes, there was a time when even King Felix played second fiddle to an overwhelming Iwakuma. Those days are gone, but, for one day at least, King Felix wore the novelty hat and Iwakuma wore the crown.
Anthony Castrovince is a reporter for MLB.com. Read his columns and follow him on Twitter at @Castrovince. This story was not subject to the approval of Major League Baseball or its clubs.