Braun's 250th HR one shy of Yount's record
Brewers outfielder closes in on franchise mark with first-inning shot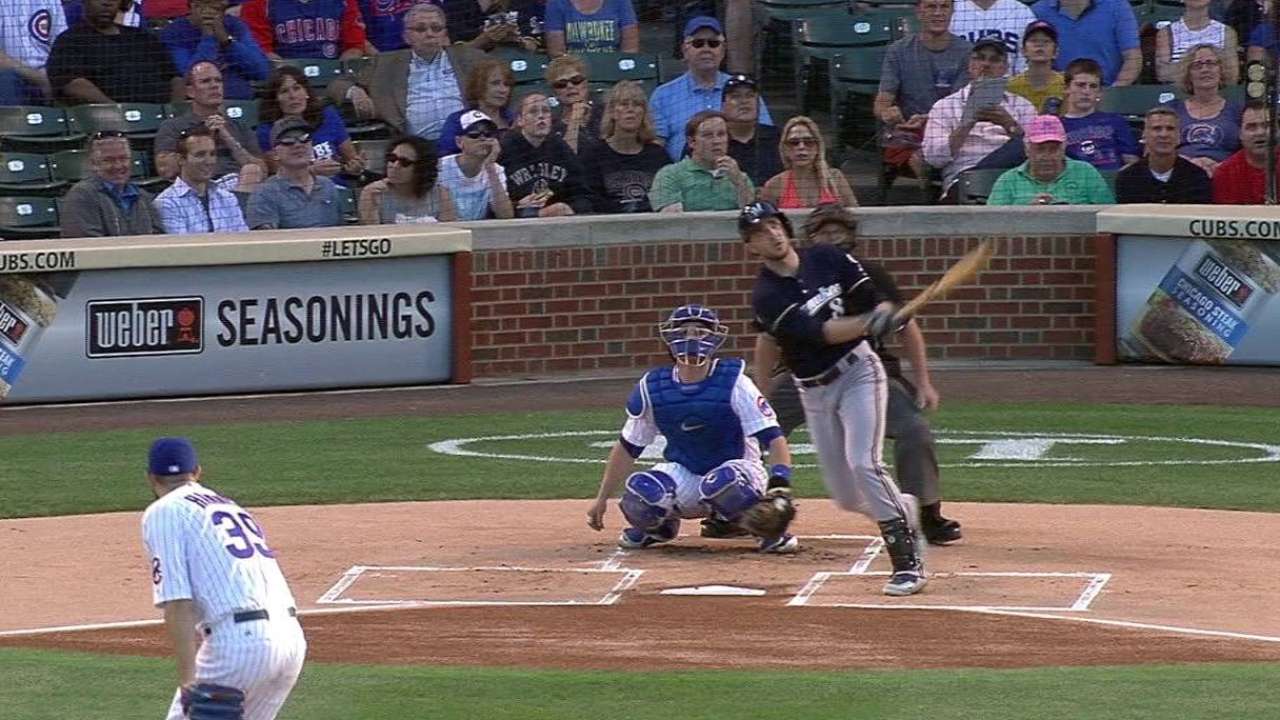 CHICAGO -- In the moments after a 10-inning, 3-2 loss to the Cubs that presented the Brewers opportunities to win, Ryan Braun had a hard time finding the joy in his position alongside a franchise icon.
On one hand, Braun hit his 250th home run in the first inning Wednesday at Wrigley Field to move one shy of Hall of Famer Robin Yount's franchise record. But Braun was also on the wrong end of a sensational Anthony Rizzo catch that carried the Cubs first baseman into the seats, and lamented the Brewers' 15th loss in their last 21 games.
"Obviously, it's special," Braun said of pulling to within one home run of Yount. "I'm headed in the right direction. But right now we focus on us, focus on what we're trying to do as a team, and it's hard to enjoy any type of individual success when things are going the way they are as a team.
"Obviously, home runs are nice. It's challenging for us to score runs right now. But other than that, I never reflect on anything like that during the year."
Braun, who sat out the start of Tuesday's series opener with a stiff back, hit No. 250 off Cubs starter Jason Hammel in his 4,619th at-bat. Yount amassed his 251 homers in 11,008 at-bats.
It gave Braun 20 home runs in a season for the first time since 2012, when he was runner-up to the Giants' Buster Posey in National League MVP balloting. Braun hit nine home runs in a 2013 season shortened by a suspension, and 19 home runs in 2014 while battling discomfort at the base of his right thumb.
Braun received treatment for a nerve issue in the joint in October and again in May, and has resumed hitting for power this season.
The homer was the first of Braun's three hits, and he scored again in the ninth on a wild pitch that pushed the game to a 10th inning, when Cubs catcher Miguel Montero won it with a home run off Michael Blazek.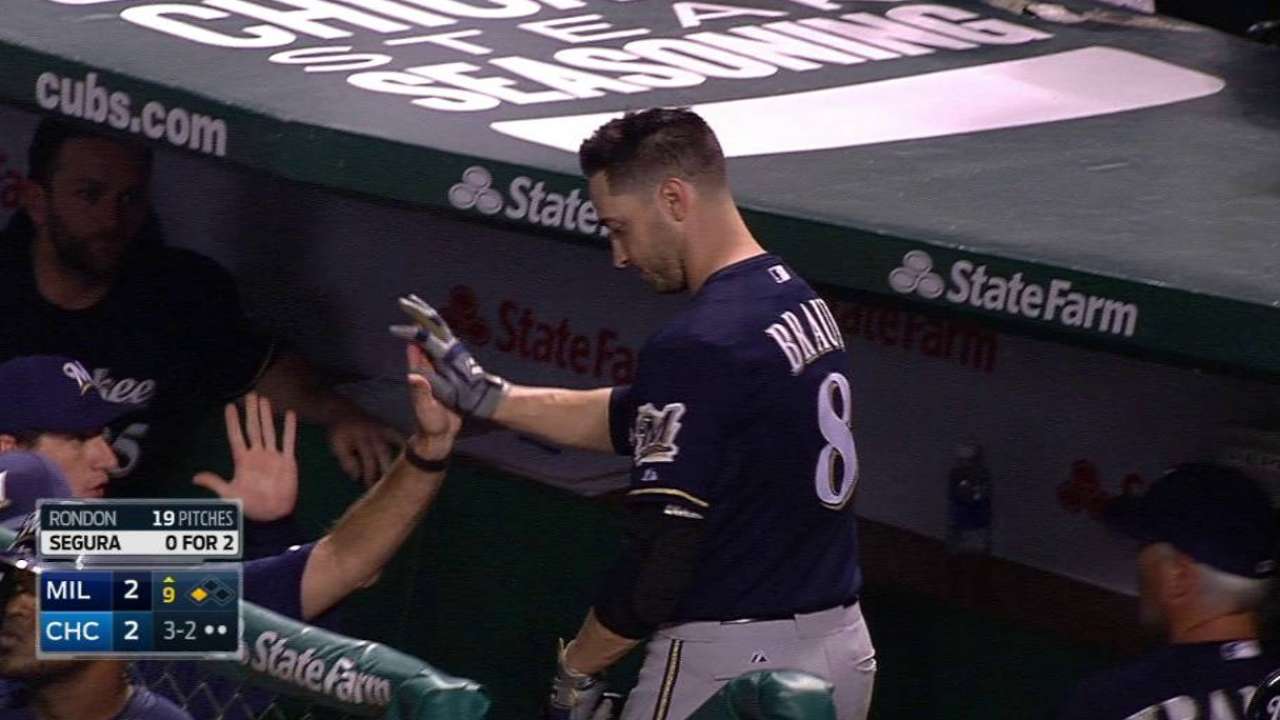 In between, Braun found himself part of a play for the highlight reel. In the sixth inning, Braun hit a pop-fly foul along the first-base side. Rizzo gave chase, climbed atop the tarp, stepped on top of the low brick wall separating the playing field from the stands, then took another step onto a seat to make a terrific catch.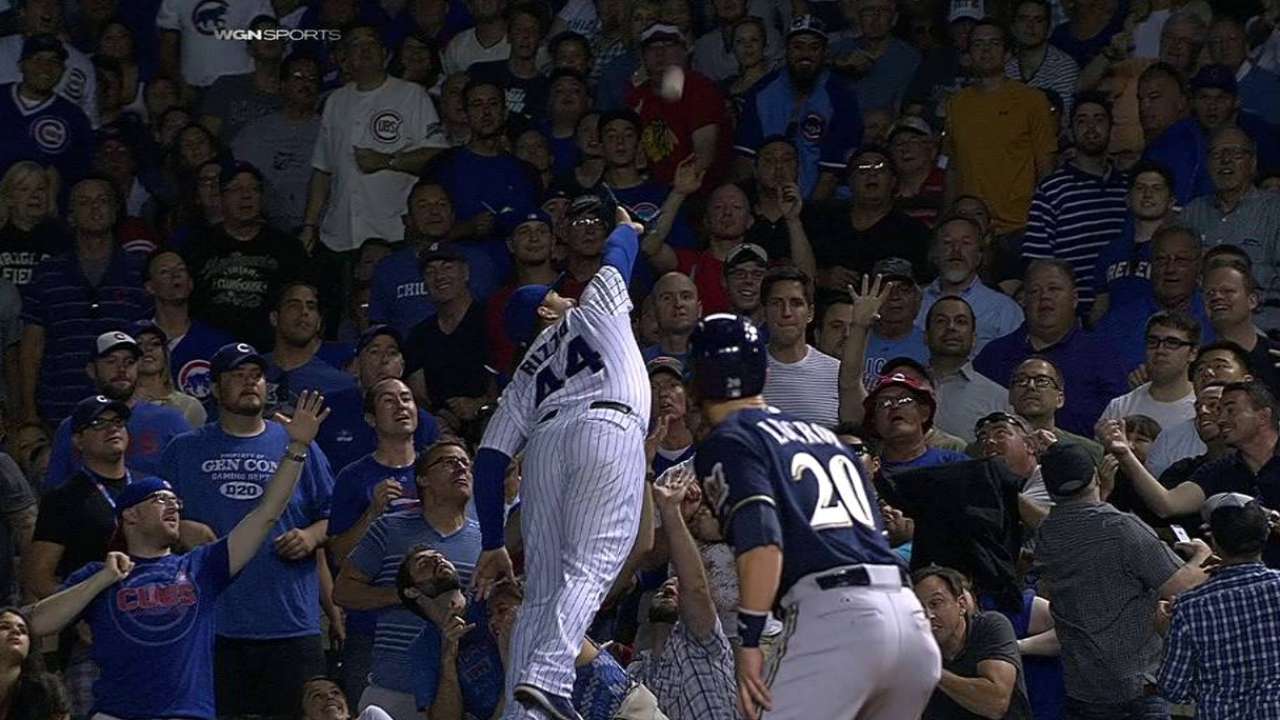 Initially, the umpires ruled Rizzo was out of play. But after the crew conferred, the call was out -- and it was the right call, according to Brewers manager Craig Counsell.
"Just incredible effort by an unbelievable player," Braun said. "From a pure effort perspective, one of the greatest plays I've ever seen in the regular season. It's a really dangerous play, obviously. You have no idea where you're going to land. If his foot were to hit the seat wrong or fall in between seats, he could have broken an ankle. So for him to even attempt that, it's a special play by a really good player."
Adam McCalvy is a reporter for MLB.com. Follow him on Twitter @AdamMcCalvy, like him on Facebook and listen to his podcast. This story was not subject to the approval of Major League Baseball or its clubs.