Robertson: Scioscia should have been tossed
CHICAGO -- The usually good-natured David Robertson was not happy following the White Sox 3-2 victory over the Angels in 13 innings Wednesday night at U.S. Cellular Field.
Just think how angry he might have been if the White Sox (54-58) didn't complete the three-game sweep and move within 4 1/2 games of the American League's second Wild Card spot held by the Angels (59-54).
Robertson struck out Erick Aybar for the first out in the ninth, but the final swing and miss resulted in a dropped third strike by catcher Tyler Flowers. Flowers appeared to miss Aybar on his tag attempt, and Aybar raced to first without a throw despite home-plate umpire Fieldin Culbreth calling him out.
Yes, shades of A.J. Pierzynski and Game 2 of the 2005 AL Championship Series, also against the Angels. On Wednesday, Scioscia challenged the no-tag possibility, but the call stood through video review. Scioscia came out to argue once again, blocking home plate in the process and not letting Robertson throw any warmups, according to the White Sox closer.
That moment is where Robertson took exception.
"I felt that Scioscia was very bush league, coming out there and standing in front of home plate after the play had already been reviewed," Robertson said. "I felt like once it has been reviewed, it has been reviewed on film and he's called out, there's no reason for you to come back out and argue the call. I guess that's just the way he is.
"It kind of changed the whole momentum in the ninth. That's not what this review system is about. I think the rules say he can't come out after a call has been reviewed. It should be an instant ejection. But I'm not an umpire."
Scioscia, in postgame comments made to ESPN Chicago, disputed Robertson's notion that there was any attempt at gamesmanship. He was trying to get a ruling on why the call stood after review.
"Absolutely, that was not my intent," Scioscia said. "It was an important part, because it was a possible protest. In fact, I thought I moved out of the way so he could throw, but he would have gotten a chance to throw anyway. Not one iota of my intent was any gamesmanship. I had to get a reason for the ruling, because if the ruling was that [Culbreth] killed the play, then it was something I could protest. I had to get a ruling.
"It is what it is. But not one iota of what I did was for that. Not one, never. I was caught up in trying to get an explanation of why they weren't overturning the play. If it was because they said they tagged them, that's fine."
Los Angeles put runners on first and third with one out after the challenge, leading to Conor Gillaspie's run-scoring grounder to first baseman Jose Abreu. The run scored because Abreu stepped on first, taking off the force, and then never looked home to try to get pinch-runner Taylor Featherston as the ensuing rundown between first and second began. It was a brain cramp that produced extra innings.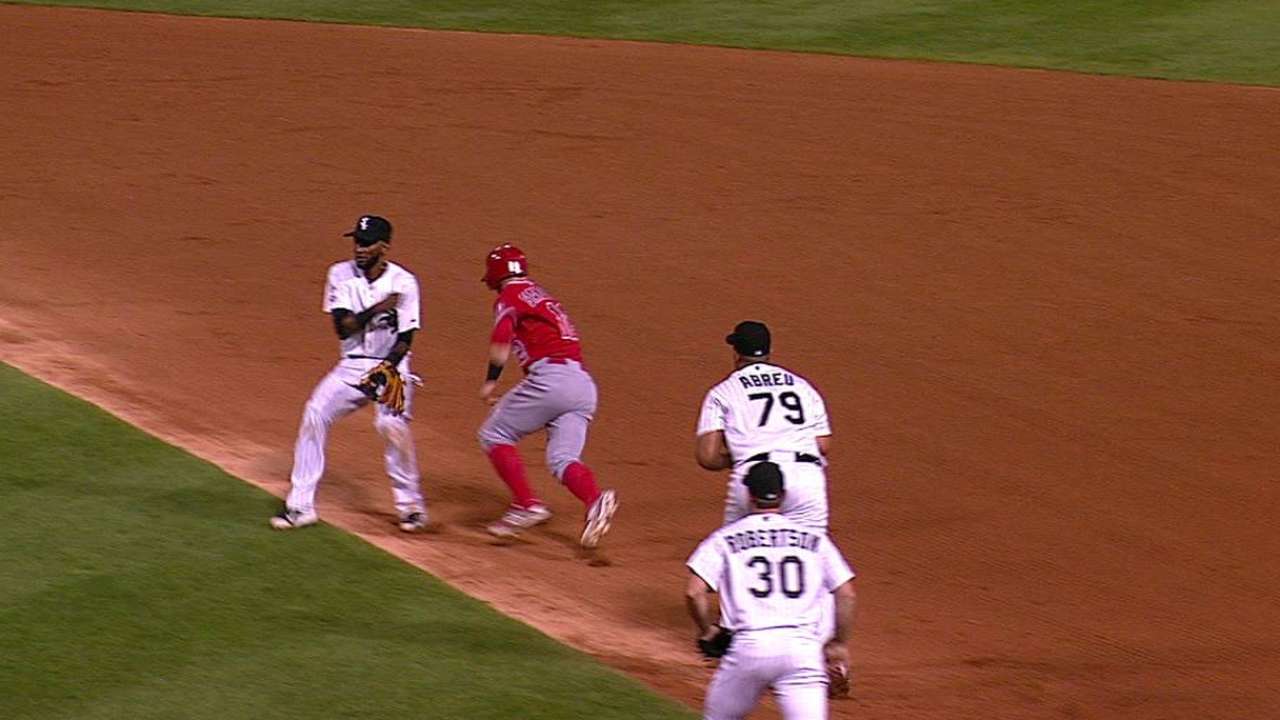 This brain cramp also cost John Danks a victory, which ultimately bothered Robertson more than anything else.
"John Danks pitched incredibly well and he deserved to get a win today, and he didn't get one because I couldn't close it down in the ninth," Robertson said. "It's frustrating when you have a game like that."
Scott Merkin is a reporter for MLB.com. Read his blog, Merk's Works, follow him on Twitter @scottmerkin and listen to his podcast. This story was not subject to the approval of Major League Baseball or its clubs.