Garcia walks off Sox in 13 for sweep of Angels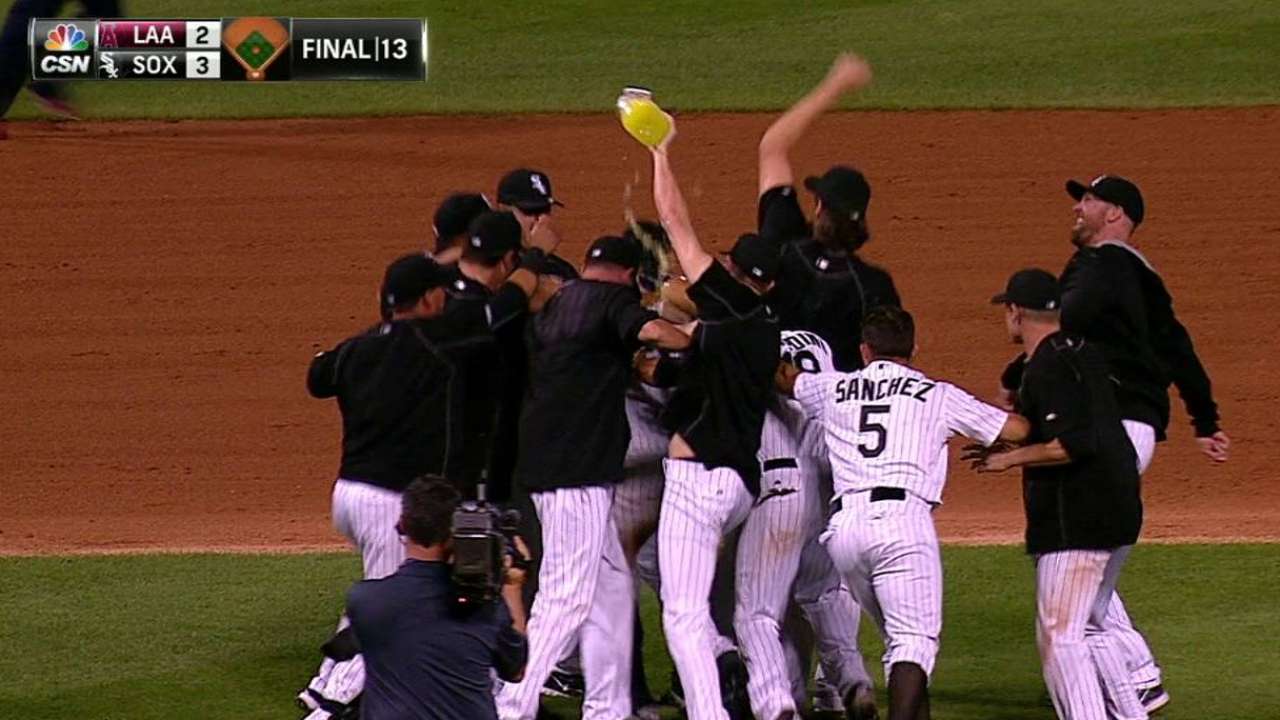 CHICAGO -- Avisail Garcia's two-strike double to left-center scored Jose Abreu with the game-winning run in a 3-2 White Sox victory in 13 innings over the Angels on Wednesday night at U.S. Cellular Field, completing a three-game sweep for Chicago.
The hit came off of Cesar Ramos and handed the Angels their ninth straight road loss. The White Sox moved within 4 1/2 games of the second American League Wild Card spot, currently held by the Angels, who finished 0-for-15 with runners in scoring position and left 14 on base.
"I feel different. I'm staying back on the breaking ball now and recognize the pitches and don't try to do too much, and just learn to put the ball in play," Garcia said. "We've been fighting, so I I think I found a good pitch to hit."
"We just didn't put anything together offensively," said Angels second baseman Johnny Giavoltella. "We had a bunch of chances to score, and we just didn't execute. I think we're better than that. We take pride in playing hard, taking advantage of opportunities, and we didn't this series."
The Angels tied the game in the ninth off closer David Robertson on a Conor Gillaspie groundout. C.J. Cron singled with one out and pinch-runner Taylor Featherston moved to third on Giavotella's single to right. Gillaspie followed with a high hopper to Abreu, who stepped on first base to take the force off, but then didn't look home. When Giavotella got himself in a rundown, Featherston scored easily.
"That's a tough play," said White Sox starting pitcher John Danks of Abreu's choice in the ninth. "I know I probably would have stepped on first myself. The ball led him right there, and that's just a tough play, but we bowed our neck and we were able to win it."
Danks allowed one run over 7 1/3 innings, while striking out two, walking three and giving up five hits. The White Sox southpaw finished with a no-decision, as did Angels starter Andrew Heaney, who yielded two runs on six hits over 5 2/3 innings.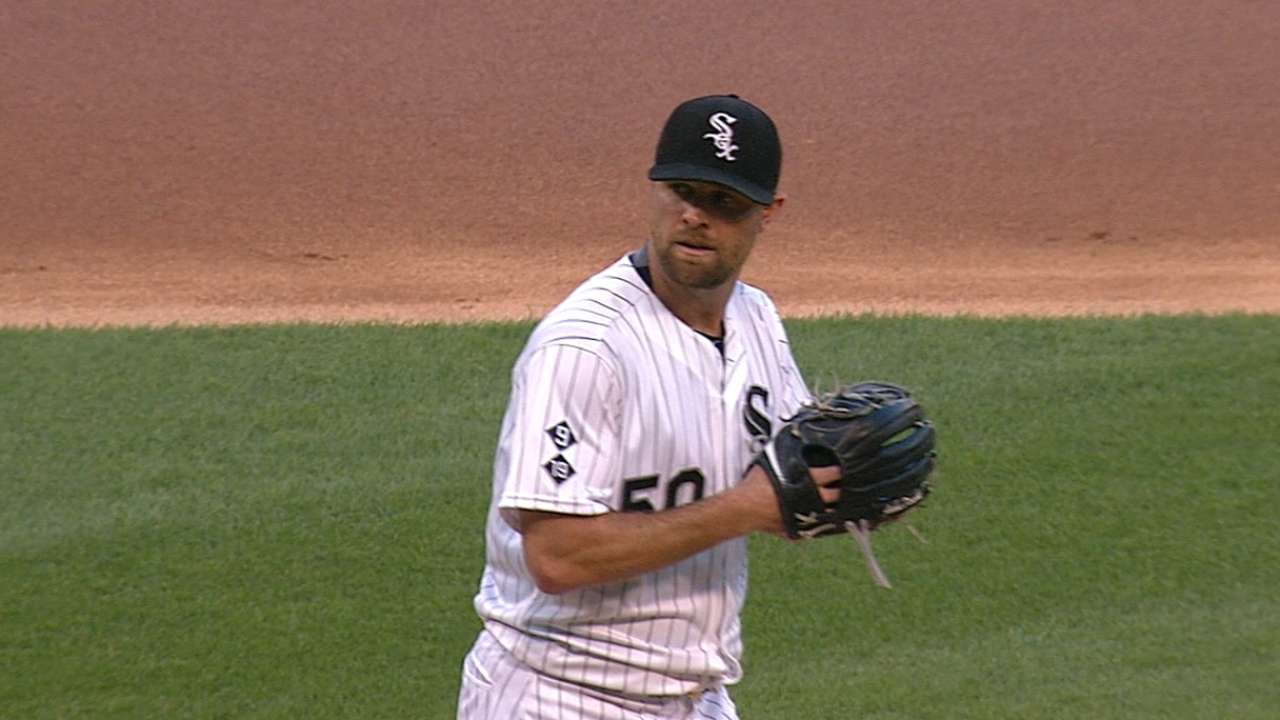 Heaney departed after Alexei Ramirez delivered a two-out double to right to bring home Tyler Saladino, who had singled to open the frame. Heaney has now allowed two runs or fewer in all but one start since being call up in June, allowing six hits and striking out four tonight.
MOMENTS THAT MATTERED
Good to be back: In his first game back at U.S. Cellular Field, Gillaspie drove in the Angels' first run of the game during the fifth inning. Gillaspie recorded his seventh RBI with the Angels since being acquired on July 25 when he doubled down the right-field line to score Johnny Giavotella. It was Gillaspie's eighth RBI in 13 games with the Angels.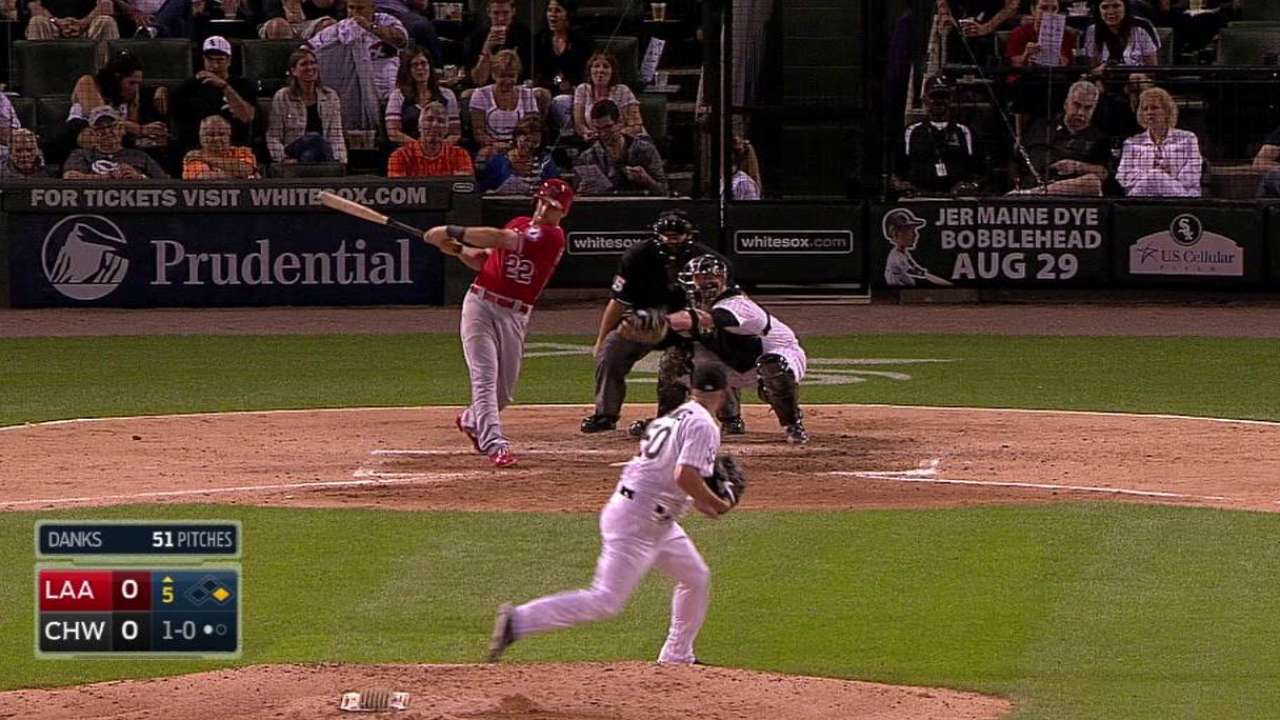 White Sox catch a Trout: The Angels had a chance to take the lead in the top of the sixth, with Mike Trout on third, Albert Pujols on first and one out. Erick Aybar tried twice to bunt and failed twice, before grounding one to Saladino at third. Saladino made the play and quick judgment to throw home, nailing a sliding Trout. The Angels did not score in the inning.
"We're a good-hitting team, and we know it," Trout said. "We're just searching right now, and we'll come in tomorrow with a different mind."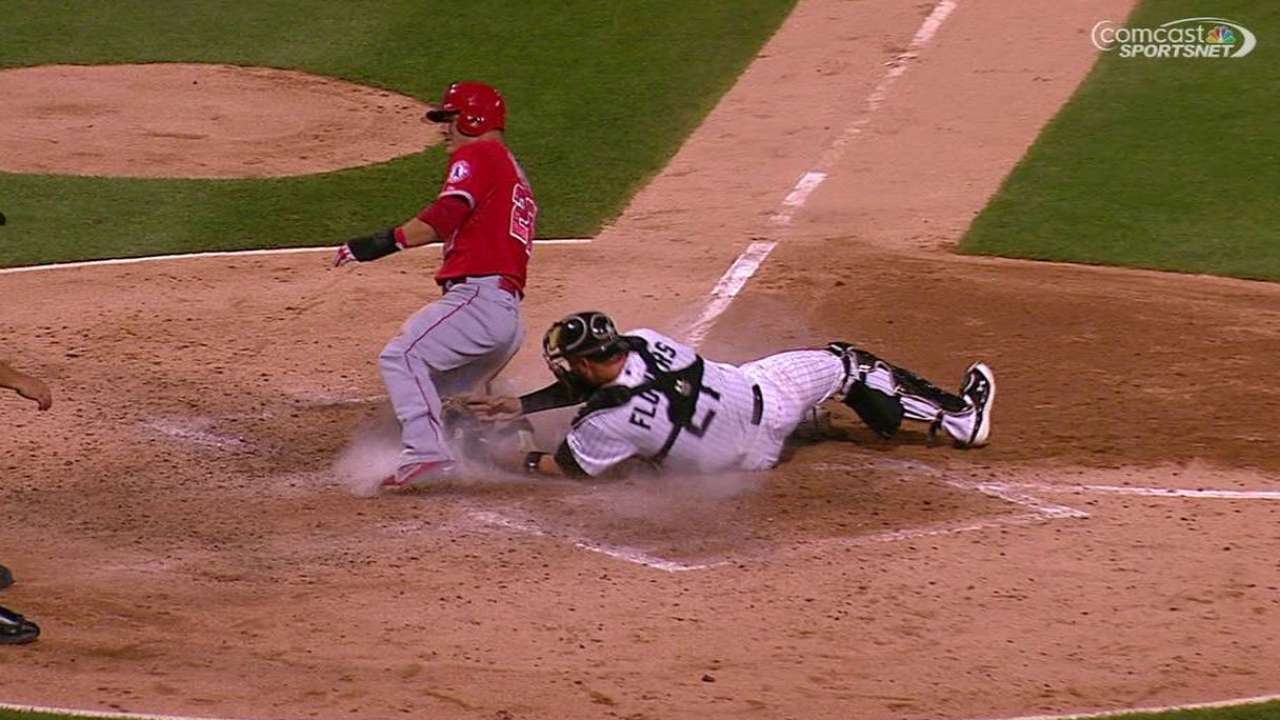 Single(ular) Sensation: Trayce Thompson's offense didn't stop with his first career homer on Tuesday night. The rookie singled in the second, on a play that saw Ramirez thrown out at home plate to end the inning. Thompson then singled and later scored on Gordon Beckham's sacrifice fly in the fifth. Thompson is 6-for-12 after five games in his big league career.
QUOTABLE
"We lost that game long before the 13th inning. We had a lot of opportunities, we just didn't execute on a number of fronts." -- Angels manager Mike Scioscia on his frustration after his club left 14 runners on base.
"We've gotta win. That's just the way it is. It doesn't do us any good to look ahead. We need to win the game at hand. We've done that." -- Danks on the White Sox "one day at a time" approach.
"It seems like this team is going to be a team that gets on a tear for a little bit and then can go ice cold for a few days." -- Robertson on the streaky 2015 White Sox.
MR. CLUTCH
Garcia picked up his second walk-off hit and fourth game-ending play of the season. Garcia's four walk-off RBIs are the most in the Majors, per STATS, and the last White Sox player with four or more walk-off RBIs in a single season was Joe Crede with five in 2004.
UPON FURTHER REVIEW
Saladino was ruled safe at first on a grounder in the first inning that Heaney deflected, recovered and then just missed getting him on a throw to first. Angels manager MIke Scioscia challenged the call, and video replay overturned first-base umpire Jim Reynolds' original call.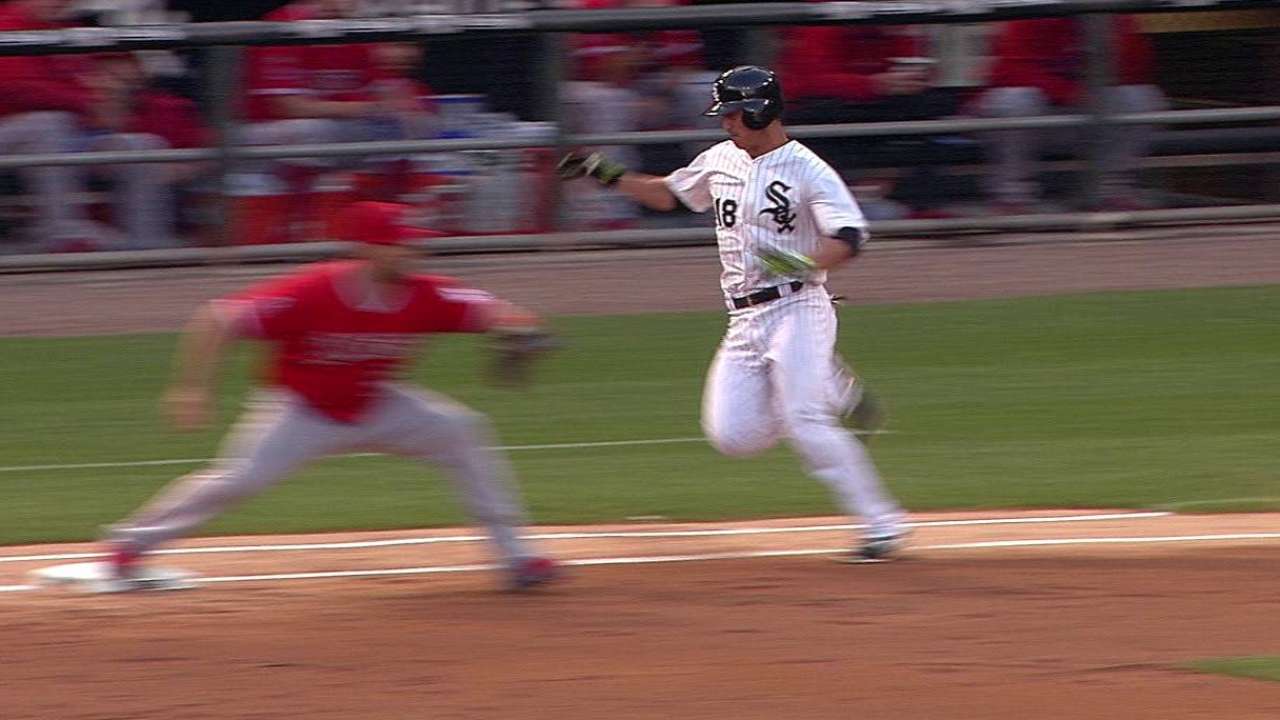 After they challenged in the beginning of the game, the Angels called for a review in the ninth inning on a dropped third strike to Aybar. Home-plate umpire Fieldin Culbreth ruled Aybar out as catcher Tyler Flowers dropped the third strike and appeared to tag Aybar's leg before the Angels' shortstop started running to first. Scioscia questioned whether the tag was applied, but the call on the field stood.
WHAT'S NEXT
Angels: Los Angeles takes on the American League's best team when it travels to Kansas City for the start of a four-game series on Thursday. Garrett Richards takes the mound for the Angels, having given up five home runs in his last four starts. Fortunately for him, the Royals rank 26th in the Majors in homers. First pitch is slated for 5:10 p.m. PT.
White Sox: Jeff Samardzija (8-7, 4.62) makes his first career start against the team where his Major League career began when the Cubs and White Sox meet Friday at 3:10 p.m. CT at U.S. Cellular Field. Samardzija has pitched a season-worst 4 2/3 innings in each of his last two starts, both of which were losses.
Watch every out-of-market regular-season game live on MLB.TV.
<Scott Merkin is a reporter for MLB.com. Read his blog, Merk's Works, follow him on Twitter @scottmerkin and listen to his podcast. Greg Garno is an associate reporter for MLB.com. This story was not subject to the approval of Major League Baseball or its clubs.