A good time for Miggy, but timing needs work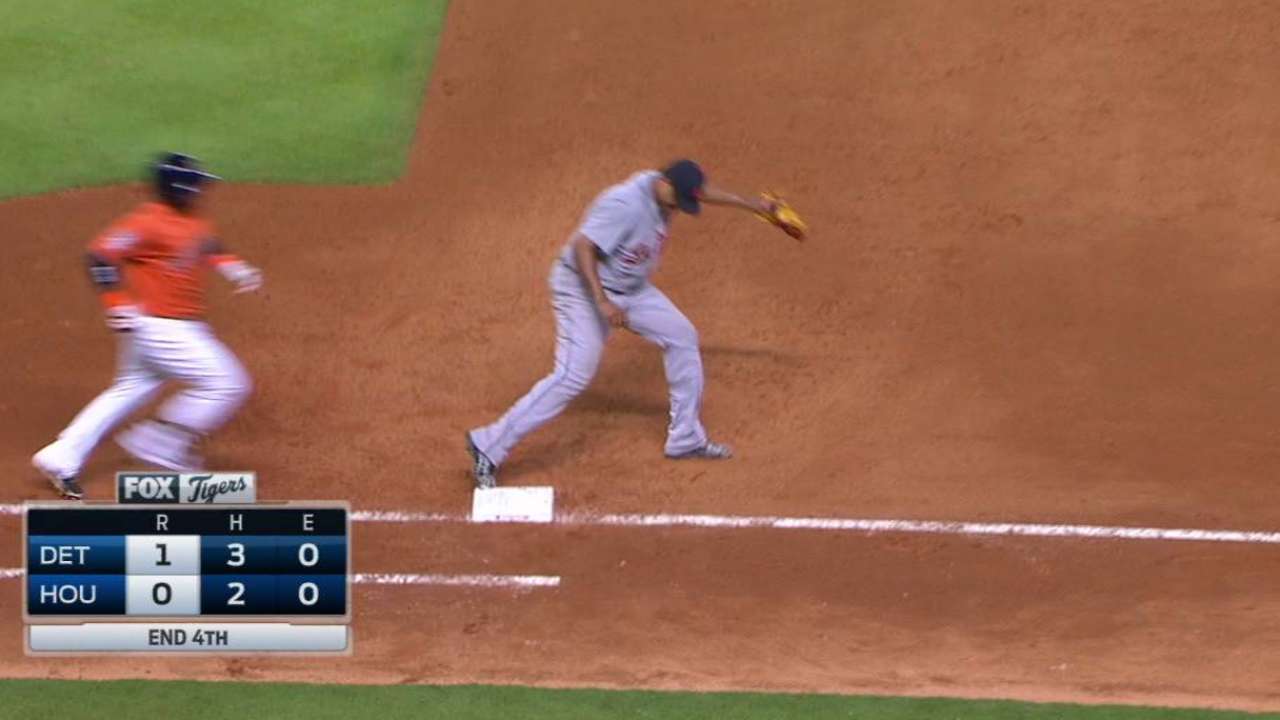 HOUSTON -- Miguel Cabrera stepped to the plate on Friday night for the first time in six weeks and got an ovation from the scattering of Tigers fans at Minute Maid Park. When he took first base he got a playful reception from fellow Venezuelan Jose Altuve, who untucked his jersey while he wasn't paying attention.
It was a good time for Cabrera upon his return from the 15-day disabled list after missing a month and a half with a strained left calf, but it's not good timing for him yet at the plate, as he went 0-for-3 in the 5-1 loss. That, he expects, will take a couple more games.
"His timing's obviously not perfect," manager Brad Ausmus said. "His last at-bat, he hit the ball hard. But [the timing] is to be expected."
Two weeks after the Tigers were sellers at the non-waiver Trade Deadline, the addition of the two-time MVP Award winner to the lineup was a boost, even if it didn't yield immediate results.
"It's been a long road back," Cabrera said before the game.
Cabrera injured the calf trying to accelerate from first base on July 3. He went on the 15-day DL the next day and was expected to miss six to eight weeks. After some speculation that the Tigers might exercise extra patience bringing Cabrera back following their decision to trade David Price, Yoenis Cespedes and Joakim Soria at the end of July, Ausmus said last week that Cabrera appeared likely to fall on the short end of the timetable.
In the end, Cabrera returned without a Minor League rehab assignment, as is his right. He said he only went a week and a half of his six weeks on the DL without hitting, either in the cage or during batting practice. A BP session with lefty reliever Tom Gorzelanny allowed him to get used to game-speed pitching, and he felt comfortable with his timing.
"I worry about my calf more than my swing," he said.
With or without his timing, Cabrera had a difficult matchup against Dallas Keuchel, who had held him to 1-for-7 previously, with two walks and a strikeout. Cabrera worked the count full in his first at-bat before chasing a pitch off the plate, striking out on a foul tip. He tossed his bat and gave a slight kick to his helmet in frustration.
Cabrera walked on four pitches in the fourth inning, struck out on a 1-2 pitch in the dirt leading off the sixth and lined out to shortstop Carlos Correa in the eighth.
He got a test in the field on the second hitter, racing Preston Tucker to the bag after springing to his right to field a bouncer. He had to stretch for a few other plays, but nothing quite so difficult.
Cabrera ended Friday with a .346 average, .454 on-base percentage and 1.025 OPS, all of which would lead the American League if he had enough plate appearances to qualify. He needs 165 of those over the final 47 regular-season games to qualify, which should be easy for him as long as he stays healthy.
But individual stats aren't a big focus for him at this point.
"I hope I can help to win games," he said.
Ausmus was noncommittal as to whether Cabrera will play on Saturday. Earlier in the week, he said that Cabrera could serve as DH or rest altogether to lessen the immediate stress on his legs. He had no indication that Cabrera had any issues on Friday.
"We checked with him later in the game," Ausmus said. "He said he was doing all right. He was probably tired of standing out there. He hadn't stood out there for nine innings in a while."
Jason Beck is a reporter for MLB.com. Read Beck's Blog, follow him on Twitter @beckjason and listen to his podcast. This story was not subject to the approval of Major League Baseball or its clubs.