Kinsler keys 4-run 8th to rally Tigers past Royals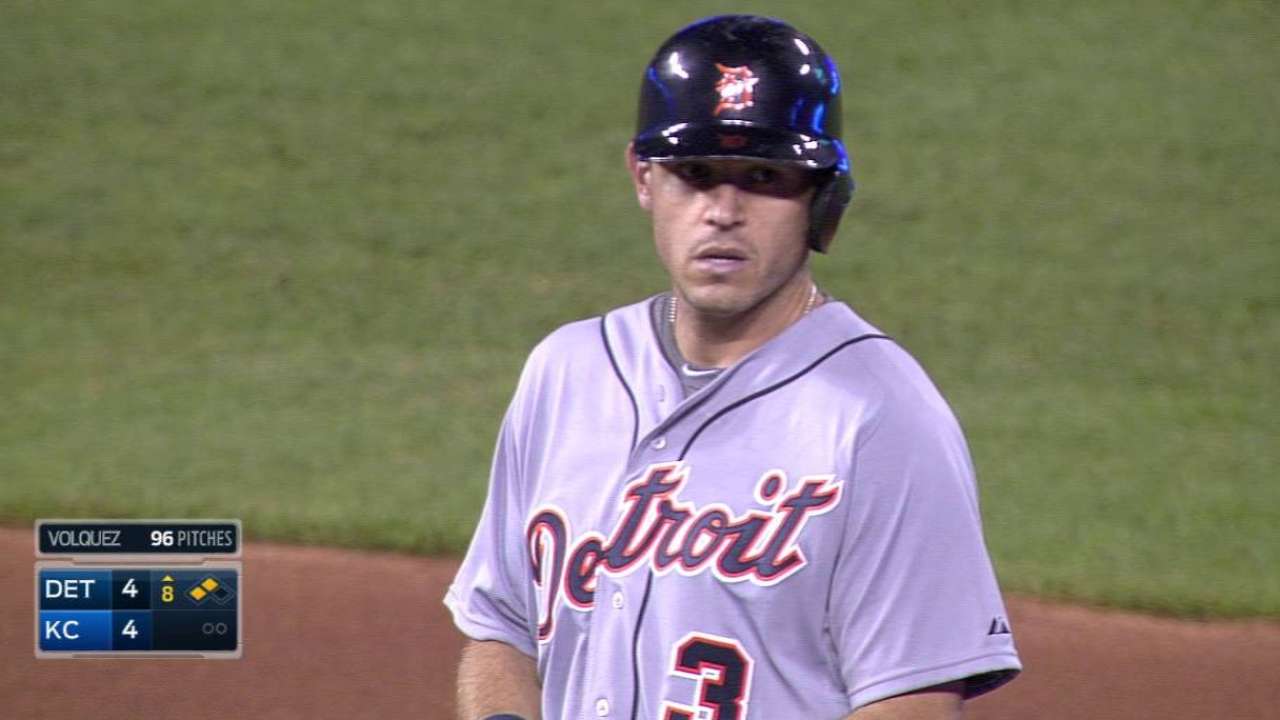 KANSAS CITY -- The Tigers capitalized on a series of seeing-eye hits and defensive misplays to score four runs in the eighth inning and rally for a 7-4 win over the Royals on Wednesday night at Kauffman Stadium, snapping Kansas City's five-game win streak.
Right-hander Edinson Volquez was cruising along for the Royals through seven, retiring 13 straight. Then a grounder skipped off third baseman Mike Moustakas' glove for a hit. Volquez walked Anthony Gose on four pitches before Jose Iglesias reached on a swinging bunt. Ian Kinsler rifled a two-run double to left, tying the score at 4 before manager Ned Yost went to reliever Kelvin Herrera. And that's when it got weird.
Royals manager Ned Yost blamed himself for the loss.
"Herrera was ready [in the bullpen]," Yost said. "That's my fault -- I've got a pretty hard and fast rule that I don't let my starter get beat in the eighth inning, but I did it there. It cost Eddie a win and it cost us a win."
After a short flyout, Herrera got J.D. Martinez to hit a fairly routine grounder to the right of shortstop Alcides Escobar, who would have had a play at the plate. Escobar misjudged it and the ball rolled into left (it was ruled a hit), scoring one run and giving the Tigers a 5-4 lead. Then, Tyler Collins hit another routine grounder to first baseman Eric Hosmer, who was slightly slow to home with his throw and another run scored, making it 6-4.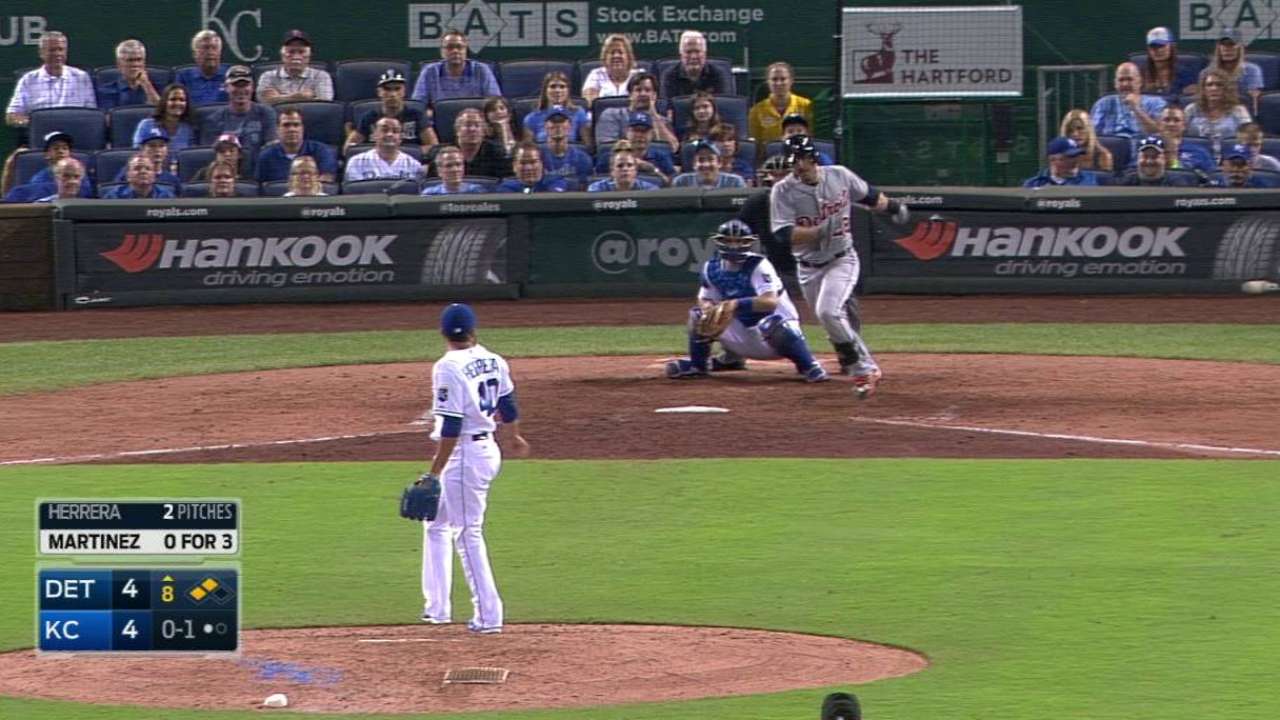 "Volquez was tough tonight. He was commanding his offspeed pitches really well," Kinsler said. "When he's doing that, he's one of the best in the game. Tonight, he threw the ball great, but we were able to break through there."
Escobar thought for sure he should have made his play.
"I got my glove on it and I should have had it," he said. "I was playing a little bit up the middle with Herrera pitching. But I tried to hurry it too much. I would have had him at home. That's on me."
Victor Martinez doubled in a run in the ninth for the Tigers. Bruce Rondon, long considered the Tigers' closer of the future, finished out the ninth for his third career save.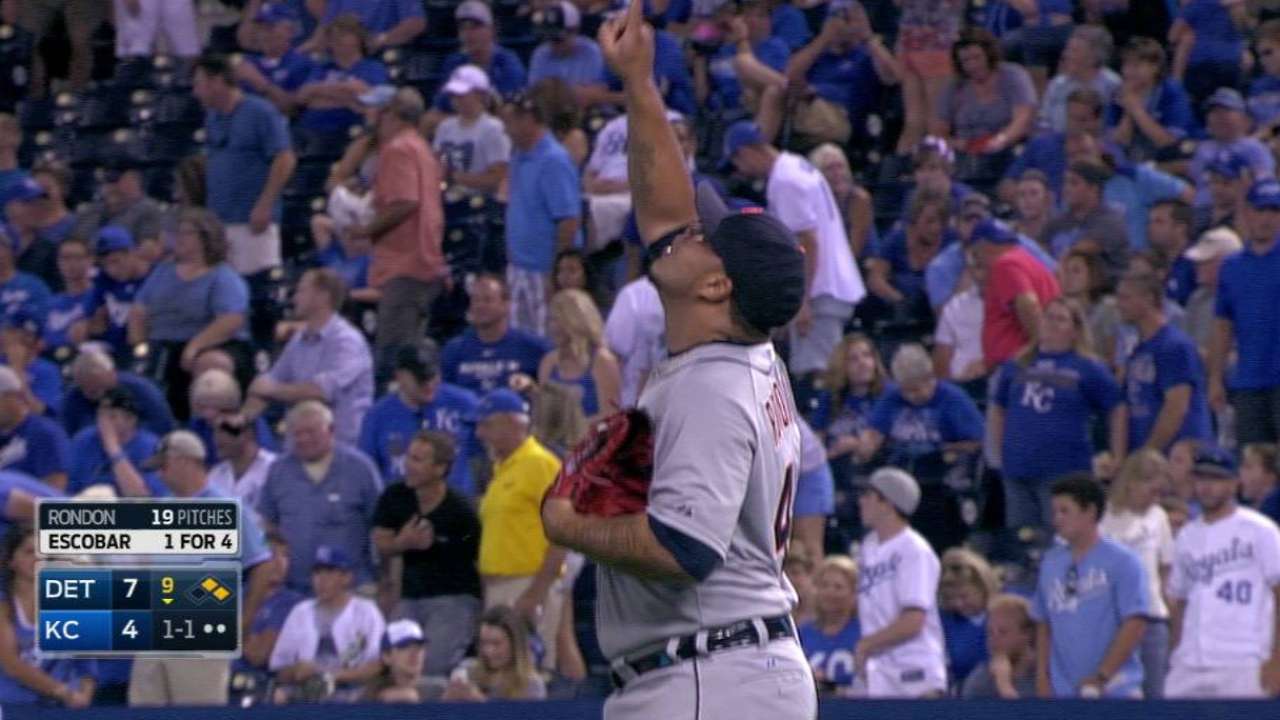 MOMENTS THAT MATTERED
Little League homer: The game turned in the third when Alex Rios led off with a double to left. With two out, Escobar laced a liner into the left-field gap, easily scoring Rios. As Escobar raced for third, the relay throw from shortstop Iglesias skipped past Nick Castellanos for an error and Escobar raced home to score, tying the game at 2.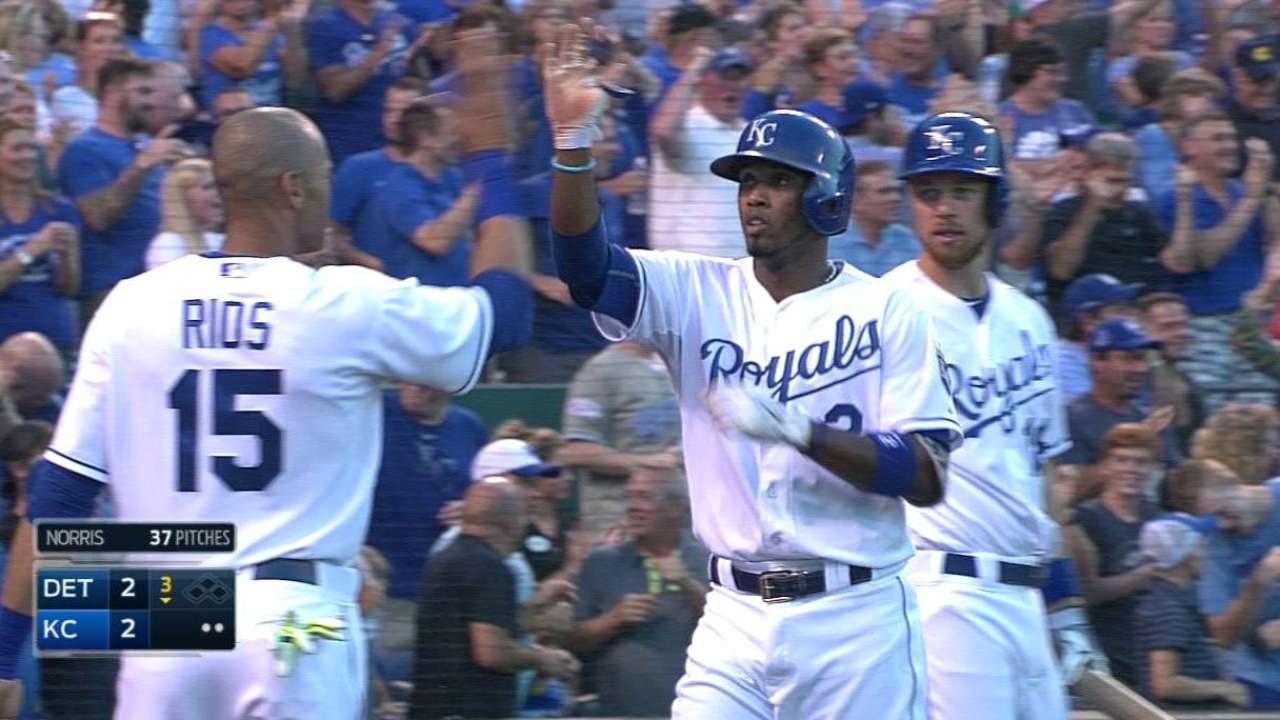 More big-time defense: Before the set of misplays in the Tigers' eighth, the Royals actually were having a good game defensively. They turned a nice 5-4-3 double play in the second to escape after allowing only one run. Then in the third, Escobar made a nice grab-and-flip on a grounder, getting the ball to second baseman Omar Infante, who made a quick turn to get a double play. The inning ended later when third baseman Mike Moustakas dived to his left to take a hit away from J.D. Martinez. Moustakas made a solid charge-and-throw on a slow roller from Kinsler to get an out in the sixth.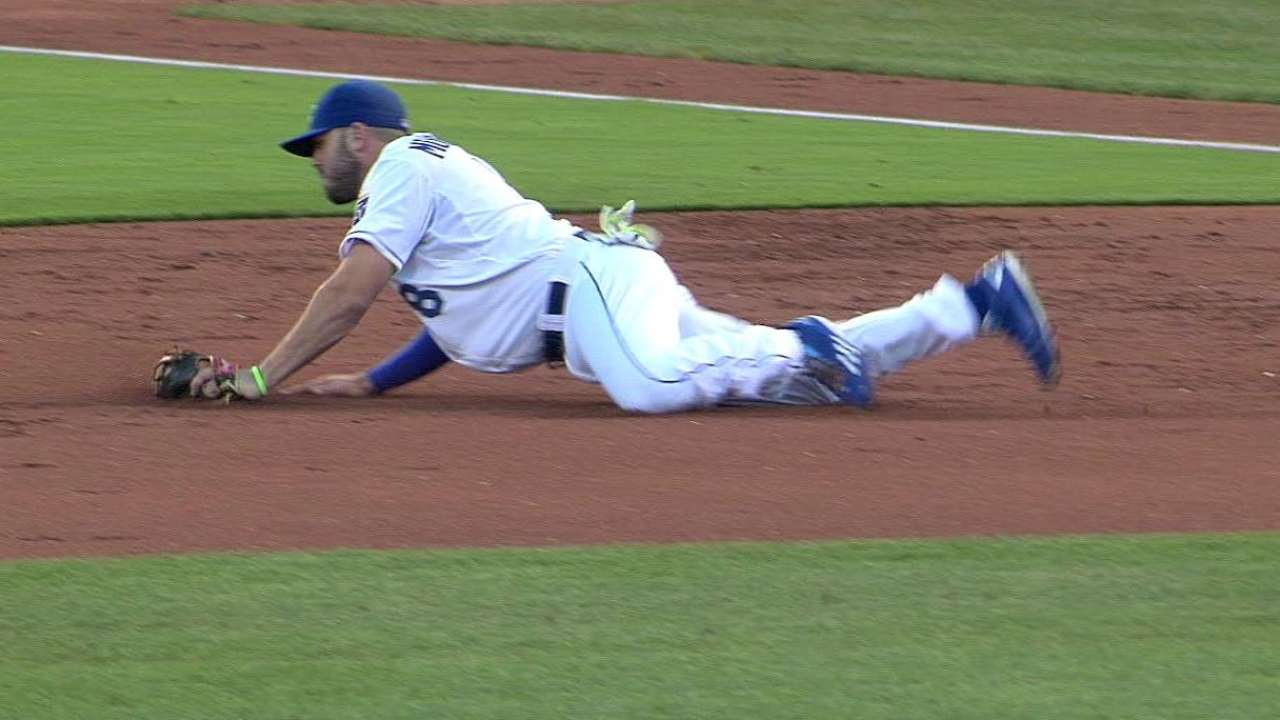 Kinsler converts: Volquez retired 13 Tigers in a row before James McCann's single, Gose's walk and Iglesias' squibber loaded the bases with none out for Kinsler. Yost stuck with Volquez, and Kinsler slapped a two-run double down the left-field line to tie the score and fuel a four-run rally. More >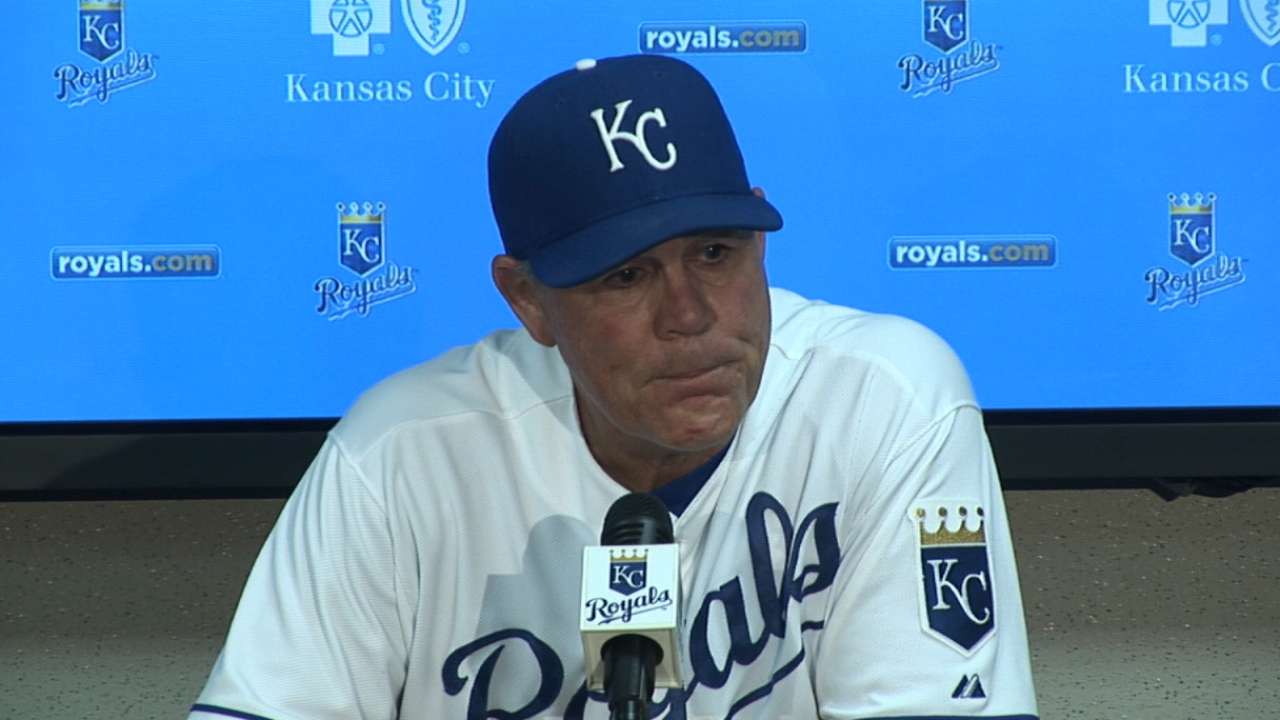 "There's still fight in here," Kinsler said. "There's still guys in here trying to prove things. There's still games to be played. This isn't just roll-out-and-lose-every-day."
Feliz victoria: The Tigers have been working with Neftali Feliz for the past two weeks trying to get him back to his old form, or at least an effective one. It paid off on Wednesday, when he replaced Norris with the top of the Royals order due up. He retired all three batters he faced, capped by a 10-pitch battle with Lorenzo Cain that ended in a groundout leading off the eighth. The work earned Feliz his first win as a Tiger.
"We really just tried to attack him," catcher James McCann said of Cain. "At that point, having a lead, we didn't want to walk him, especially when he's got a 3-2 count. We wanted to make him earn his way on. Feliz did a heckuva job going after him, and it wasn't just heaters either."
WHAT'S NEXT
Tigers: Miguel Cabrera is expected to return from the disabled list on Friday for the opener of a three-game set against the Astros at Minute Maid Park. Alfredo Simon will get the ball for the 8:10 p.m. ET matchup after allowing 10 runs over 12 1/3 innings in his last two starts.
Royals: Right-hander Jeremy Guthrie will get the ball on Thursday at 7:10 p.m. CT for the opener of a three-game set against the Angels at Kauffman Stadium. In his last five starts, Guthrie owns a 7.14 ERA and has given up seven homers in 29 innings.
Watch every out-of-market regular-season game live on MLB.TV.
Jeffrey Flanagan is a reporter for MLB.com. Follow him on Twitter at @FlannyMLB. Jason Beck is a reporter for MLB.com. Read Beck's Blog, follow him on Twitter @beckjason and listen to his podcast. This story was not subject to the approval of Major League Baseball or its clubs.