Mariners step up for spectacular Iwakuma
Defense supports vet, who 'made unbelievable pitches' in no-hitter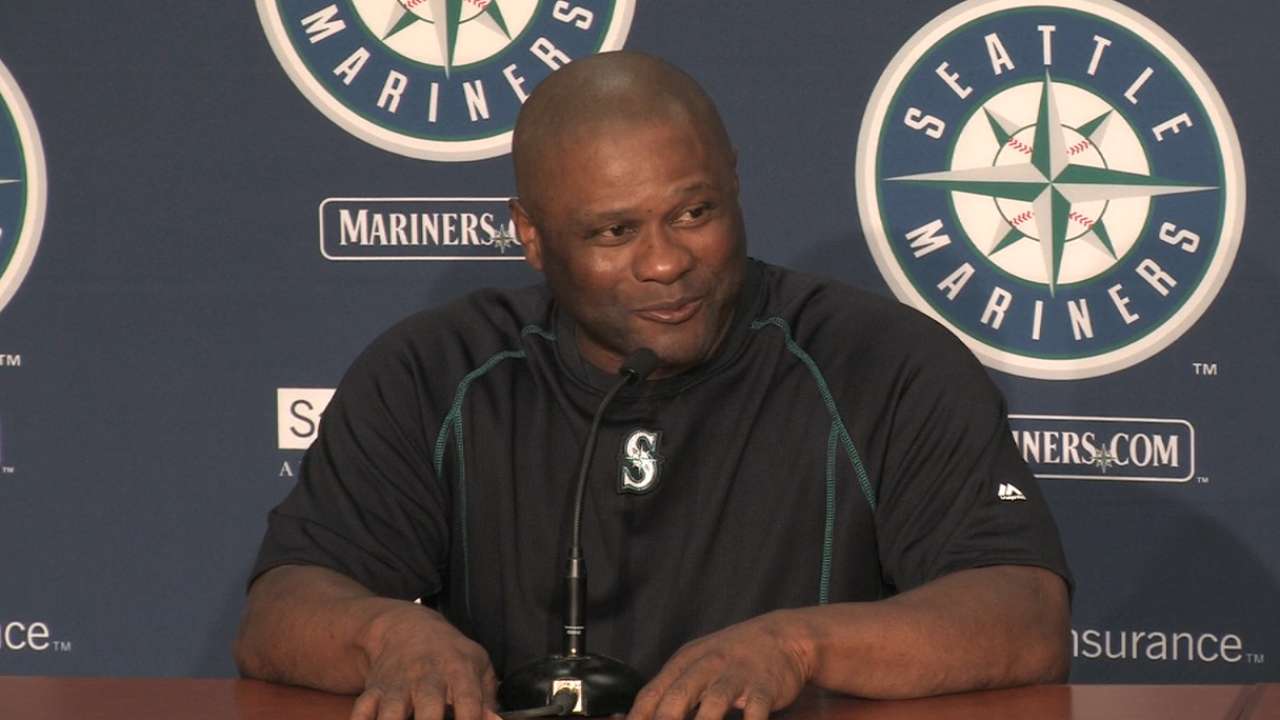 SEATTLE -- When Baltimore's Gerardo Parra hit a first-pitch, 92-mph fastball in the air toward center field with 8 2/3 innings of no-hit baseball already in the books on Wednesday, Mariners pitcher Hisashi Iwakuma said he thought for a split second his magical moment was over.
His center fielder thought otherwise.
"When it went up in the air, in that situation -- hopefully any situation -- that ball doesn't touch the ground," said Austin Jackson, when asked about the play that sealed the fifth no-hitter in Mariners history and a 3-0 win over the Orioles at Safeco Field. "You have to be ready for anything and kind of expect the unexpected."
For much of the game, Seattle's defense expected the unexpected but got routine plays, much like the one to Jackson. Many no-hitters feature a spectacular play or moment to keep it alive, but it was largely absent through eight innings.
That quickly changed five pitches into the ninth inning.
O's left fielder David Lough popped a fastball into foul territory on the left side of the field, and third baseman Kyle Seager gave chase.
"As soon as I saw the ball, I didn't think he had a chance," said catcher Jesus Sucre.
Seager said he initially thought the ball would spin over toward the field, but instead it crept toward the stands. With no time to turn his body around, Seager changed direction and made an over-the-shoulder catch for the first out of the inning.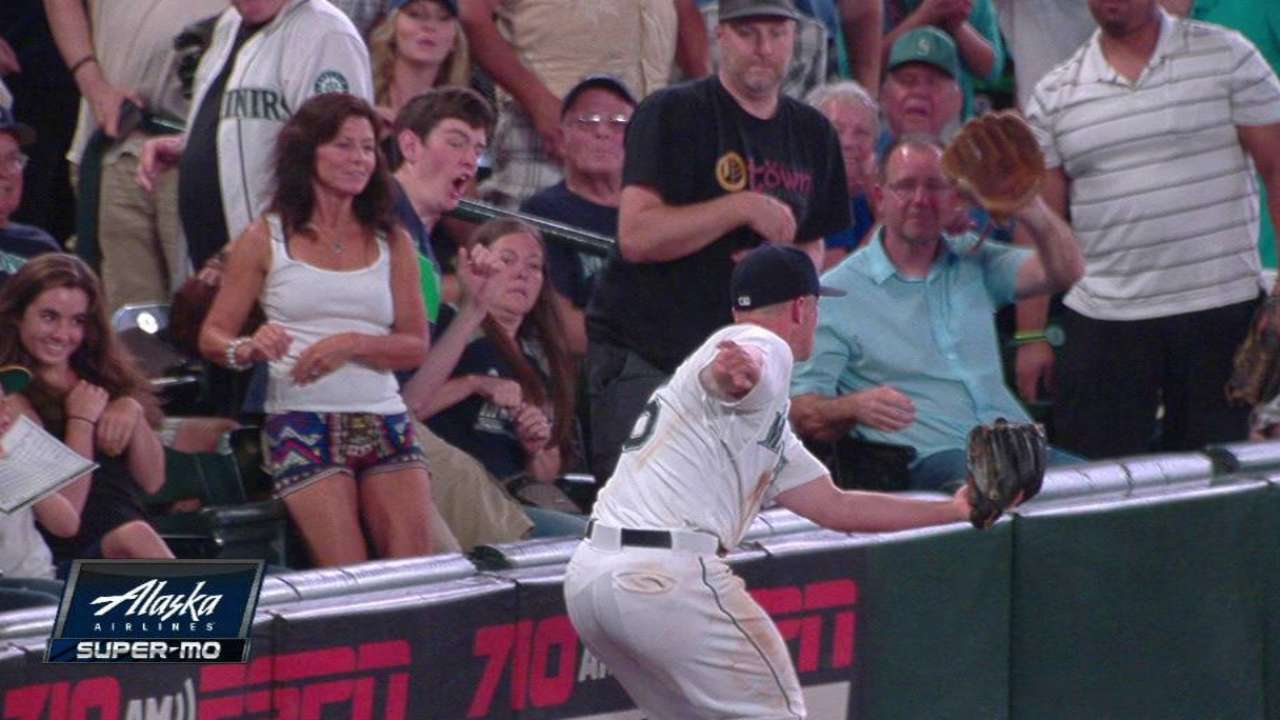 "I mean, you want to do everything you can to give him every opportunity for that. He made unbelievable pitches," Seager said. "It's not ideal. I'd have rather been able to camp under it, but I'm not fast enough I guess. … I'll take it. As long as he doesn't ask me to do it again, I'll take it."
Seager said it wasn't his own catch that gave him chills, but instead the 6-4-3 double play that ended the eighth inning. His teammate in center field, however, said he stayed calm throughout.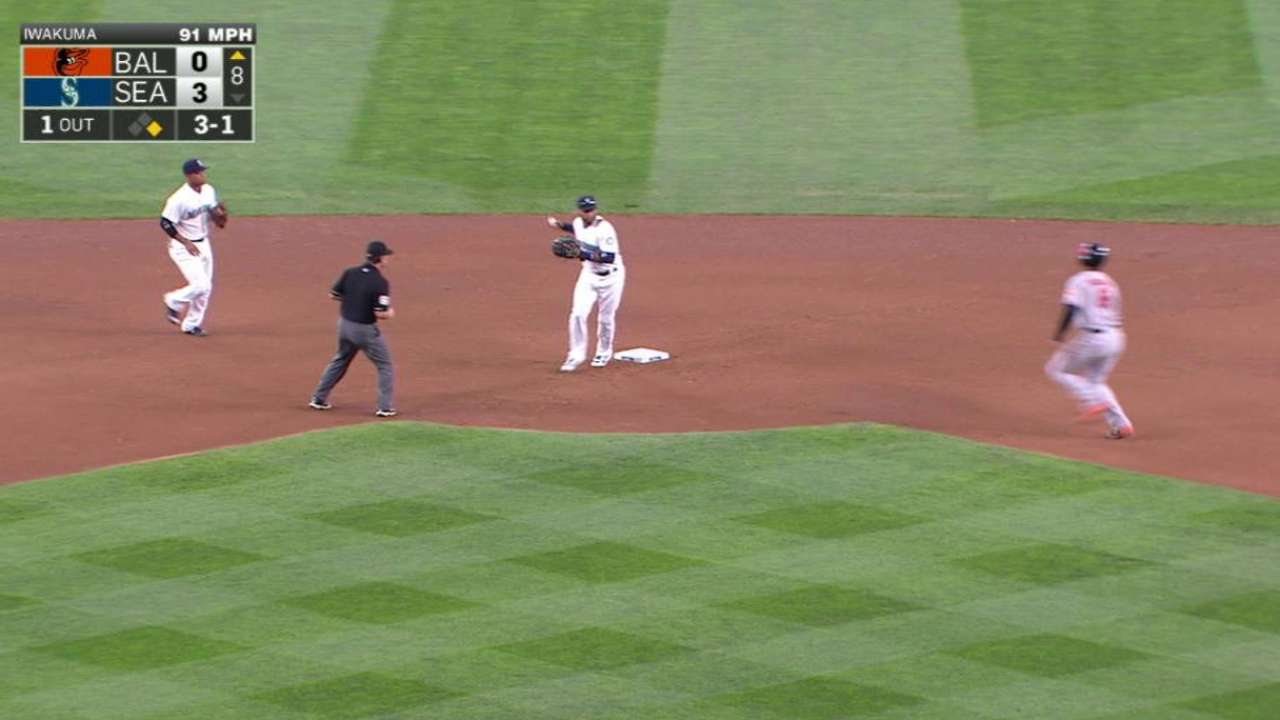 It was a moment Jackson had experienced before, as he also played center field for the Tigers during Justin Verlander's no-hitter on May 7, 2011.
"It's fun. You like being in those situations, because anything can happen," Jackson said. "I don't dive too much, but that's one of those situations that anything that's hit in your area, you got to lay out."
The Mariners' defense never left its feet, but it was carried by Iwakuma, who threw 116 pitches and struck out seven to become just the second Japanese pitcher in Major League history to throw a no-hitter (Hideo Nomo threw two).
Even with the emotional win, Seattle remains seven games under .500. Still, Sucre said, the Mariners won four of their past six at home and got a much-needed push from Iwakuma's right arm Wednesday.
"We've been playing good the last couple of games," Sucre said. "We need it, we need this right here."
Andrew Erickson is an associate reporter for MLB.com. This story was not subject to the approval of Major League Baseball or its clubs.