Iwakuma joins Nomo among Japanese legends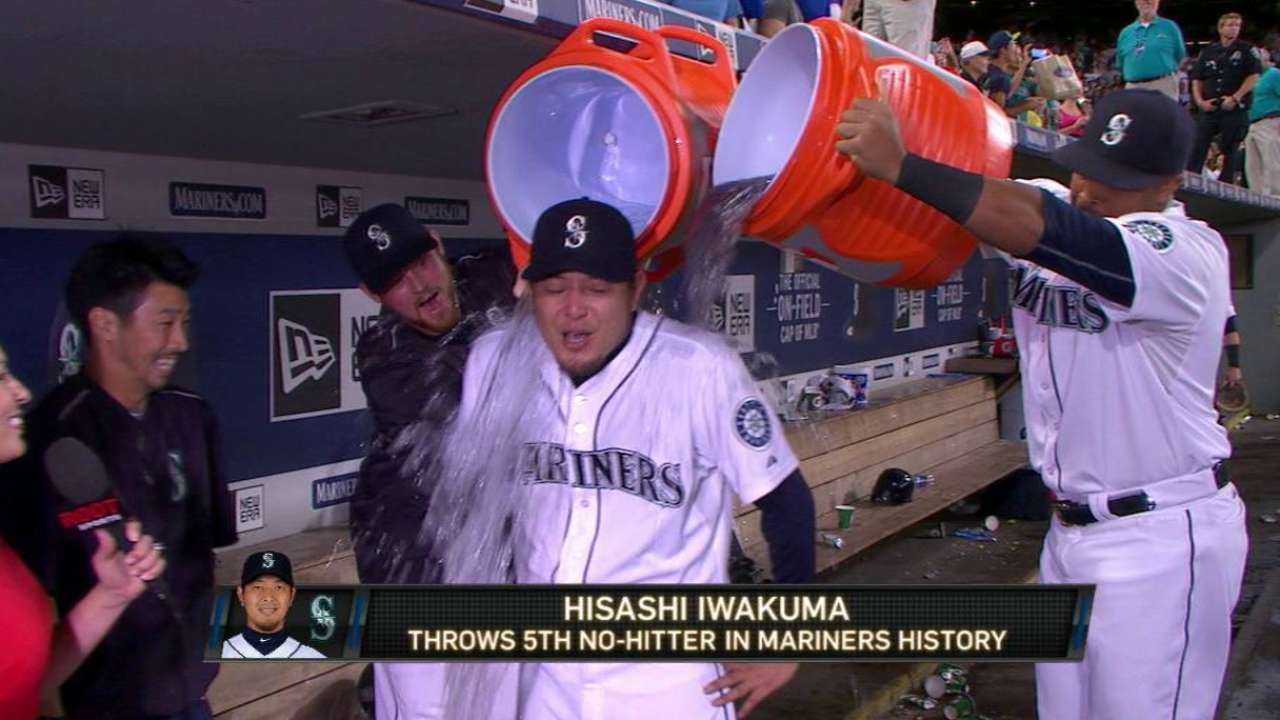 A new day began in Japan with a new national hero.
That's because Hisashi Iwakuma, who completed his no-hitter in a 3-0 victory over the O's on Wednesday at what was just after 7 a.m. on Thursday in Japan, joined Hideo Nomo as the only Japanese pitchers to accomplish the feat in the Major Leagues.
Nomo tossed a no-no not once, but twice over the course of his 12 big league seasons.
The first came in 1996, a year after Nomo joined the Dodgers as the first MLB player from Japan in more than 30 years. Then 26, Nomo became an instant sensation, sparking "Nomo-mania" with his tornado-like delivery and nasty forkball on his way to National League All-Star and Rookie of the Year honors.
Near the end of that dynamic first season, the Dodgers traveled to the hitter's paradise of Coors Field to take on the Rockies, who scored a Major League-high 5.9 runs per game that season. It was in these uncomfortable conditions that Nomo made history.
Although he walked four batters, Nomo also struck out eight in a 9-0 Los Angeles victory. He whiffed Ellis Burks for the final out of what's still the only no-hitter in Coors Field history.
"Hideo Nomo has done what they said could not be done, not in the Mile High City, not at Coors Field in Denver," said legendary Dodgers broadcaster Vin Scully, who was on the call.
Nomo's second no-hitter was unlikely in its own way. From 1998-2001, Nomo bounced from the Dodgers to four other clubs as his performance dipped. For the Red Sox in '01, he posted a 4.50 ERA in 33 starts.
But in his very first start that season, on April 4 at Camden Yards in Baltimore, the unhittable Nomo of 1995-96 reappeared. He walked three but struck out 11 for the first no-no in the history of that ballpark. It also was the earliest no-hitter by date in MLB history, and Nomo became the fourth pitcher to accomplish the feat in both leagues.
After no big league action in three years, Nomo made three appearances with the Royals in 2008 before retiring. In nearly 2,000 career innings, he went 123-109 with a 4.24 ERA and 1,918 strikeouts, a rate of 8.7 per nine innings. He was elected to the Japanese Baseball Hall of Fame in January.
Andrew Simon is a reporter for MLB.com. This story was not subject to the approval of Major League Baseball or its clubs.