MLB.com Columnist
Bernie Pleskoff
Scouting profile: Jeff Hoffman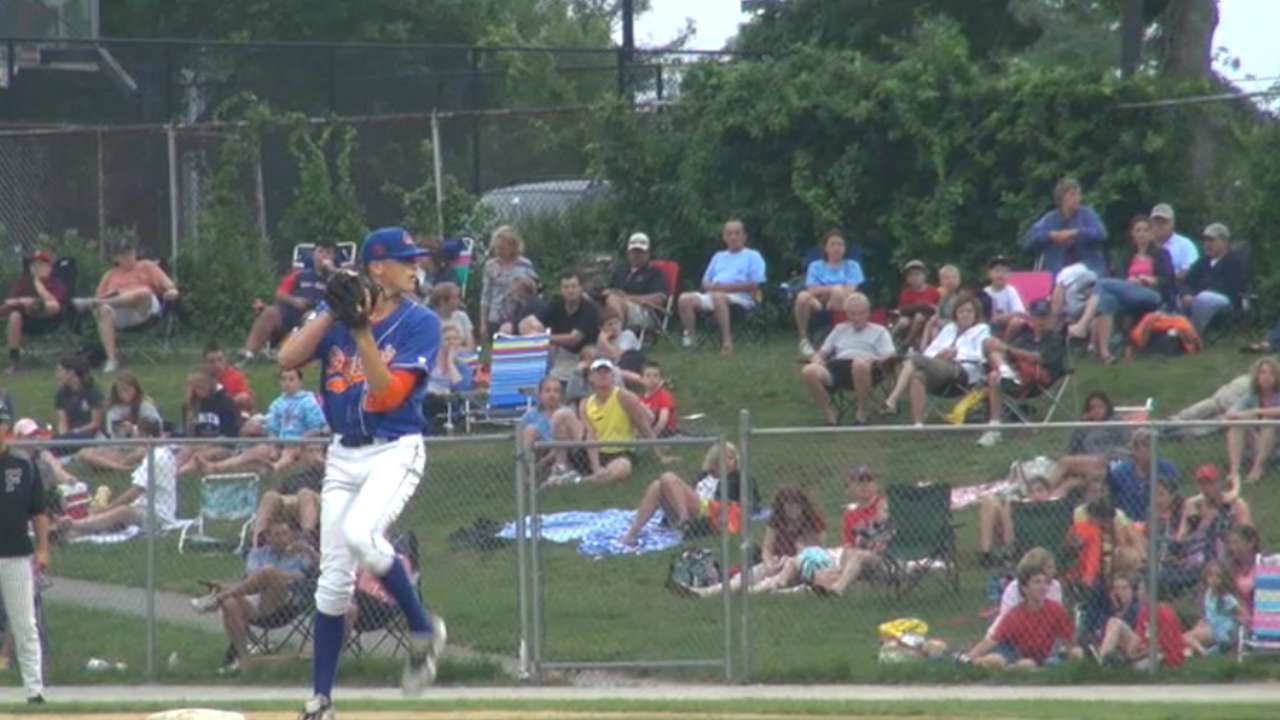 Background
From July 27-31, the Toronto Blue Jays included 12 pitchers in trades designed to bring the club a place in the postseason. It was a steep price, but one the team decided to pay to win now.
Among the prospects dealt by Toronto was right-hander starter Jeff Hoffman, their first-round pick in the 2014 Draft. He was traded to the Colorado Rockies in a blockbuster deal that saw Troy Tulowitzki and Jose Reyes change teams. And Hoffman may have been the biggest prize of the deal.
Hoffman is No. 4 on the Rockies' Top 30 Prospects list.
It was the 2013 Cape Cod League that really put the 6-foot-4, 185-pound Hoffman on the map.
Hoffman's professional debut was delayed due to Tommy John surgery in May 2014. However, he returned healthy and pitched this season at Class A Advanced Dunedin and Double-A New Hampshire for the Blue Jays. Hoffman compiled a composite 3-3 record with an ERA of 2.95 and a WHIP of 1.27 in 67 2/3 innings covering 13 starts. The Rockies assigned him to Double-A New Britain, where he had a rocky first start but rebounded with five shutout innings in his second outing.
Repertoire
Hoffman's velocity has increased over time. He now sits in the mid 90s, and it isn't unusual for him to touch 98 with little effort. Hoffman also throws a nasty curveball that is of the same high-quality caliber as his two-seam fastball. His third pitch is a changeup that he can use to alter the eye or change the balance of the hitter.
Mechanics
Hoffman has terrific arm speed and has returned from his surgery without issues. His loose arm and good overall mechanics provide the foundation for his efficient command and clean delivery. Hoffman has life on his fastball and he knows how to use both sides of the plate.
Using a three-quarters arm slot, Hoffman repeats his delivery well, using his height to pitch downhill and generate movement on his pitches. He is focused on the catcher's target and doesn't alter his mechanics to get increased velocity on the ball. Hoffman is consistent and effective from the stretch.
Everything works off Hoffman's fastball. Establishing his velocity and sinking action with his two-seamer, he mixes in his swing-and-miss curveball and a changeup to generate strikeouts and a high number of ground balls. The late movement on Hoffman's pitches has hitters pounding the top of the ball into the ground.
Strengths
An excellent athlete, Hoffman has a power arm and knows how to get the most out of his height and his ability. He doesn't try to amp up his offerings to blow the hitter away. Hoffman isn't overly aggressive on the mound, but he takes charge. He has self-confidence.
Hoffman has high-quality secondary pitches. It would be a mistake for a hitter to sit on his fastball. Hoffman can start the hitter with a curveball or a changeup and not lose anything. He has occasionally thrown a slider, but his curveball is good enough to serve the same purpose of a slider or cutter.
Weaknesses
Like any pitcher with movement and great sink on his pitches, Hoffman has to work hard to keep the ball down and/or keep the velocity high if he pitches up in the zone.
Tall and thin, Hoffman might do well to add some weight and strength. At the age of 22, his natural structural development is likely complete. It will mean continued weight room and strengthening work.
I find this interesting
Hoffman was a pitcher at Shaker High School in Latham, N.Y. He wasn't getting college scholarship offers until he attended a showcase event in Long Island. Then, with his fastball velocity increasing and his command in check, several collegiate programs took an interest. Hoffman ultimately pitched for East Carolina University.
The future
Hoffman should ultimately make an impact in the Rockies' rotation. Of course, Coors Field is a tough place to pitch, but Hoffman's ability to miss bats and induce ground balls will be very welcome in his new environment.
Hoffman in a word
Ascending.
Bernie Pleskoff has served as a professional scout for the Houston Astros and Seattle Mariners. Follow @BerniePleskoff on Twitter. This story was not subject to the approval of Major League Baseball or its clubs.