MLB.com Columnist
Phil Rogers
Lester gives Cubs an anchor for stretch run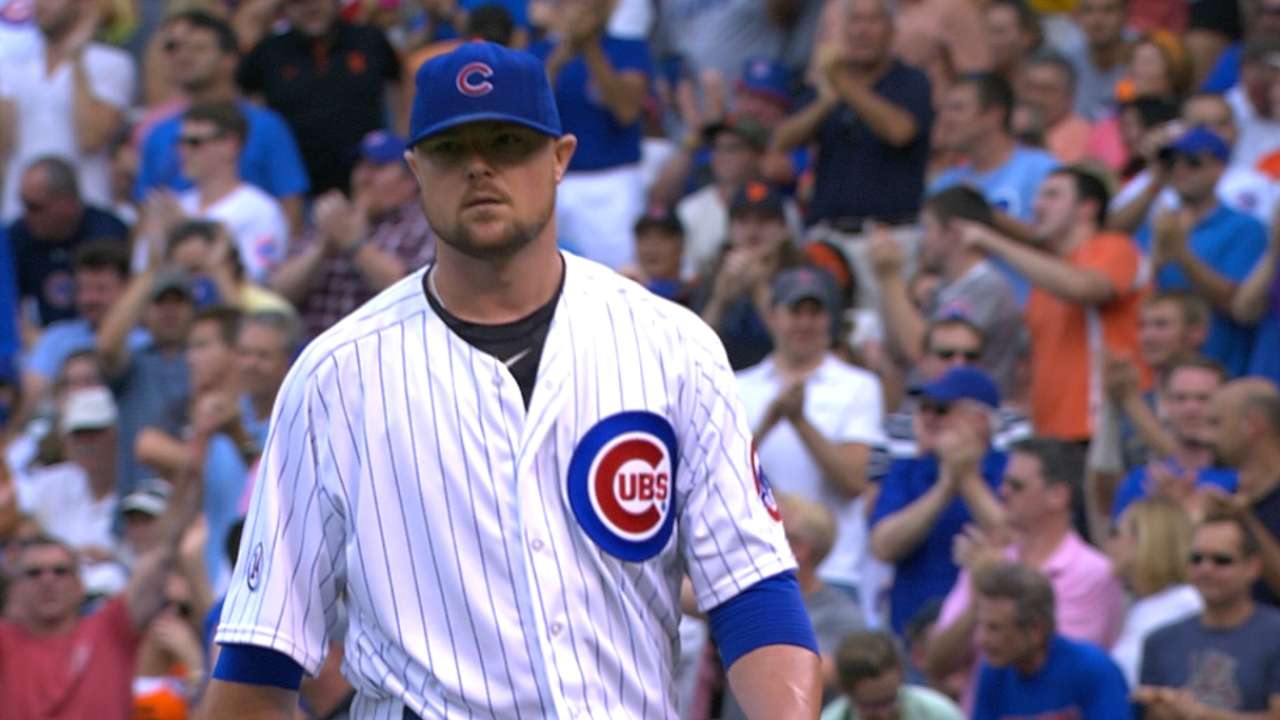 CHICAGO -- It was an emotional moment for Terry Francona, but you couldn't tell it by the demeanor of Jon Lester.
Lester, recently recovered from lymphoma, had thrown five shutout innings against the Rockies in Game 4 of the 2007 World Series, keeping the Red Sox on track for a sweep. Francona, who had watched over Lester like he was his own son, felt like hugging him on the mound.
"Junior, that's plenty,'' Francona said to Lester. "You did great.''
Lester, as Francona recounted in his 2013 book, said nothing, which was typical. He put his head down and shuffled off to the dugout, still all-business.
That's Lester, even all these years later. He's all about preparation, endurance and accountability. Lester will accept the responsibility of being a leader, if what you're looking for is someone who leads by example.
Theo Epstein knows Lester as well as any baseball executive does, and Lester trusts Epstein enough that he didn't think Epstein was overselling him when he told him he thought the Cubs would quickly become competitive if he joined them.
Epstein said that when he made his presentation to Lester in Chicago last fall, he drew some parallels between where the Cubs were and where the Red Sox had been in their quest for an elusive championship.
"I started to say, '[We're] somewhat similarly situated to where we were with the Red Sox when we brought in Curt Schilling,''' Epstein said. "[I told him] 'You'd be coming in to …' and he kind of finished the sentence. He's aware of what '04 meant [to the Red Sox] and wants that for his team and himself here going forward in Chicago.''
That time is here, probably quicker than even Epstein felt it would be after Lester followed Joe Maddon in hopping on board. The Cubs, in pursuit of baseball's Holy Grail, enter the last 50 games of the regular season positioned to grab a National League Wild Card spot.
Their chances to hang onto their ticket into October will be helped greatly by having the stone-faced lefty at the front of an outstanding starting rotation, which ranks fourth in the NL in ERA. Lester, who faces the Brewers today, seems expertly wired for the stretch run.
"He's a real anchor,'' Milwaukee manager Craig Counsell said. "He's a person, player, who's been there, been through it. He's experienced it. There's nothing that's going to surprise him in this stretch right here. He's lived it all, many times. But more than anything to me, [he's] a name you look at and you say that guy's a real anchor.''
For his part, Lester says he wouldn't have come to Chicago if he didn't believe it was realistic for the Cubs to win right away.
"I don't like to lose,'' Lester said. "You can call me arrogant. You can call me cocky, whatever you want. I like to win. That's what I'm here to do. Hopefully we do that.''
Lester has historically been a strong finisher -- the guy you want on the mound when you need a big out. His career record in September is 24-11, with a 3.20 ERA. That's Lester's second-lowest ERA over any month, and he's accomplished it even though his September WHIP is 1.315, his second highest of any month.
The pitchers who get out of jams in big games are often the ones who have done it before, the ones who expect themselves to be able to get the ball where they need it to go. That's Lester.
Down the stretch in 2007, Lester went 2-0 with a 3.34 ERA. He was even better in '08, his first full season in the Major Leagues (4-1, 2.14 ERA in September). The one ugly stretch run was in 2011, when Lester went 1-3 with a 5.40 ERA as part of the September collapse that led to Francona being dismissed from the Red Sox and Epstein leaving Boston to take over the Cubs.
That was the season of the chicken-and-beer debacle that stained a great era, and Lester didn't run from it. He was the first player to publicly acknowledge he'd taken advantage of Francona by spending too much time in the clubhouse, and in 2013, with former Red Sox pitching coach John Farrell at the helm, it was clear he'd learned from his mistake.
Lester had a 2.97 ERA in August, then a 2.57 ERA (and 3-0 record) in September. He kept his focus and arm strength through October, winning four of his five starts, including two World Series duels with Adam Wainwright.
The job at hand for Lester is doing everything he can to lighten the load for Jake Arrieta, Jason Hammel, Kyle Hendricks and newcomer Dan Haren.
"He's the guy that takes the pressure,'' Counsell said. "He's the guy. He's not surprised by that. He's dealt with that. He's felt it. He's accepted it. He's wanted it. It's a good thing.''
For a team that hasn't been to the World Series since 1945, having such an experienced guy at the front of the rotation should be a very good thing.
Phil Rogers is a columnist for MLB.com. This story was not subject to the approval of Major League Baseball or its clubs.