Hudson close to making rehab start
Lincecum not expected to return soon from hip condition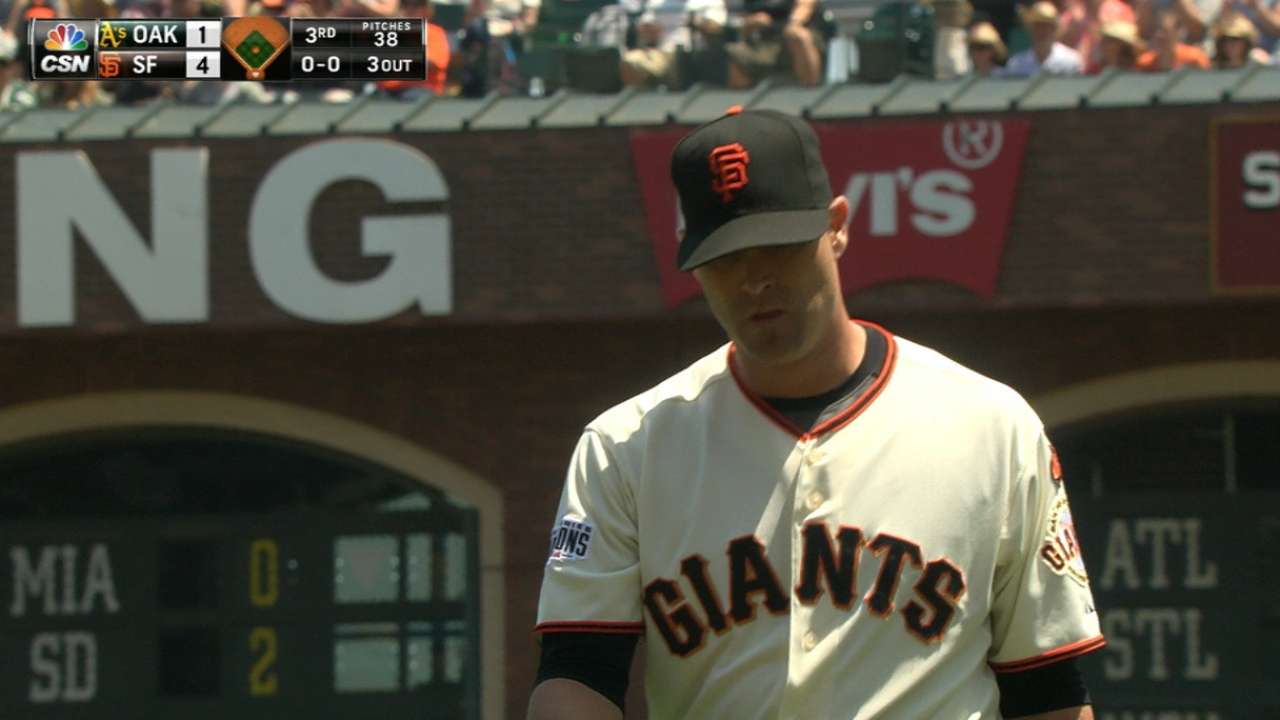 SAN FRANCISCO -- San Francisco Giants pitcher Tim Hudson threw a successful bullpen session Tuesday, and manager Bruce Bochy said he's "fairly confident" the veteran will make a rehab start Friday.
Bochy said the team will make a decision after the skipper talks with Hudson on Wednesday to get a sense of how his strained right shoulder is holding up.
Hudson was placed on the disabled list retroactive to July 27 and was eligible to return Tuesday, but the Giants want to make sure the 40-year-old faces live hitters before returning to the team.
Hudson has missed 14 games entering Wednesday. He's started 17 times for the Giants this season, but it's unclear whether he will return to the rotation when healthy.
Ryan Vogelsong has filled in for the injured Hudson and newly acquired Mike Leake, who is nursing a left hamstring strain, and will man the fifth spot for the time being.
Hudson went 6-8 with a 4.80 ERA before landing on the disabled list.
• Tim Lincecum also threw a bullpen session Tuesday, which Bochy said went well. But the manager admitted the two-time Cy Young Award winner is far from returning.
"He's going to throw another [bullpen]," Bochy said. "We'll see how he's doing after that and we may ramp it up a little bit with him. He's not quite ready, though, to be honest. I can't say he's real close."
Lincecum was diagnosed with a degenerative hip condition, which has extended his disabled-list stint. The Giants originally placed the right-hander on the DL with a right forearm contusion after he took a line drive off his arm, but his hips are what has caused him to miss 36 games entering Wednesday.
Lincecum went 7-4 with a 4.13 ERA in 15 starts prior to the injury.
Oliver Macklin is an associate reporter for MLB.com. This story was not subject to the approval of Major League Baseball or its clubs.