Rzepczynski reliable lefty in SD bullpen
Veteran providing stability since Trade Deadline deal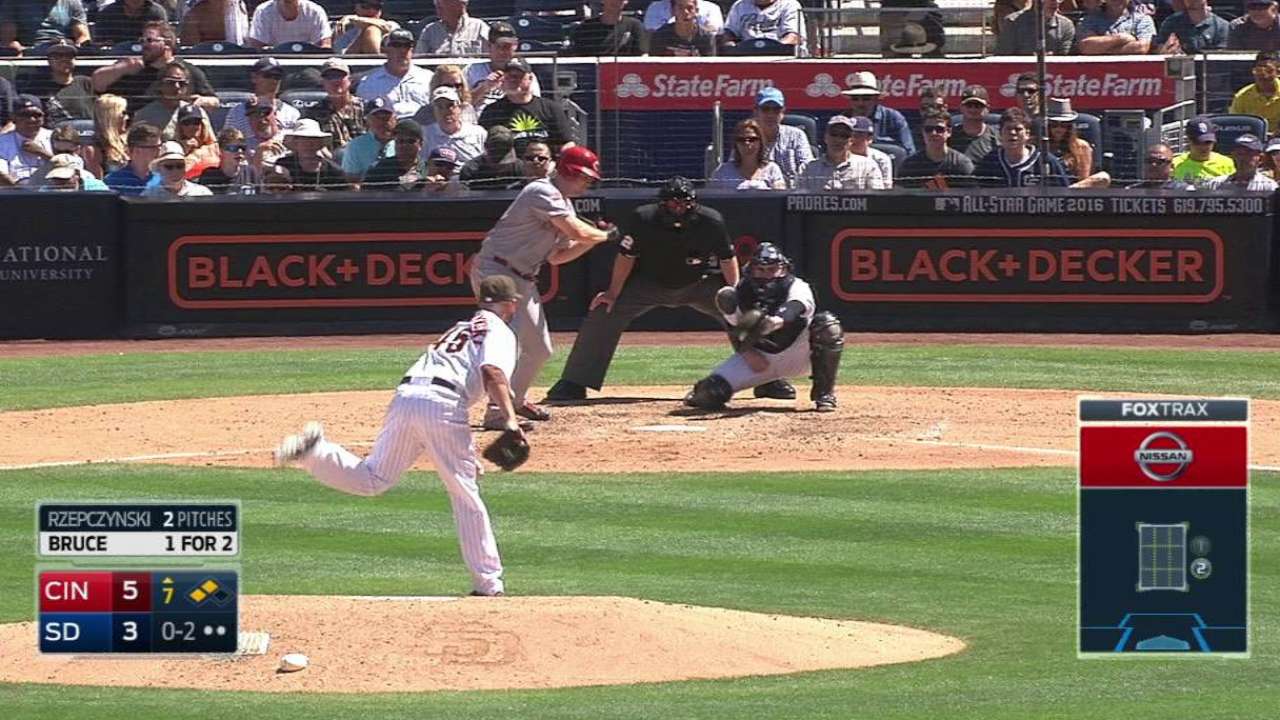 SAN DIEGO -- Reliever Marc Rzepczynski has provided the Padres with a lefty presence in the bullpen that the team has not always had this season.
With left-hander Frank Garces taking Minor League stints and struggling at the big league level, the Padres' sole move before the non-waiver Trade Deadline was picking up Rzepczynski from the Indians.
In Wednesday's 7-3 loss to the Reds, Rzepczynski struck out Jay Bruce, the only batter he faced, to escape a jam in the seventh inning.
"Every time I have been traded now, the team has usually needed a left-hander," Rzepczynski said. "I just try to come over and do my job, help guys out."
The 29-year-old said he was aware of the Padres needing to fill the role of a lefty reliever, but his main focus is making sure he proves himself with the ultimate goal of returning to San Diego's clubhouse next year.
Interim manager Pat Murphy has credited Rzepczynski for helping the team with some big outs. With his arrival, Murphy said it's less stressful knowing the veteran is an option.
Since joining San Diego, Rzepczynski has held left-handed hitters to just two hits in 13 at-bats (.154).
Rzepczynski said he hasn't changed his approach, but said the change of scenery can sometimes give a fresh start.
"I am going out there the same way," Rzepczynski said. "I want to prove to them this is why you got me. I have been able to locate my pitches so far and have had some good defensive plays behind me."
Worth noting
• Reliever Brandon Maurer, who went on the 15-day disabled list Tuesday, will refrain from throwing for a period of two weeks, said Padres general manager A.J. Preller. Maurer is 7-4 with a 3.00 ERA in a career-high 53 games.
• The team signed 30-year-old right-hander Bud Norris to a Major League contract Tuesday, giving San Diego some additional bullpen depth.
• Justin Upton hit his 15th home run at Petco Park on Monday, tying Will Venable's record for the most home runs in a season at Petco Park. The Padres have 27 home games remaining.
Beth Maiman is an associate reporter for MLB.com. This story was not subject to the approval of Major League Baseball or its clubs.