Cascade turns out for Rea's MLB debut
Native Iowan wins, gets hit in first game with the Padres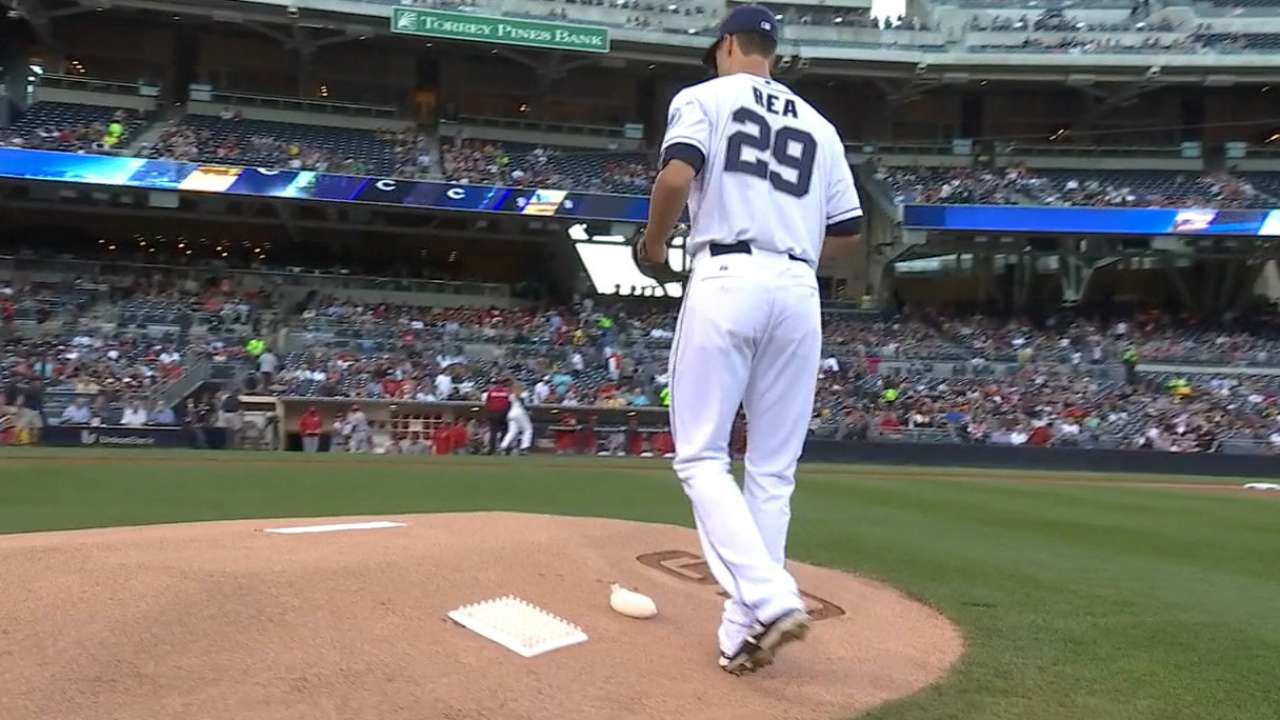 Bill Center, longtime sportswriter for U-T San Diego, is an employee of the Padres.
Even before he made his Major League debut Tuesday night, right-hander Colin Rea was listed among the seven most notable people in the history of Cascade, Iowa.
When Rea walked back onto the field at Petco Park to do a postgame interview, his "entourage" in attendance from the eastern Iowa community, which had a population of 2,075 in 2012, applauded ... then listened. After the interview, as native Cascadean Rea walked toward the group, it stood for an ovation.
Rea called the entire experience "awesome."
And it was a great start. The 25-year-old pitched five innings in the Padres' 11-6 win over the Reds, allowing three runs on seven hits and a walk with four strikeouts and coasting to victory after San Diego jumped out to an 11-0 lead after three innings. Rea had a part of that, too, singling in his first Major League at-bat in the second and then scoring his first run.
Rea became the fourth pitcher in Padres history to get a hit in his first plate appearance of his Major League debut -- joining Tim Stauffer (2005), Doug Brocail (1992) and Jimmy Jones (1986). Rea is the 22nd pitcher in franchise history to earn the win in his Major League debut, the most recent being Odrisamer Despaigne on June 23, 2014.
And the 11 runs of support were the second most received by a Padres pitcher in his Major League debut. Bob Shirley received 12 runs in his debut on April 10, 1977.
"Dreams do come true," San Diego manager Pat Murphy said Wednesday morning of Rea's debut. "That is a thrilling moment for everyone in the organization."
Speaking about Rea, Murphy said, "I don't think that he had his best stuff. He did get to a point of composure. His stuff is a little better than that. Every young man wears that first day in the Major Leagues a little bit differently."
Cincinnati opened the game with a single and a walk against Rea, who then turned a comebacker off the bat of Joey Votto into a double play.
"He showed great instincts right there," said Murphy.
From the scorecard
• The Padres are 7-1 against the Reds at Petco Park since the start of the 2013 season and are 4-1 overall against Cincinnati thus far this season.
• Right-hander Bud Norris made his debut for San Diego on Tuesday night, hours after signing as a free agent. Norris struck out two in a perfect inning.
• Third baseman Yangervis Solarte was 2-for-4 with a double, a walk and a career-high-tying three runs scored Tuesday night to extend his hitting streak to five games. Solarte has hit safely in 16 of his last 17 games, hitting .371 (26-for-70). Solarte is hitting .324 (46-for-142) in 38 games since June 25, with 19 extra-base hits (11 doubles, three triples, five home runs) and 15 RBIs.