MLB.com Columnist
Jonathan Mayo
10 Draft picks off to impressive starts
The Major League Baseball Draft was conducted just two months ago, but thanks in part to a mid-July signing deadline, all of those who signed have largely gotten to go out and see what it's like to play the game at the professional level.
There aren't a lot of expectations attached to performances for draftees, even those who are expected to move more quickly than others, in the first summer of their career. It's more about the players getting their feet wet and getting a sense of what it takes to compete on a daily basis. Once the Minor League season comes to an end, many of them will play in the instructional league, providing a foundation to help them prepare for their first full season of pro ball in 2016.
Of course, a strong performance can do wonders for the confidence level. It certainly doesn't make or break a draftee, but there's never anything wrong with hitting the ground running. With that in mind, here is a list of 10 draftees who are off to a good start. Noticeably missing is No. 1 pick Dansby Swanson of the D-backs, who will make his pro debut on Wednesday after suffering a concussion.
No. 2 pick Alex Bregman of the Astros has been solid, but he didn't make the list. Neither did Brendan Rodgers, the Rockies' pick at No. 3, who's shown glimpses of his all-around tools but not consistently enough to crack this 10-pack. This isn't just a list of top picks, but rather a cross-section of players from all over the Draft, because you never know where big league talent can come from.
Tyler Alexander, LHP, Tigers (2nd round)
The Texas Christian left-hander has been terrific in the New York-Penn League, allowing just two earned runs over 25 innings for a 0.72 ERA. Alexander has yielded only 10 hits and four walks (0.56 WHIP), and he's struck out 20.
Andrew Benintendi, OF, Red Sox (1st round)
The No. 7 overall pick in the Draft out of Arkansas hit two homers on Tuesday, giving him seven in 30 games. That's tied for third in the New York-Penn League. Boston's No. 6 prospect has also stolen six bases and has more walks (22) than strikeouts (14).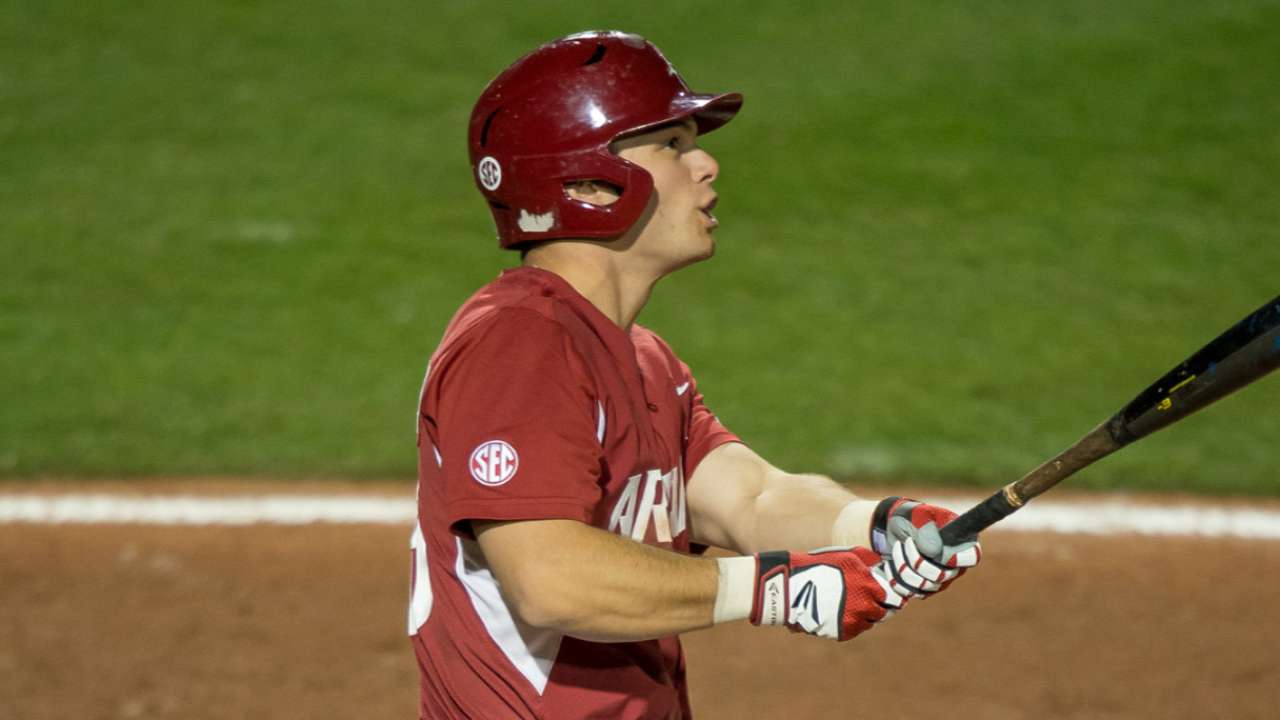 Beau Burrows, RHP, Tigers (1st round)
Now No. 5 on the Tigers' Top 30 list, the Texas high school standout has made a very nice transition to the pro game in the Gulf Coast League. The right-hander has allowed just two earned runs (1.08 ERA) on nine hits and seven walks in 16 2/3 innings. Burrows has struck out 18 and has held hitters to a .182 batting average.
Austin Byler, 1B, D-backs (11th round)
A senior first baseman out of Nevada, Byler was drafted because of his power, and he hasn't disappointed. He's hit nine homers over his first 40 games and his 1.192 OPS leads all draftees. With a .341/.475/.717 line, Byler might need a test stiffer than the Pioneer League can offer.
Ke'Bryan Hayes, 3B, Pirates (1st round)
Charlie's kid has shown in the early going why he had helium and rose into first-round conversations as the Draft approached. The power hasn't shown up yet, but it will, though the Pirates' No. 9 prospect is a hit-over-power third baseman. To date in the Gulf Coast League, Hayes has hit .362 with a .462 OBP (17 walks vs. 15 strikeouts) in 33 games. He's even stolen six bases.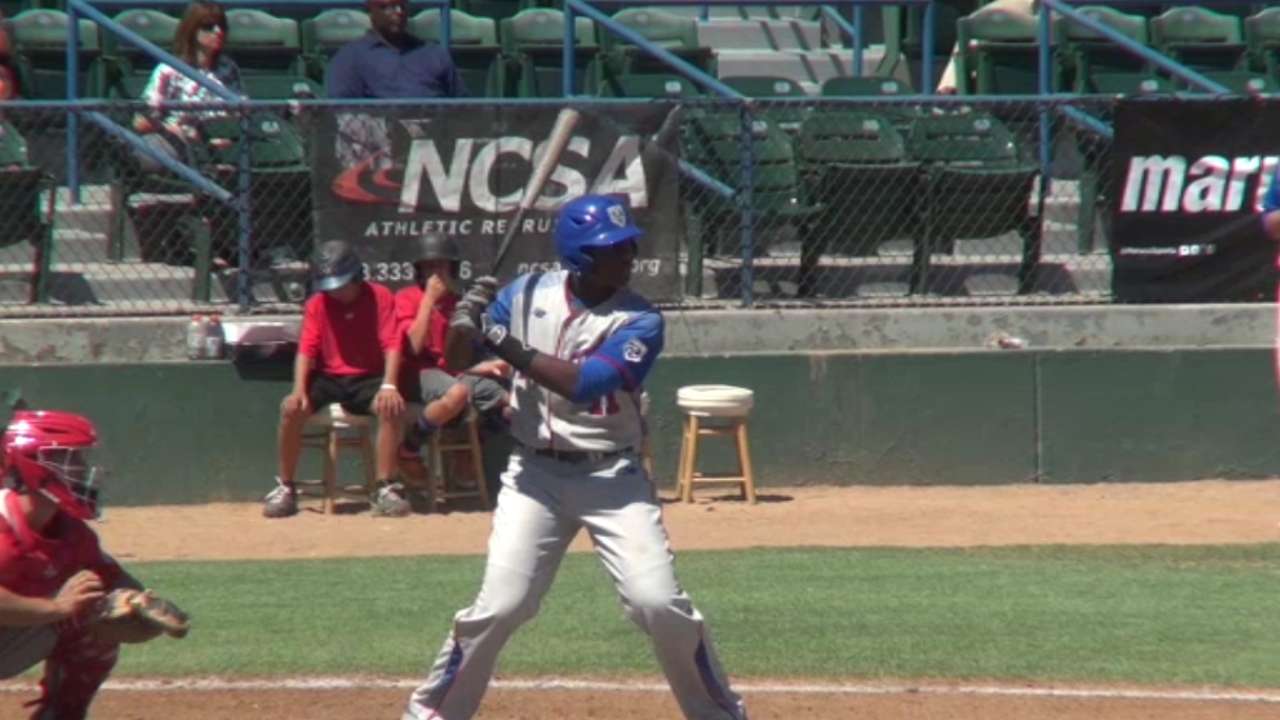 Demi Orimoloye, OF Brewers (4th round)
A tremendous all-around athlete, Orimoloye's stock fell a bit over the spring. The Brewers didn't complain since they were able to nab him in the fourth round. The Canadian outfielder has shown why scouts liked his raw tools, as he's hit six homers and stolen 17 bases in 20 attempts. Orimoloye will need to refine his approach (two walks, 37 strikeouts), but he's hit .279 and slugged .519 in the Rookie-level Arizona League.
Cody Ponce, RHP, Brewers (2nd round)
The 6-foot-5, 235-pound product of Cal Poly Pomona has been impressive in his debut, most of which has come in the full-season Midwest League. The right-hander, perhaps under-ranked at No. 30 on the Brewers' list, has thrown 29 innings and has a 1.86 ERA. Ponce has allowed 24 hits and six walks while striking out 23.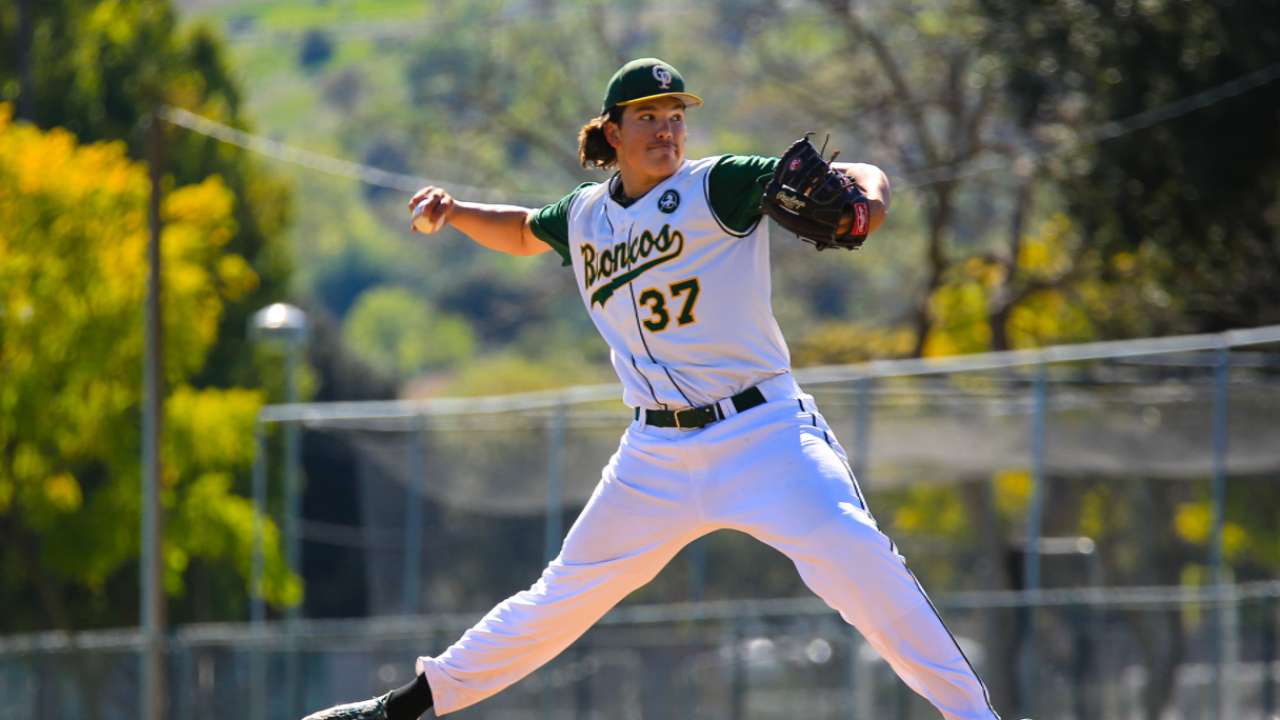 Austin Riley, 3B, Braves (Competitive Balance Round A)
A two-way standout some liked as a pitcher, the Braves took Riley and sent him out as a third baseman because of his power potential. So far, so good, as he's hit nine long balls in 39 games for a robust .540 slugging percentage. Even a promotion from the Gulf Coast League to the Appalachian League hasn't slowed Riley down as the Braves' No. 16 prospect slugged .677 in nine games.
Drew Smith, RHP, Tigers (3rd round)
That's right, three Tigers on this list, and Smith might be having the best debut of any of them. The Dallas Baptist product has allowed just one earned run over 28 1/3 innings. That's a 0.32 ERA, which goes nicely with his 34 strikeouts, 16 hits allowed (.160 batting average against) and four walks (0.712 WHIP). Smith has even gone 2-for-2 in save opportunities, with most of his innings coming in the New York-Penn League.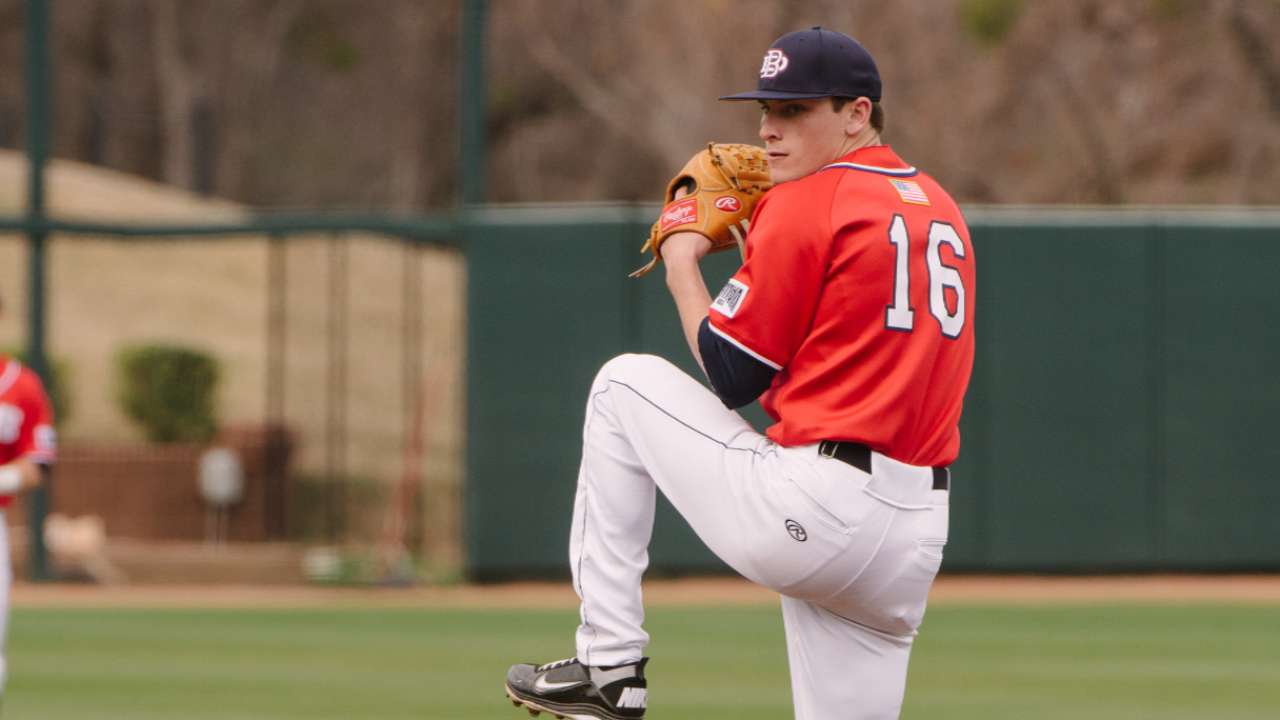 Taylor Ward, C, Angels (1st round)
Perhaps the biggest surprise in the first round -- MLB.com had Ward ranked No. 99 on the Draft Top 200 -- Ward has certainly performed like a guy who belonged in the first round. The Fresno State product has hit .355/.487/.455 with two homers, 20 RBIs and five stolen bases over his first 35 games. The Angels' No. 8 prospect has a .942 OPS and already has earned a promotion from the Pioneer League to the full-season Midwest League. Ward has even thrown out 32 percent of would-be basestealers.
Jonathan Mayo is a reporter for MLBPipeline.com. Follow @JonathanMayo on Twitter. This story was not subject to the approval of Major League Baseball or its clubs.