Gomes denies steal with outstanding throw
Catcher comes up huge for Indians during win vs. Yankees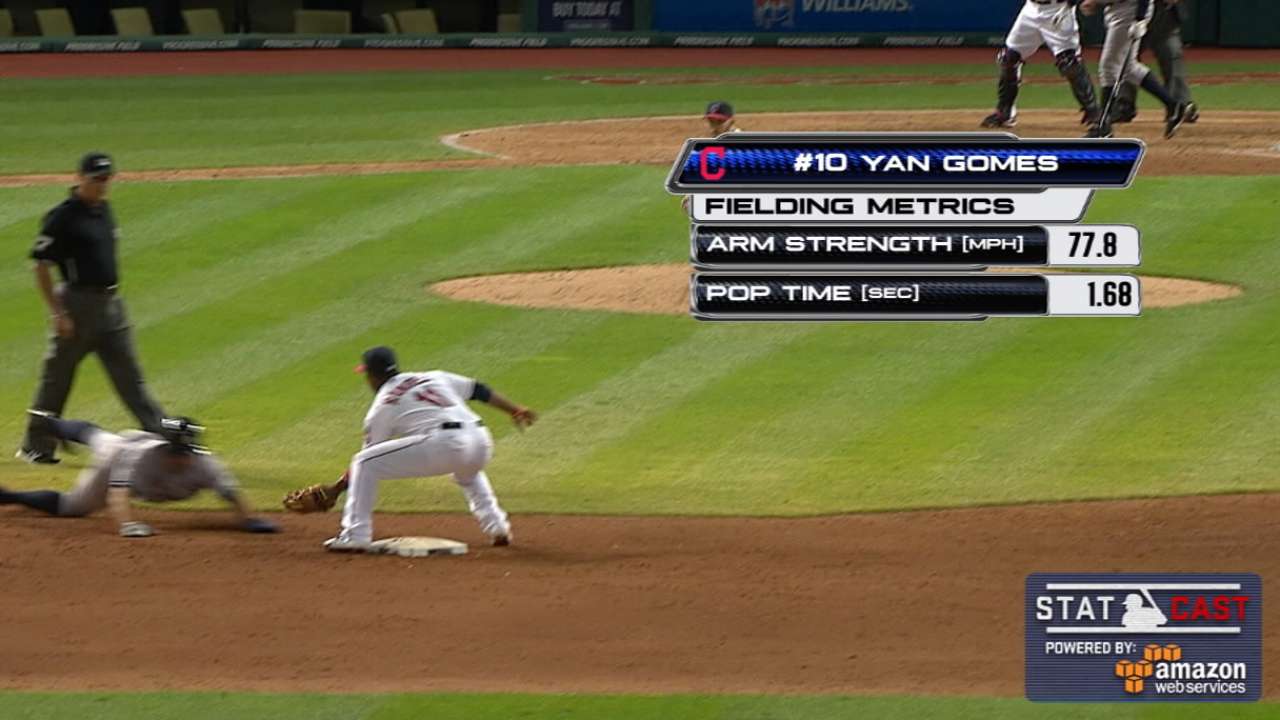 CLEVELAND -- It seemed big at the time. It seemed bigger after the fact.
Indians catcher Yan Gomes cut down Brett Gardner trying to steal second base during a tie game after the speedy left fielder reached base with one out in the top of the ninth inning of Tuesday's 5-4 victory over the Yankees. Cleveland won on Michael Brantley's walk-off single in the 16th.
Every run is important in a baseball game. The importance of every run becomes amplified when a game goes into extra innings.
The numbers on Gomes' throw are impressive. Starting with the basics: Gardner was 15-of-18 on stolen-base attempts this season before Gomes' throw, and his 158 steals since 2010 rank 10th in the Majors.
With some help from Statcast™, though, we can dig deeper than that. Upon breaking for second, Gardner reached a top speed of 21 mph. He had a healthy lead of 11 feet, and a great jump, breaking for second less than a tenth of a second after reliever Cody Allen's first movement toward home.
With that in mind, it would take a perfect throw from Gomes. A perfect throw, and then some.
Gomes' throw was on the money. He unleashed the ball at 78 mph, about average for the Brazilian-born catcher. The most impressive part about the throw, and what ultimately proved to be the difference, was the pop time. From the point the ball hit Gomes' mitt to the moment it entered Jose Ramirez's glove at second base, just 1.68 seconds had elapsed.
For reference, Gomes' average pop time on throws to second base this season has been 2.32 seconds, or right around the middle of the pack. The best of the bunch average a shade under two seconds, the worst a bit over three.
Gomes' 1.68 second pop time was his personal best of the season, and the 13th-quickest by any catcher in the big leagues this year. Like they say, every millisecond counts.
"Fortunately for us, he seems to save his quickest and best throws for when we need them," Indians manager Terry Francona said. "I think it shows you a guy that enjoys the moment, because we've seen him do that. Those are when his best throws are, it seems like he reaches back and he's quick and he doesn't try to do too much. He doesn't have to."
August Fagerstrom is an associate reporter for MLB.com. This story was not subject to the approval of Major League Baseball or its clubs.