Cohesive unit: New-look Tribe off to good start
Fresh faces contributing on offense for Indians
CLEVELAND -- Indians left fielder Michael Brantley typically trots toward the outfield nine terms per game, taking his position with glove in hand while his pitcher warms up on the mound.
He took that jog 16 times in Tuesday's wild, 5-4, extra-innings victory against the Yankees at Progressive Field. Sixteen trots for 16 innings, and then one more sprint for good measure, this time with a mob of his teammates in pursuit after he delivered a walk-off single.
"You do something good, you get beat up for it," Brantley said with a smile. "I don't understand how that works. I was just trying to spread it out so they all didn't attack me at once."
Brantley delivered the walk-off hit after five hours and four minutes of play, a single to right field in his eighth at-bat of the game that scored Jose Ramirez and sent Brantley heading toward the outfield grass one final time.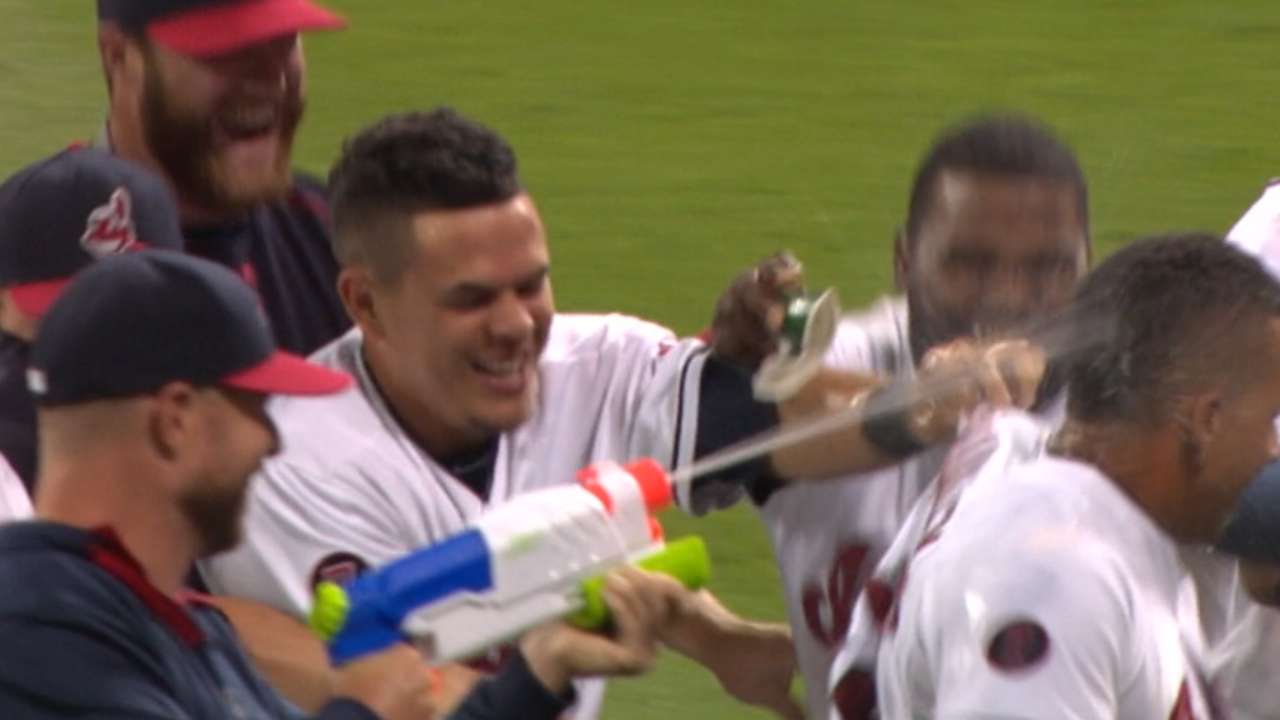 It felt like a game the Indians wouldn't have won a month ago. Then again, it was a game that no team has won all year. After all, the Yankees handed the ball to Andrew Miller with a two-run lead in the 10th inning, and Miller hadn't blown a save all year. He'd allowed at least one run in just six of his 38 appearances and had never allowed three hits in an outing.
Sure enough, three of the first four Indians that Miller faced -- Francisco Lindor, Brantley and Yan Gomes -- recorded hits, and Miller had blown his first save of the season in what seemed like the blink of an eye.
The Indians were 1-51 when trailing after eight innings before Tuesday. They trailed in the 10th against one of the most dominant closers in baseball, and six innings later there was a mob on the field. The Indians have won three consecutive games since trading away veterans Nick Swisher and Michael Bourn and infusing their clubhouse with a wave of fresh, hungry faces. Their once-dormant offense has scored 39 runs in the past four games.
"The good thing is, the new guys have come in and swung the bat real well," Indians manager Terry Francona said. "So that helps. They're not coming in and searching and trying to figure out who their friends are or who they're going to hang out with or if they're going to play. So that helps a lot.
Abraham Almonte has six hits in his first 15 at-bats with the club, including two doubles, two homers and a steal. Lonnie Chisenhall is 11-for-32 and has exceeded expectations in right field since being recalled from Triple-A. Ramirez has filled in admirably atop the order in the absence of All-Star Jason Kipnis, going 11-for-32 with two doubles, a triple and a home run.
Above all else, the team is back to abiding by rule number one of playing sports: have fun.
"We come in here with smiles on our faces, everybody's happy," Brantley said. "It's a team effort all the way around. It's a group effort and that's the way it's going to have to be for the rest of the year."
August Fagerstrom is an associate reporter for MLB.com. This story was not subject to the approval of Major League Baseball or its clubs.