Harvey's dominance moving him closer to innings limit
Right-hander fires eight shutout innings in Tuesday's win over Rockies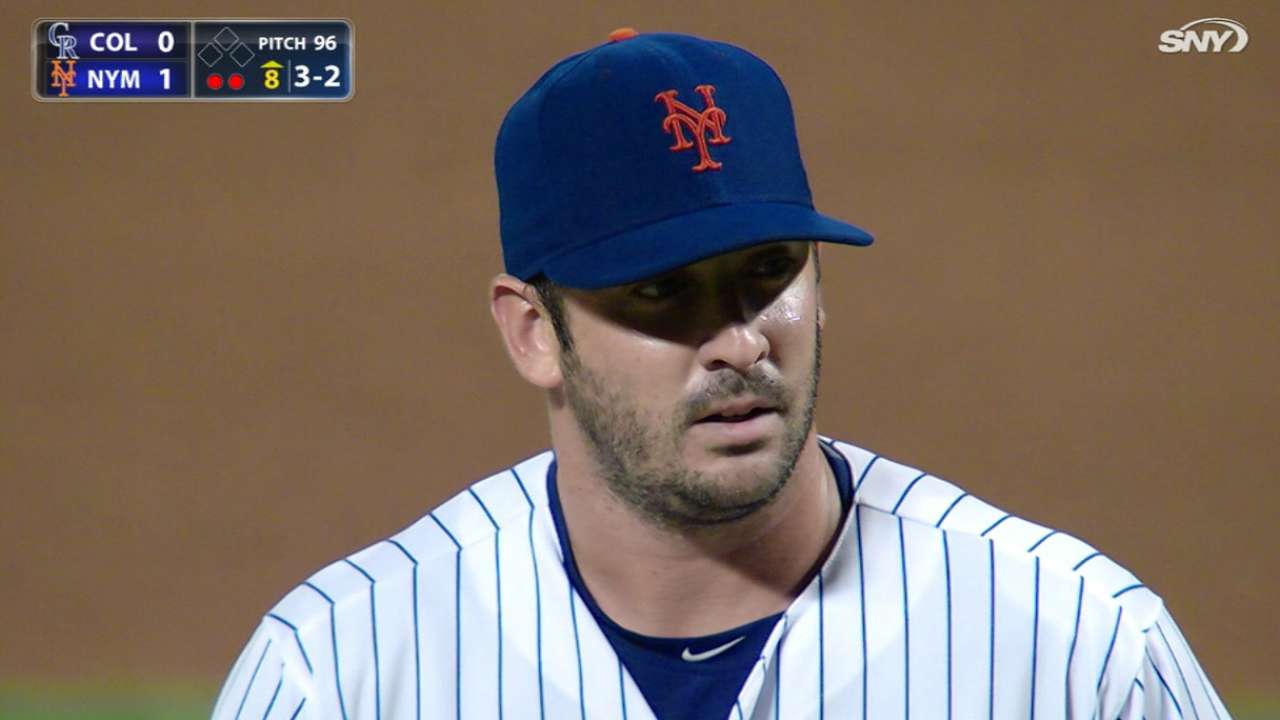 NEW YORK -- Though Matt Harvey swears thoughts of innings limits are not lodged in his brain, anyone with a pocket calculator and a spare minute can do the math. By firing another eight shutout innings Tuesday in the Mets' 4-0 win over the Rockies, Harvey jumped up to 148 on the season. The Mets have said multiple times that he won't exceed around 185-190, at least until they remove his shackles in October.
In the interim, Harvey's own success has been an ever-present enemy. His last six starts have all gone seven innings or longer, thanks in large part to a 1.44 ERA over that stretch. He's been the Mets' best pitcher -- yes, even better than Jacob deGrom -- since mid-June, breathing the same rarified air as Zack Greinke and Clayton Kershaw and Scott Kazmir.
So now Harvey has about 40 innings left to play with, over what would be nine starts if the Mets stick to their current five-man rotation.
They won't.
"I will tell you this: We are going to do everything in our power to keep from shutting this guy down -- any of those guys down," manager Terry Collins said, referring to Harvey, deGrom and Noah Syndergaard as a group. "He's on pace to get to his [limit] fast."
Collins went on to note that "if we get into September to where we've got to have the game Matt Harvey pitches, he's going to pitch it. But that's why we've got to make sure he's OK to do that."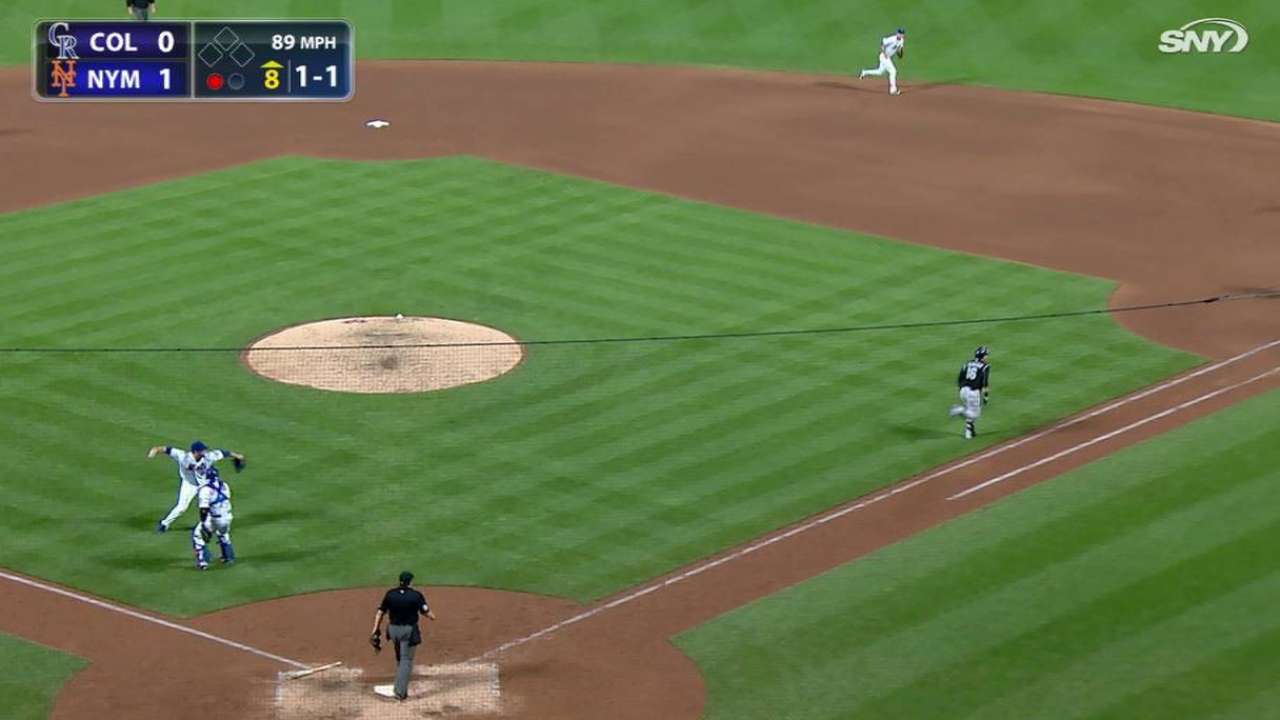 On Tuesday, it took the form of removing Harvey after eight innings and just 97 pitches -- an inning saved is an inning earned. On the Mets' next road trip, it will take the form of a spot starter -- likely Dillon Gee or Logan Verrett -- pushing everyone else back. Come Sept. 1, it will take the form of Steven Matz and a six-man rotation. Along the way, it could mean cutting Harvey short within games. And it could eventually mean pushing him a little further than the 185-190-inning soft limit the Mets originally intended.
Because the Mets don't know how well or how long Harvey will pitch each turn through the rotation, they have no choice but to write their plans in pencil.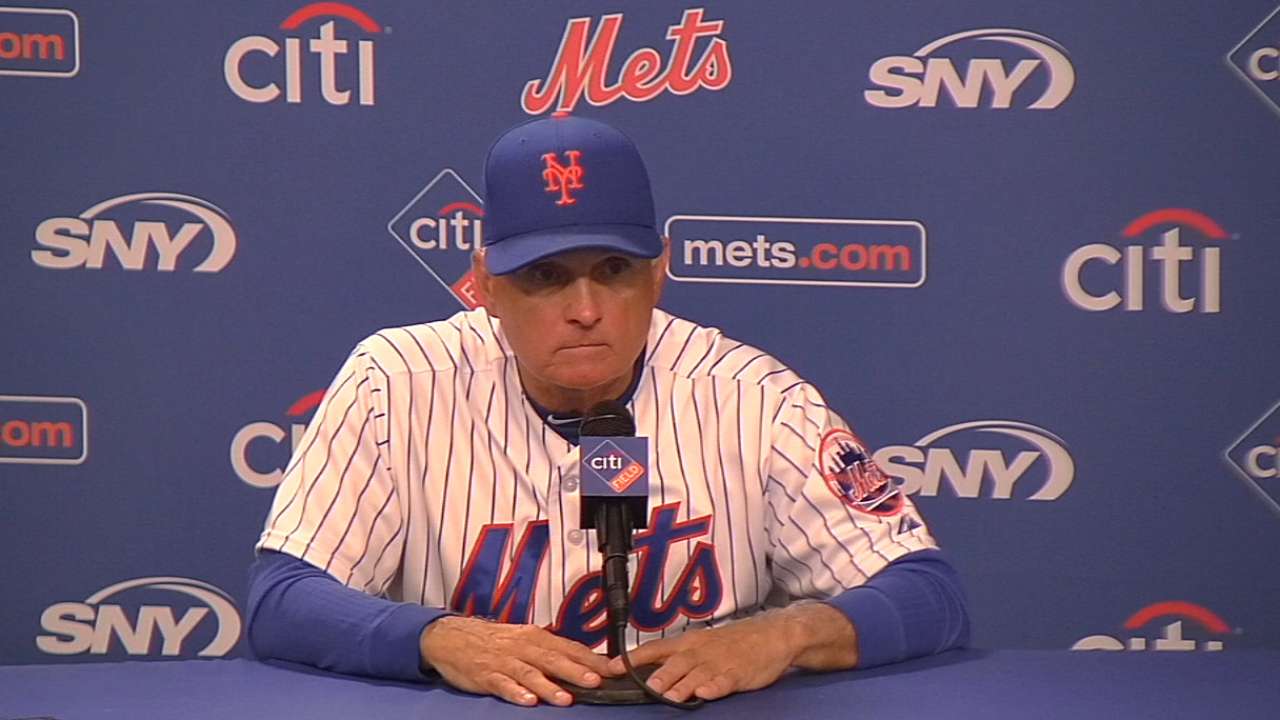 "The big picture is going through September and into October," said Harvey, who is now 22 months removed from Tommy John surgery. "Obviously, in a one-run ballgame like tonight, I want to go out there and finish it off, but those last few runs were huge for us and made the decision easy. When we get down to the stretch here, there's probably going to be some more issues like that where I don't want to come out at all. No pitcher at all wants to. But it is what it is in order to get me into October."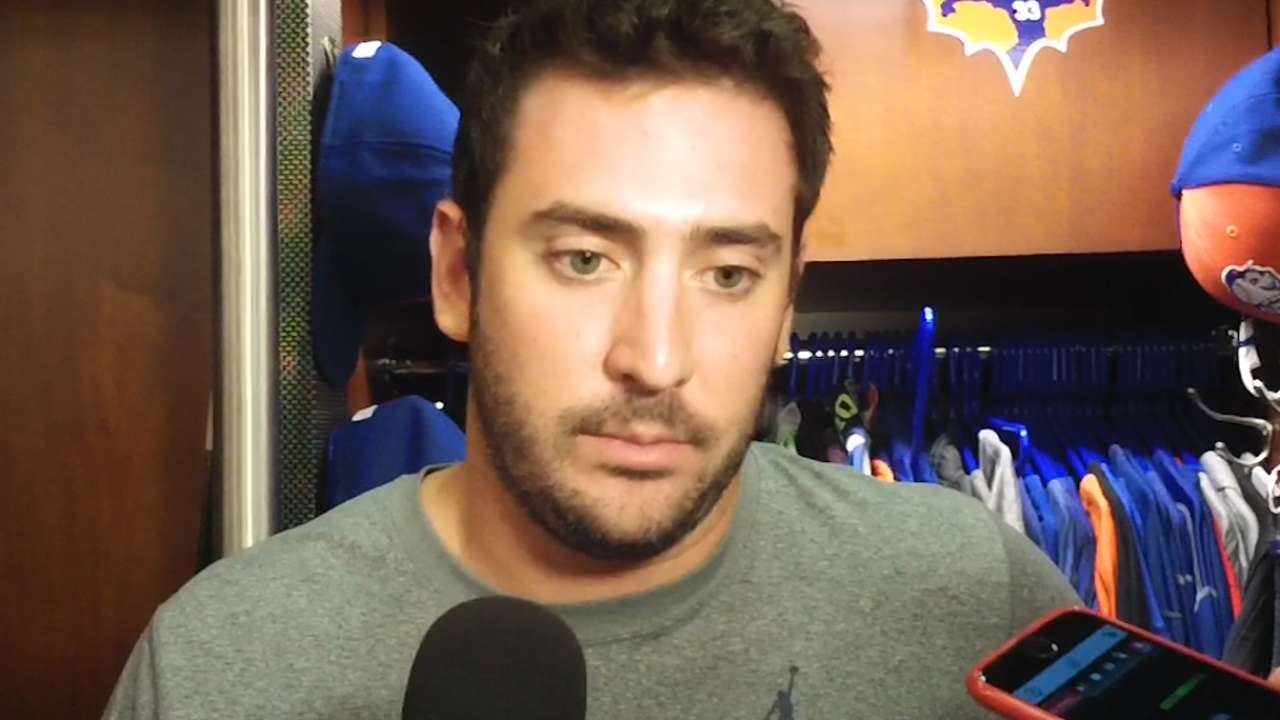 It is what it is: the thinnest of balance beams for the Mets, who hold an equally slim division lead with eight weeks to go. The Mets will, would and might need Harvey in October.
But the way he's pitching now, they need him to drive them there first.
"He's starting to get back all the things we know he has, all the weapons, all the things that made him special," Collins said. "It just takes a little bit to get it going. But Matt's got it going right now."
Anthony DiComo is a reporter for MLB.com. Follow him on Twitter @AnthonyDiComo and Facebook, and listen to his podcast. This story was not subject to the approval of Major League Baseball or its clubs.