MLB.com Columnist
Phil Rogers
With Russell, Cubs set at short for years to come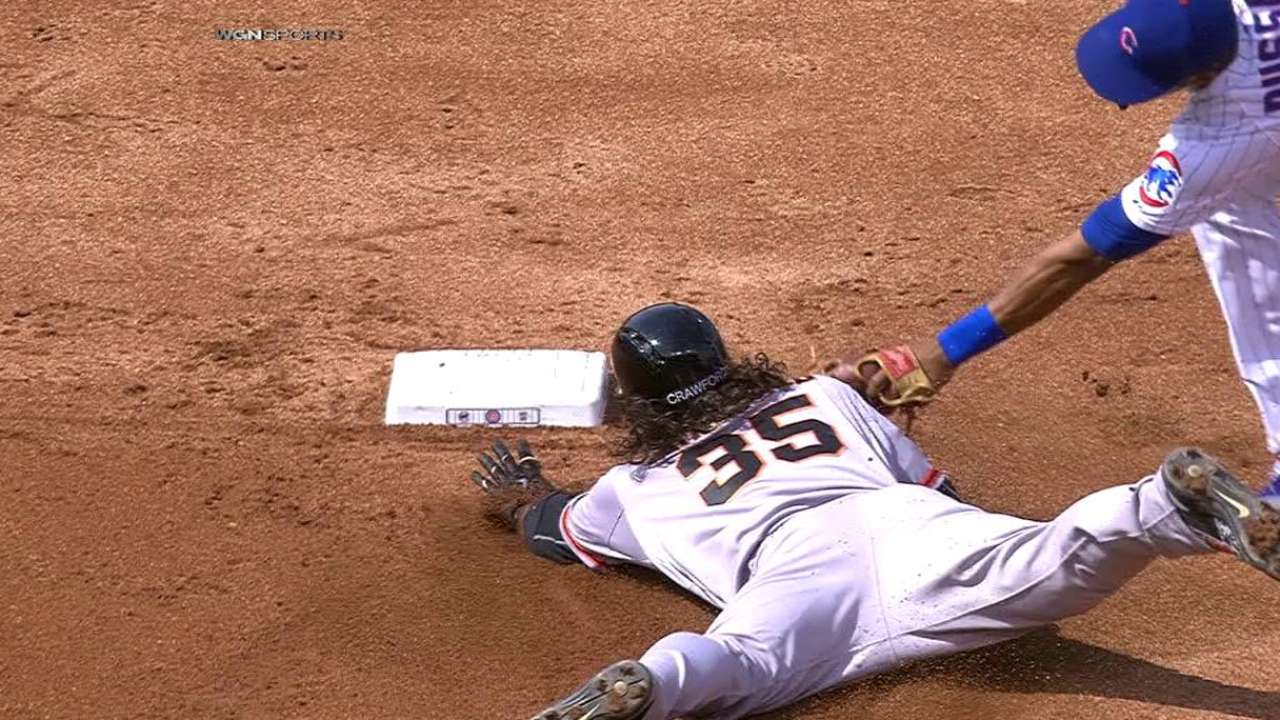 CHICAGO -- Addison Russell was the Cubs' second baseman until last Friday, when he moved across to his natural position. He's not moving off shortstop any time soon.
Maybe not in the next 10 years. Maybe not ever.
Starlin Castro had started 834 games at shortstop, but he will be a platoon second baseman the next time you see him in Joe Maddon's lineup, probably on Saturday against White Sox lefty Jose Quintana. Castro was busy taking ground balls there in early work Tuesday at Wrigley Field before the Cubs did what they've been doing lately, winning, 6-3, over the Brewers. He made his second-base debut in the sixth inning, taking over for Chris Coghlan.
There's not an ounce of strut in Russell, but the 21-year-old from South Florida plays shortstop like he was born to be there, and he gets more comfortable in his surroundings all the time.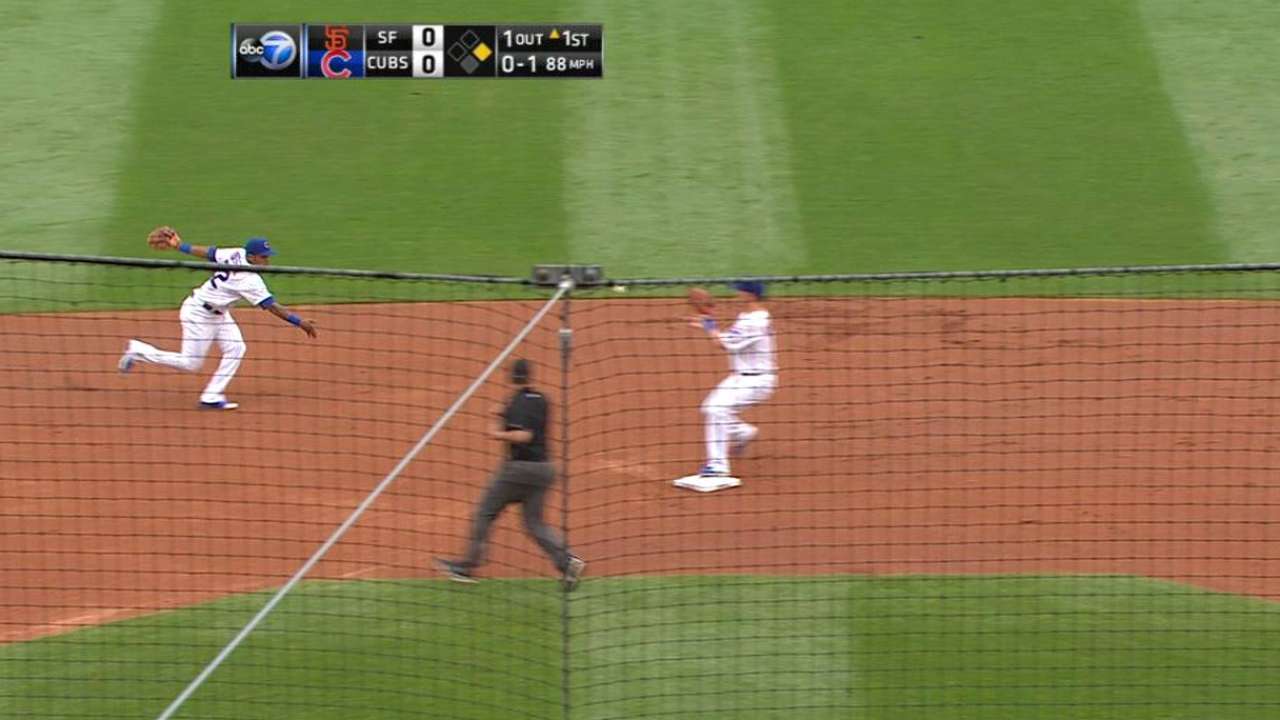 "Right now, I think Addie's doing a wonderful job," Maddon said. "You guys can see it. You're around, you talk to him. You can see his confidence. He's very confident right now. He's different as compared to the beginning of the season. Just look at his swings. They're much freer, looser. Just a different animal right now. ... Right now, Addie looks like the guy we thought he was going to be."
Russell's second-inning single played a role in a three-run frame against Brewers rookie Taylor Jungmann, who came into the start with a 2.26 ERA. Russell remained the most productive No. 9 hitter the National League has had since at least 1914, thanks to a calmness and plate coverage that has allowed him to see 4.2 pitches per plate appearances, the fifth-best figure in the NL.
But the thing Russell does best is play shortstop in a way that makes him a favorite of the pitchers he plays behind. He's a prototype for the position.
To Maddon, there is a simplicity to Russell's approach to fielding that borders on genius.
"What he does is right, what he does is the way I would teach it," Maddon said. "He is simple. I've always said that, for me, defense should lack chrome. Good defense should be very boring. In some ways, he's very boring out there."
After the Cubs acquired Russell from the A's for Jeff Samardzija last July, he played 47 games for the Double-A Tennessee Smokies and was charged with two errors. Yeah, the trade sure shook him up, didn't it?
Maddon could barely believe how strong of a fielder Russell was when he saw him for the first time on a back field in Arizona this spring.
"I remember walking down to the back field in Spring Training, seeing him for the first time pick up balls, and [afterward] I walked over and asked him, 'Who taught you that?'" Maddon said. "Because it was very simple, precise, [like the] Spalding Guide to picking up a ground ball and throwing it to first base. That's what I saw. No chrome attached, no wasted movement. He told me some guy, might have been a high school coach or a coach from where he was from, had showed him how to do that, which was spectacular, because it is right."
Russell has made 11 errors in 99 games this season. He's made dozens of alert, smart plays that have gotten his team an out or kept a runner from taking an extra base.
In Friday's victory over the Giants, the game in which Maddon officially benched Castro to make Russell the shortstop, Russell made two plays that only the best fielders routinely deliver. One came turning an off-target throw into a tag for an out at second base; the other started a double play on a throw that was behind him, possibly headed for center field.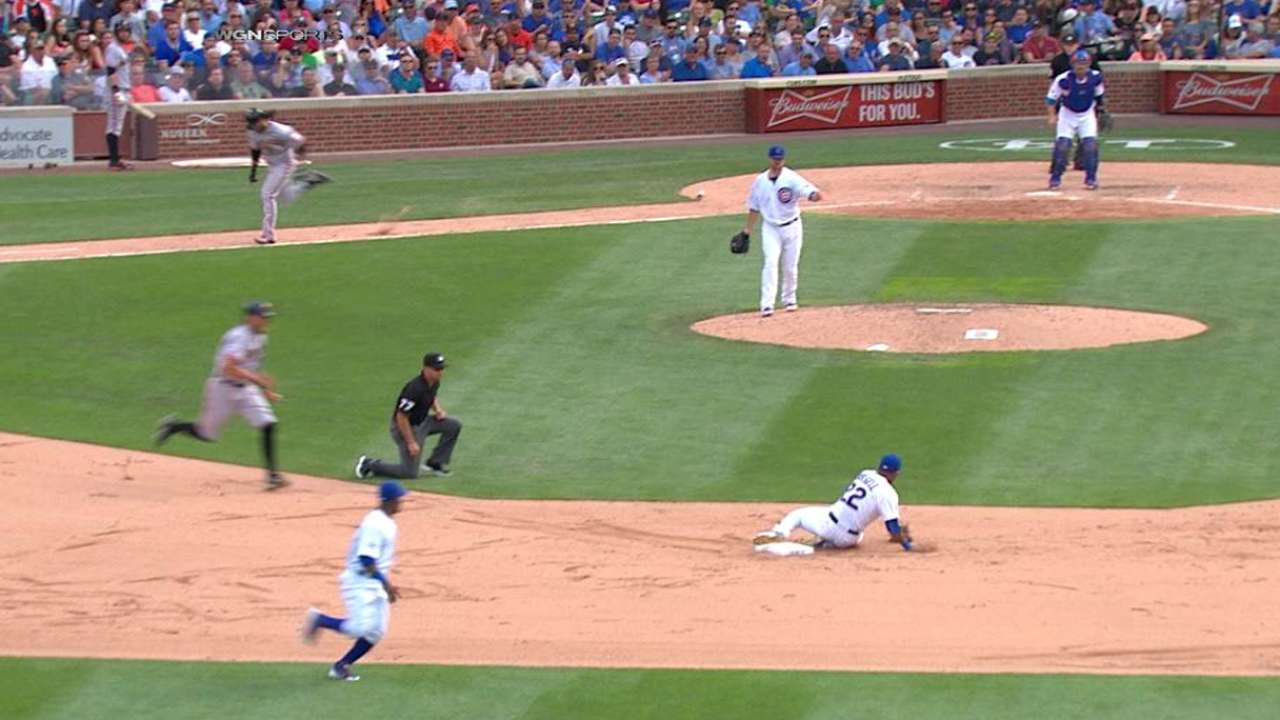 These might seem like little plays in August, but they'll be a lot bigger in September and potentially epic in October.
More and more, it looks like the Cubs are heading toward postseason play in Maddon's first season in one of their hoodies. There's a long way to go before they get there, but the parts are in place.
"You're seeing our guys are maturing on a Major League stage right now," Maddon said the other day. "Let's just keep it rolling. We've been talking about it all year. Aim high. The threat of not aiming high is you hit your mark, always."
Phil Rogers is a columnist for MLB.com. This story was not subject to the approval of Major League Baseball or its clubs.